Environment
UNI partnership grows Waterloo community garden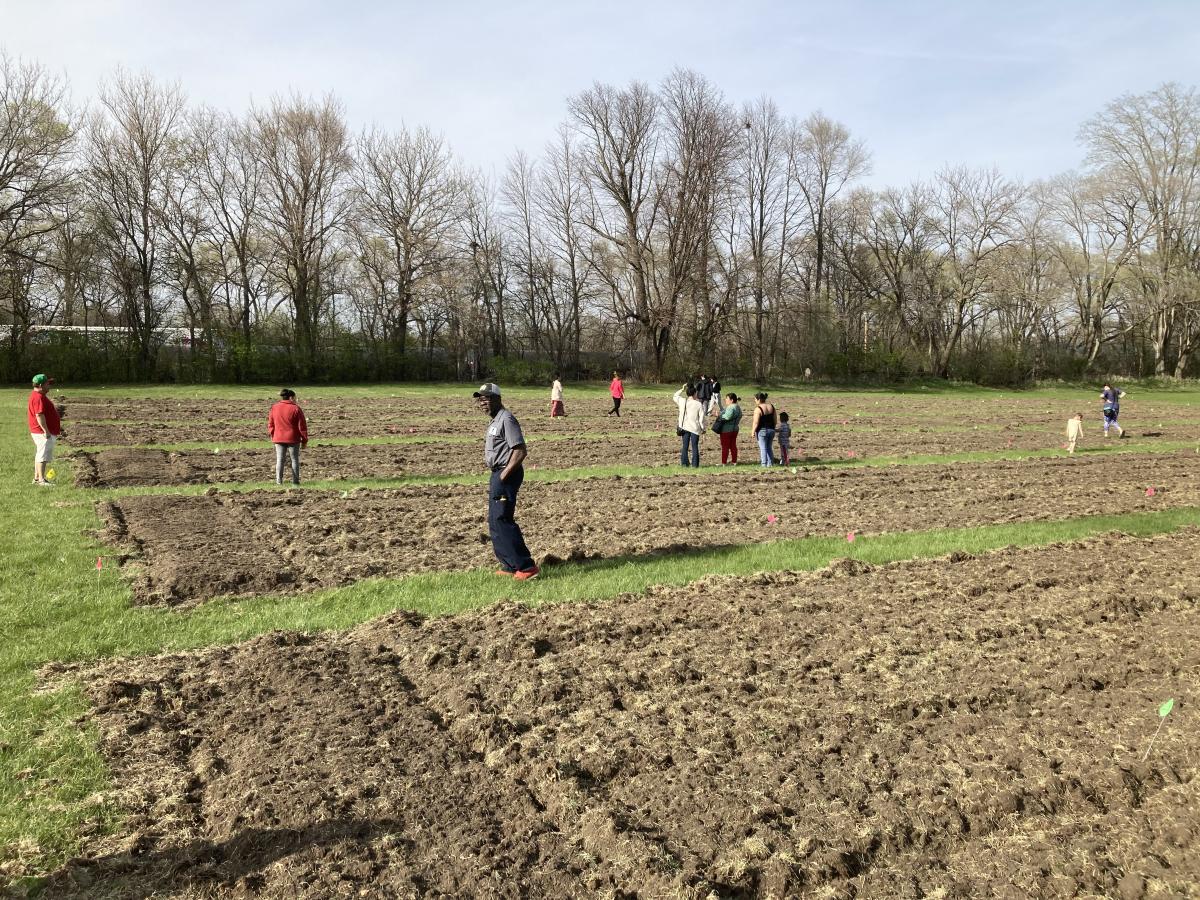 Forty-eight gardens will grow in Highland Park in Waterloo thanks to a grant from the Leighty family through the Community Foundation of Northeast Iowa and a partnership between the University of Northern Iowa and the local community. Beans, cucumbers, tomatoes, peppers and other vegetables are all beginning to emerge from the plots that measure 20 feet by 20 feet each. 
"These plots are a shared community infrastructure, like a library and or community center, and provide access to land for people who wish to grow fresh seasonal vegetables for their families," said Kamyar Enshayan, director of UNI's Center for Energy & Environmental Education (CEEE) who has been coordinating the project alongside AmeriCorps members.
The CEEE, Black Hawk City Health Department, City of Waterloo Park Division, the Black Hawk Soil and Water Conservation District and the Highland Neighborhood Association have all played a role in taking the vision for a garden and turning it into a reality. 
The project was conceptualized in early 2022 to meet a need for more local and regional fruit and vegetable production. According to Enshayan, there are many new Iowans (recent refugees and immigrants) with agrarian backgrounds as well as local residents who wish to access land to produce more of their own food.
---
"This community garden is a basic first step to increase access to land for food production," said Enshayan.
---

When Enshayan and Kathryn Gilbery of the Black Hawk County Health Department approached the Highland Neighborhood Board about the possibility of community plots, it was an easy decision. The board unanimously voted to go forward with the project. 
 
News of the available plots spread through flyers and word of mouth among the neighborhood and the new Iowan community. All that people needed to do to claim a plot was show up at the park the day the plots were being assigned. Excitement over the gardens was evident by the fact that all 48 plots were quickly claimed. 
"I believe there are people in our community who would like to grow their own fresh produce but do not have access to the space to do so," said Elaine Eggers, treasurer of the Highland Neighborhood Association.  "It is also a way to offer food insecure families a way to support their needs at a much lower cost than going to the grocery store."
Each gardener is responsible for taking care of their own plot. The group from UNI established the garden, makes sure water is available, improves the soil and has plans to gradually add some infrastructure such as a tool shed and rabbit fence.
"Our role is to build the capacity of this site so that it is useful to local residents," Enshayan explained. 
The plots certainly have been useful to residents, and the excitement over the gardens has only grown, as Enshayan says residents continue to ask if there are any more available plots when he visits the garden.
Enshayan and Eggers hope to see the gardens continue to flourish and possibly even expand in the future.
"I'm excited to see what type of produce people will grow and how our project might become a prototype for other community gardens in the city," said Eggers.