Health
Former UNI football player tackling disease research
As a Waterloo West High School graduate turned University of Northern Iowa football player, Blake Thomas has been a Cedar Valley native his entire life. Thomas wanted to make an impact in the classroom as well as on the field, and he initially decided to pursue a major in biology and pre-med. His intention was to go on to medical school, but that all changed when he took public health courses with Disa Cornish, an associate professor in the health, recreation and community services department. 
"I thought at first that I'd really want to follow my interest in medical school, but Dr. Cornish's public health class changed that my junior year," Thomas said. "She became a really great mentor for me because she told me about how public health kind of helps everybody holistically and affects the world in different ways."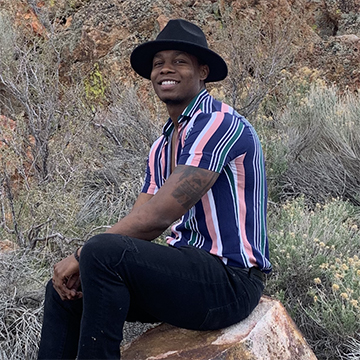 Thomas made an impact on Cornish, too. She well remembers having Thomas in her public health courses. His work ethic, developed from putting in many hours of practice with the football team, was apparent immediately.
"Blake was a great student to have in class. He sat right in the front row, really listened, answered questions, and always wanted to know more. It was always fun to talk to him about public health because he was always putting his class learning together with what he was seeing in his community, in the rest of the country and around the world." Cornish said. "When Blake found public health, a spark was lit and he just took off. It was a treat to walk on part of his public health journey with him. Blake was and continues to be super motivated and a hard worker - he's going to be a positive force in his community."
He made the choice to add a public health major to couple with his biology major, balancing it with putting in time with the football team as a student-athlete. Thomas also credits his desire to learn more about public health to his teammates. Football allowed him to meet people from all over the state and country, opening him up to new perspectives. 
"I was in this gray area when I was getting close to graduating - if I wanted to get a job or if I wanted to go to grad school," Thomas said. "I was surrounded by people who encouraged me to further my education. Playing sports really gave me a strong work ethic to push myself and I decided to go for it."
Thomas chose to specialize in epidemiology in grad school at the University of Nevada, Reno,  because of its strong focus on infectious and chronic diseases. He's long been intrigued by why certain diseases affect specific groups of people. 
"Another big part of why I chose epidemiology is because I want to help people," Thomas said. "Public health and that are really closely related, and there's disproportionate effects in different minority groups that I want to study and help change." 
Studying pandemics in the midst of a pandemic has been an interesting experience for Thomas. Theoretical applications that have been discussed in his classes are playing out in real time across the United States and the world. Seeing the long-term repercussions from COVID-19 over the next several years in the field of public health will be a large part of his studies and his work in the field. 
"In our classes, we have a lot of different examples that overlap with the way COVID has been affecting each different aspect of our learning curriculum. We're getting to see how public health is really involved in communities each and every day." Thomas said. "A lot of different states have different policies for handling it in play, so it'll be interesting to see how that all works out from a public health perspective."
After graduation, Thomas plans to work in either a hospital or health department setting in Nevada or on the West Coast in order to work with a diverse population base to better understand how diseases work in different communities.