Health
Nursing program at the University of Northern Iowa approved by Iowa Board of Regents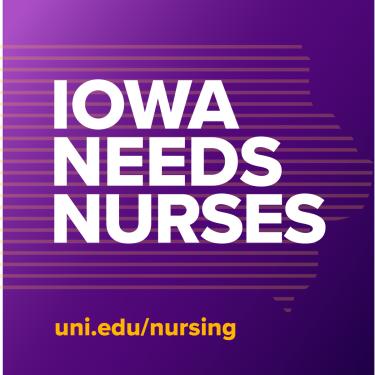 Council Bluffs, Iowa – The Iowa Board of Regents approved a proposal from the University of Northern Iowa to proceed with the planning, development and implementation of a Bachelor of Science in Nursing (BSN) program on Thursday. According to UNI President Mark Nook, campus leadership will work to develop the appropriate programming and curriculum in anticipation of a fall 2024 launch. 
"Based on figures from the Iowa Board of Nursing, nearly 80% of employers in the state indicate that it is difficult or very difficult to recruit nurses," Nook said. "Finding qualified health care professionals is becoming exceedingly challenging, particularly in rural areas and in long-term care facilities. 
"Long-term projections by Iowa Workforce Development indicate that registered nurses represent the top employment need in the state that will require a four-year baccalaureate degree," Nook continued. "Research also indicates that health care, and specifically nursing, is the most in-demand field of study among Iowa students seeking a four-year degree. We believe UNI is uniquely positioned to provide the combination of hands-on experience and curriculum necessary to serve the students and residents of our state." 
Additional data from the Iowa Board of Nursing indicates that over 20% of current nurses in Iowa are currently eligible for retirement, while 35% of open nursing positions in the state take over three months to fill. These statistics point to the urgency of getting more students enrolled in health care education programs. In addition, data from the American Association of Colleges of Nursing indicates that over 8,000 qualified applicants for nursing programs in the Midwest were denied entry last year. 
"This may be the most significant thing to come out of this meeting," Regent David Barker indicated. 
"This is not a one or a three-month decision, but a thought-out decision," added Regent Sherry Bates. 
Nook indicated that UNI anticipates formally introducing an executive director of nursing and chief academic nurse administrator (CANA) in the very near future as the university launches its first stand-alone nursing program. This individual will play a strategic role in developing a cutting-edge curriculum and assisting the university in obtaining state and national accreditation. In addition, this leader will figure prominently in developing strategic community partnerships with clinical experience providers and future employers of program graduates. 
The University of Northern Iowa will join its fellow Iowa Regent institutions at the University of Iowa and Iowa State to offer a Bachelor of Science in Nursing degree. According to Nook, the objective of UNI's initiative is to provide access to more seats at public school tuition to students who seek to pursue a nursing career and ultimately increase the number of working nurses in the state of Iowa, and not to draw candidates away from existing programs. The University of Northern Iowa anticipates that its initial cohort of undergraduate students enrolling in its BSN program in fall 2024 will consist of approximately 24 students. 
In addition to engaging with its fellow Regent institutions in Iowa to provide more access to nursing education, UNI also plans to continue its collaborative relationship with Allen College – UnityPoint Health in Waterloo. Current UNI students taking their general education coursework may still complete their clinical training at Allen College. UNI and Allen are discussing potential models to improve and expand their existing relationship in an effort to train additional nurses for the Iowa workforce.