Human & Social Services
UNI students find flow through hands-on research opportunities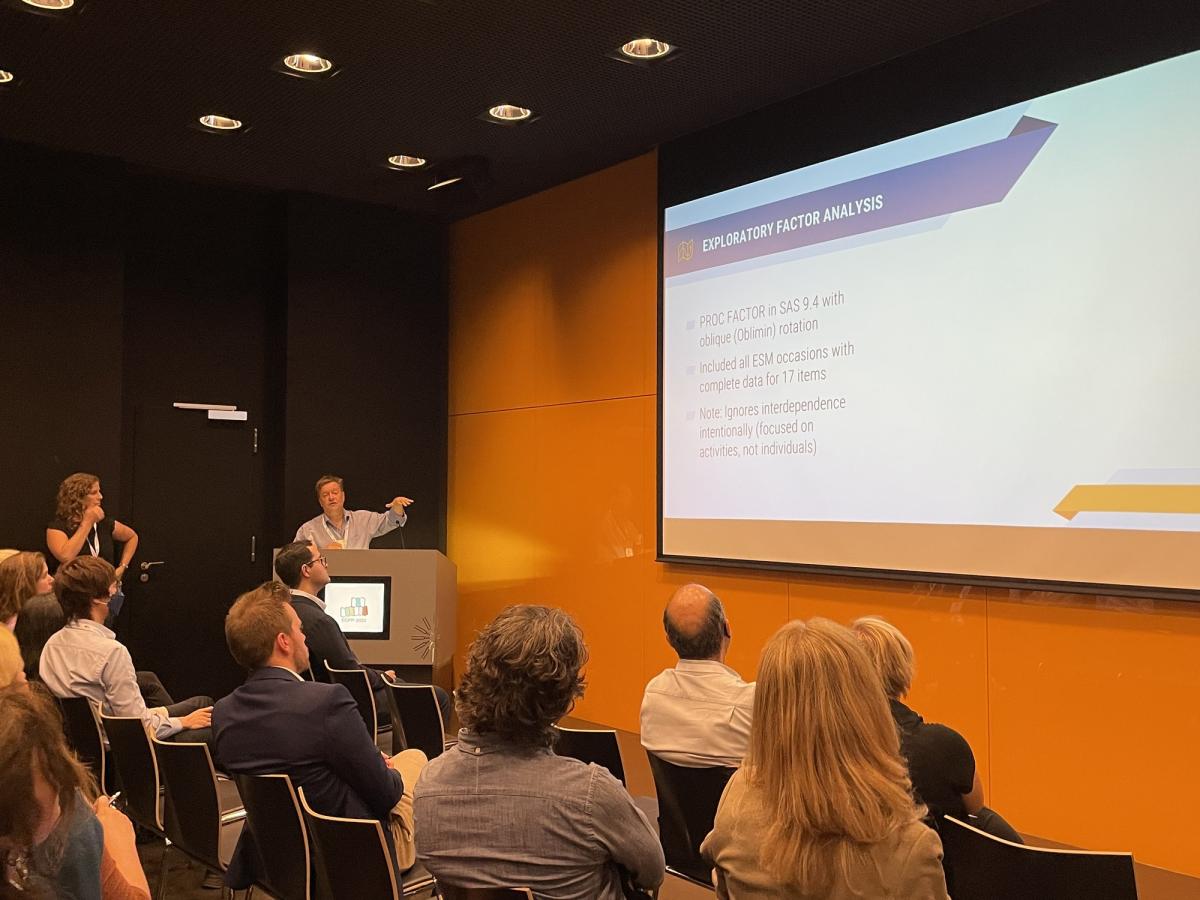 For more than two decades, Gary and Deanne Gute have dedicated a large portion of their research to the concept of flow. Not only do they both teach about the subject in the University of Northern Iowa's School of Applied Human Sciences, but they also investigate the topic through the UNIFlowLab, which they co-direct, and showcase that research on their website The Flow Channel. It's a subject they also presented at the European Conference on Positive Psychology (ECPP), which they attended this summer in Reykjavik, Iceland along with two undergraduate students.
As Gary Gute puts it, "flow" is a term that represents a universal experience where individuals and teams are completely engaged in something they love for its own sake. In athletics, it's commonly known as being in the zone. The term "flow" was coined by the Gutes' mentor Mihaly Csikszentmihalyi, who brought the concept to the forefront of the field of psychology in the 90s.
"Flow research is very much in an ascendent mode right now," said Gary Gute. "If you could, just to break down all of the topics that were addressed in the presentations at the conference, there was more on flow than anything else. So we're on the right side of the curve."
Most flow research is being conducted in Europe, but there are three U.S. institutions where flow research is happening, and one of those three, according to Gary Gute, is UNI. What is unique about UNI is that conference presentations and publications are being created with undergraduate students. 
Gary Gute believes that out of the dozens of institutions represented at the conference, UNI was the only institution to present work with undergraduate students. Other universities brought graduate students or postdoctoral students.
"That was very well received by our peers," said Gary Gute. 
"It's exciting for us to see our undergraduate students at their first professional conference, learning how that works and representing their own work knowledgeably and making connections with international researchers," said Deanne Gute. "It's really a satisfying thing to see them learn what they're capable of and see their effort pay off at an international conference."
At ECPP, Gary Gute was part of two oral presentations about flow and collaborated with undergraduate student Carter Powell, who is double majoring in psychology and movement and exercise science, on a poster presentation. Deanne Gute gave a poster presentation with Kaitlyn Grimes, who graduated from UNI in spring 2021 with a bachelor's degree in biology and a minor in psychology. 
Grimes first became interested in flow while in Deanne Gute's creativity capstone. She immediately connected with the concept.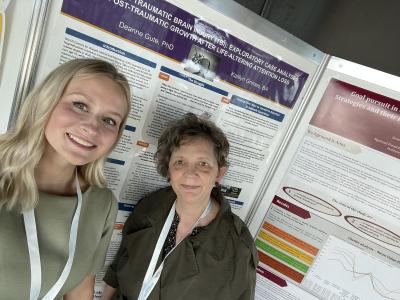 "It was such an accurate way to describe the experiences I had when painting into words," said Grimes. "It's exciting to see that I'm not the only one who feels this way — that there's a term for it, and you can try to cultivate it more in your life. I had a lot of personal experiences with flow — in painting and then later I tried to incorporate the different things I learned from flow into study sessions for some of my classes, and it ended up helping me do a lot better in my classes that semester."
Her interest led to her asking Deanne Gute how she could do more with flow, even though it was already her last semester of college. She ended up in the UNIFlowLab brainstorming possible research topics with the Gutes. Based on the work she'd already done with neurology patients, focusing on patients who had suffered from traumatic brain injuries (TBI) seemed like a natural fit. The case study looked at two TBI patients and how flow played a role in their recovery and post-traumatic growth, or, in other words, how they achieved a positive psychological change in the aftermath of hardship.
"It's a lot easier to get involved in research at UNI," said Grimes. "That's something kind of special about UNI. With smaller classes, the faculty are a lot more able and willing to engage with students. If anybody's interested in doing research, they should definitely reach out. Professors are just so open to working with undergraduates in research and letting them choose their own interests."
Grimes believes having that research practice as an undergraduate student will help prepare her for medical school, which she is currently applying to. She said her research has already been a topic of conversation in her medical school interviews. Grimes also said she valued the presentation experience going to the ECPP provided.
"I will need to do a million more presentations in the future," she said. "Now I know what to expect going forward."
Although Grimes was nervous going into the conference to present her research, the support she received from the Gutes helped put her at ease. 
The conference may have been a good introduction to the world of professional conferences for Grimes, but it was also a valuable experience for the Gutes who have been to many similar conferences in the past. 
"Being able to connect with such a diverse network of enthusiastic, intelligent, motivated, highly collaborative colleagues from all around the world is invaluable," said Gary Gute.
The Gutes hope to attend the annual International Positive Psychology Association World Congress in Vancouver, British Columbia, next year and take more students with them.