Languages & Communications
English graduate student combines his design, teaching, and academic skills in North American Review fellowship
The North American Review (NAR) is a national, historical gem based on the ground floor of UNI's Bartlett Hall. Founded in 1815, literary geniuses like Ralph Waldo Emerson, Frederick Douglass, and Flannery O'Connor have written pieces for the NAR. Jeremy Schraffenberger, NAR editor, stated that "as the oldest literary magazine in the nation, you can read the history of the United States through our pages, yet we're still forward-looking, publishing new poetry, fiction, creative nonfiction, and visual art that continue to shape our culture." One of the people who make the NAR possible is graduate assistant Jake Volk. 
Volk is from the Chicagoland area in a northwest suburb called Geneva. After receiving his associate degree from Wabaunsee Community College, he transferred to Lewis University where he double majored in English and secondary education. He then got his license to teach high school and middle school, as well as an endorsement to work with special education students ages 3-21. 
While at Lewis University he was the editor-in-chief of the campus newspaper, the Lewis Flyer. Not only does he have an editing background, but he is also a successful creative writer, his creative nonfiction and poetry having been published.
Since he was struggling to find work with his English bachelor's degree, he thought that getting his master's in English might allow him to teach college-level English. He was looking forward to teaching the complex texts and literature of the higher education curriculum. Volk was drawn to UNI's English Studies master's program because "I could study what I want and take my degree in the direction I want." After applying, UNI Languages and Literatures offered him a fellowship to work on the North American Review (NAR), the first time the department has offered such a fellowship. He began the program in Fall 2022.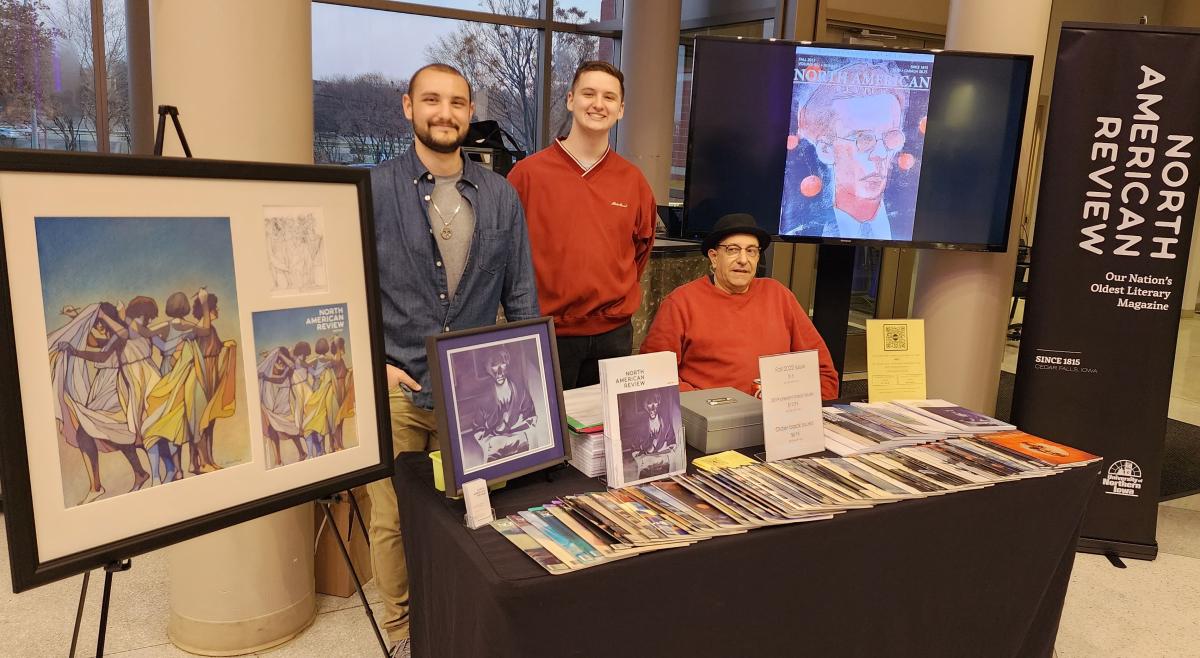 As the NAR graduate assistant, he employs his strong technical and design skills overseeing and redesigning the NAR's online counterpart, Open Space. Emily Stowe, NAR Managing Editor, commented: "we are so lucky to have Jake as a member of the NAR staff. He arrived ready to hit the ground running with the perfect combination of experience as a teacher and working in a library, plus his vast technical skillbase. He's extremely organized and efficient, while maintaining a positive attitude and good humor." Some of Volk's favorite experiences are getting to travel to a Chicago literary festival last summer and a book festival in Wisconsin happening this year. He also enjoys getting to meet authors of books that the NAR invites to campus and finds the opportunity to talk to people from around the world about pieces they publish in the NAR also exciting. 
Next year Volk will continue to assist the faculty member teaching the undergraduate practicum class, which familiarizes students with different programs for designing publications and the overall process of assembling a literary magazine. He is excited about assisting the faculty member teaching the class because he is very passionate about teaching. He loves "building a curriculum; I like putting together a program for students; I like having my details in a row and then bringing that program to students. Based on how well a class lesson goes, I can reflect on my teaching and improve on that curriculum." Referring to Volk teaching the practicum course, Grant Tracey, NAR Editor, said that Jake "was an amazingly engaged teacher, enriching each student's experiential learning."
Volk's research interests are currently gothic literature and an art movement called the Pre-Raphaelite Brotherhood. Additionally, he is interested in the history of these noncanonical texts and how high schools can introduce them into the curriculum.