She's a classically trained vocalist who as a grad student co-authored a paper on health issues among Gulf War veterans. Born to a music-teacher mom and college-administrator dad, UNI's new admissions director Terri Crumley's life has straddled both worlds in a career that led from The Juilliard School to teaching to admissions posts in Iowa and Wisconsin. Through it all, she kept singing. Here she talks about her goals in rebuilding enrollment during a global pandemic, the importance of saying yes and why UNI's push to recruit a more diverse student body drew her here.   
Can you tell us about you? 
Mom was a music teacher and dad was a college administrator. I always thought I could do both paths. I did my undergrad (at Central College) in business and marketing. I really like the structure of business - the analysis and the organization. But with music I've always loved the freedom and the ability to stretch the creative mind. And so just along the way, I was able to kind of work both.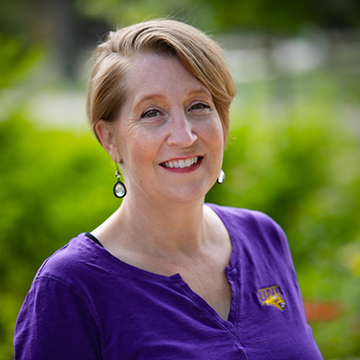 I went to college, had a great experience there and was a bit of a big fish in a small pond. I was just curious what I could really do with music. So I went to New York to try it (on Broadway). That's when reality hit. I got a great job working at The Juilliard School in the registrar's office and loved being around all these wonderful artists.
From there I went on to graduate school in music at the University of Iowa, thinking maybe I'll become an arts administrator or try it again as a performer. Instead, I did my doctorate in music and spent a decade teaching, performing and doing research. I kept saying yes to things and, lo and behold, you end up meeting incredible people, learning more and paths take interesting twists. An opportunity at Central opened up and I fell in love with admissions work. I spent 12 years there and then served as director at University of Wisconsin Stevens Point and Mount Mercy University before coming here. 
This year's enrollment figures showed some interesting trends. Enrollment was down, but we also had a large freshman class that was the most diverse in UNI history and strong retention of current students. What were your thoughts and what's your approach for the coming year? 
I have to give credit to Kristin Woods and the admission team for the freshman class. Prior to my arrival, they created and implemented a great plan to increase UNI's presence in out-of-state markets, increase visit options on campus - especially for students of color and LGBTQIA+ students - and to be more purposeful about removing the barriers to UNI, especially affordability.  Moving forward, we are keeping the same philosophy and are looking at how to build on these previous initiatives, clarify and promote the amazing value of a UNI education, and creatively approach virtual recruitment and relationship building with students and parents.
What drew you to UNI? What are your goals here? 
UNI is really the best of all worlds. Students get the personalized attention that the small private colleges bring, but you have all the opportunities of the bigger schools -- outstanding academic programs, sports, music, internships, research, study abroad, etc. If you want to get an excellent education, have a ton of opportunities, but don't want to feel overwhelmed or feel like you're just a number, I think UNI is the place. (And I should add my husband is an alumni so he's been "pro-Panther" for many years!)
I love the access mission of UNI, and we do a great job serving our students. It's obvious when you compare us to other peer institutions. My goal is certainly to attract more great students. We have a mission to bring the best and brightest, which includes those who are often underserved in our schools. I see the power of higher education, what it does for people. And you see how people are left out of it. And that just, it just makes me mad. So, I want every student to see their potential, to realize college is doable for them and how education can be transformative. And, I also know some of the hoops that get in the way for students -- whether that be the ACT/SAT, taking the right high school classes, understanding how to pay for college or even how to apply -- so we want to remove them.  We need to always think first: How do we serve our students?
We're building on what the (admissions) team is already doing. It's something that was really attractive to me to come here and something that I'd like to continue to do.
How has COVID-19 changed your job? 
In almost every single way possible. The foundation of admissions work is relationship building - you need to get to know students and their families. And they have to get to a comfort level with you as you help them through the process. You need to build relationships with high school counselors and with community colleges, build relationships with faculty and staff. You know, it really takes a village to recruit and COVID-19 has created this big barrier - so we're being innovative. 
We've opened up on-campus visits that can be done in a socially distanced way. We've created virtual tours, virtual visit events and conferences so students don't have to leave their homes. We are working with the high schools and community colleges on how to "visit" virtually. People do have Zoom fatigue, so we're finding ways to do things that are more interactive and fun. We are also reaching out even more with mail, email and phone calls.
What role has music played in your life?  
Up until about four years ago, I was still performing - I'd do a recital here or there or a guest performance. I stopped that because my performances were conflicting with my kids, who are both really involved in music. So, I'm just singing in church for now and enjoying it. My daughter is really involved in dance, choir and show choir.  And my son, who is a college sophomore math major, has a band on the side. His band recently got a small recording contract after making a TikTok video that went a little viral. My husband is probably the true musician in the family - he travels all over the state playing jazz, including here at UNI with some of the music faculty.  Music is an important part of life, you know? It connects us and makes us all better people.