News Release
Director of UNI's Institute for Decision Making receives Leadership for Iowa award
The University of Northern Iowa's Institute for Decision Making (IDM) Director Andrew Conrad has won a Leadership for Iowa award in recognition of his work assisting communities and organizations across the state. 
The Iowa Association of Business and Industry (ABI) Foundation's award honors distinguished alums of ABI's Leadership Iowa program who demonstrate outstanding leadership and a commitment to serve Iowa. Conrad, a 2005-06 ABI graduate, will be presented with the award on June 10 at ABI's conference in Coralville.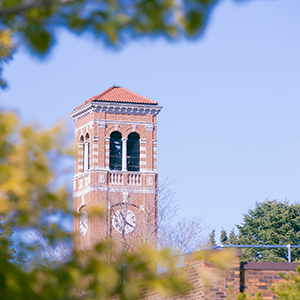 "I was surprised and honored to be nominated for this award alongside so many accomplished business and community leaders from across the state," said Conrad. "The IDM understands the importance of leadership in successful communities and I'm proud and humbled to be recognized for my leadership by the ABI and Leadership Iowa."
As director of IDM, Conrad designs and executes community and regional-level services aimed at assisting organizations and communities strengthen their economic vitality. In his 28 years in the role, he has worked with hundreds of organizations and communities on strategic and short-term planning, community assessments, cluster analysis, target industry analysis, supply chain mapping and other applied research projects.
"Drew's leadership, professionalism and commitment to economic development is unwavering. He is truly deserving of the Leadership for Iowa award," said Debi Durham, director of the Iowa Economic Development Authority (IDEA) and the Iowa Finance Authority (IFA). "Most recently, his partnership in developing statewide economic impact surveys during the COVID-19 pandemic was critical to the state's work to provide relief to small business owners, homeowners and renters, farm families and many others."
Conrad also serves on the Iowa Workforce Development Board, the Iowa Sector Partnership Leadership Council, and is Vice Chair of the UNI Alumni Association Board. In the past, he served as president of the Professional Developers of Iowa, president of the Waterloo Jaycees, chair of Leadership Iowa's Board of Governors, chair of the Waterloo Open, and chair of the Council of Community & Economic Research Board of Directors. Drew is a Certified Economic Developer (CEcD), a Certified Economic Research Professional (CERP), and holds a Market Research Certification (EGcMR) from the National Economic Gardening Institute. Drew is a graduate of the Economic Development Institute (EDI) at the University of Oklahoma and holds a BA in American History/Pre-Law and a Master's in Public Policy (MPP).