News Release
MidAmerican Energy invests in UNI@DMACC partnership
MidAmerican Energy has invested $250,000 in UNI@DMACC, a partnership between the University of Northern Iowa and Des Moines Area Community College, to advance this first collaboration of this size and scale between an Iowa Regent university and community college. UNI@DMACC is a 2+2 program specifically designed for students to complete their first two years at DMACC, with the remaining two years of coursework to be completed online through UNI.

"We are grateful to MidAmerican for their commitment to the communities they are part of," said Jim Jermier, vice president for university advancement at UNI and president of the UNI Foundation. "MidAmerican's gift to the UNI@DMACC partnership is creating educational opportunities and upward mobility for largely non-traditional students in the Des Moines urban core. We are thankful for their role in supporting this important work." UNI@DMACC launched in the fall of 2020 with a goal of making a four-year degree affordable and accessible to the more than 5,000 students who make up Iowa's most diverse college campus.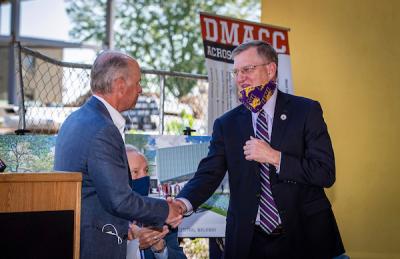 "The UNI and DMACC partnership will be a cornerstone for enhanced educational opportunities for generations to come," Kathryn Kunert, vice president of economic connections and integration at MidAmerican, said. "Education is core to Iowa, and it is core to our organization's values as well. Making new learning opportunities available and affordable to underserved populations is another way we can invest in our collective future for the communities we serve and are proud to be a part of."

Of the investment by MidAmerican, $125,000 will be used to support the "Building Community" capital project at the DMACC Urban Campus, $100,000 will fund student scholarships and $25,000 will support the programming of the UNI@DMACC partnership. In recognition of their gift to the UNI@DMACC partnership, the outdoor space located at the DMACC Urban Campus will be named MidAmerican Energy Company Gardens.

MidAmerican has also made a gift to the DMACC Foundation in support of the "Building Community" project, which brings their total investment in the project to $275,000. The contribution to DMACC will be recognized with a named conference room in the new Student Life and STEM Center.

MidAmerican's gift to the UNI@DMACC partnership was made through the UNI Foundation. For more information about UNI@DMACC, visit belong.uni.edu/dmacc.