News Release
Multi-Year John Deere grant to support award-winning UNI community partnership
A thriving community partnership is even stronger thanks to a renewed investment from one of the Cedar Valley's corporate leaders.
UNI Classic Upward Bound, a college preparatory program serving low-income and future first-generation college students in Waterloo, was recently awarded a $437,000 grant, to be awarded over the next three years, from the John Deere Foundation.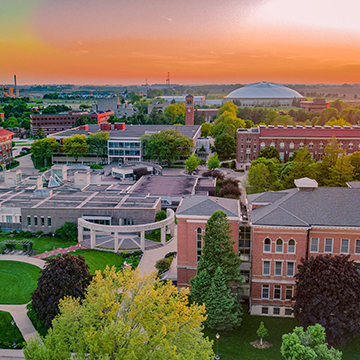 It's the largest private grant in the UNI Center for Urban Education program's 53-year history, and an extension of financial and employee volunteer support John Deere has provided UNI Classic Upward Bound since 2010. 
"Our partnership with John Deere is crucial to ensuring students graduate high school, eventually earn their college degree, and become future leaders in their communities," said Yolanda Williams, director of UNI Classic Upward Bound program.
"John Deere and their staff live up to their commitment of community building, and it is an honor to work with them," Williams said. "The renewal of this grant means we can plan for a more comprehensive and intentional experience for our first-generation and low-income participants."
The contribution is part of the John Deere Foundation's previously announced $200 million commitment to communities over the next 10 years. "Youth require equitable access to education in order for their lives to leap forward," said Pat Barnes, senior global program education & equity officer for John Deere. "Classic Upward Bound is an impactful program that provides equity to underserved populations and opportunity for students to succeed well after graduation.
In addition to tutoring and academic advising offered to high school student participants throughout the academic year, Classic Upward Bound students, aptly referred to as "scholars," participate in an intensive six-week summer curriculum covering math, science, technology, foreign language and financial literacy, among other courses. Several of these courses are taught by John Deere employees.
John Deere's investment, which supplements U.S. Department of Education and UNI funding, provides support for Classic Upward Bound's summer curriculum, robotics team and Bridge Program, in which graduating high school seniors can enroll in UNI courses on campus over the summer as they transition to their first year in college.
The current grant continues John Deere's commitment to providing resources to meet the growing number of student applicants for Classic Upward Bound. With the added support, the program is able to serve 10 additional students beyond the 85 typically enrolled and covered by federal funding. 
A portion of the grant will also be used for a robust John Deere mentoring program in which company employees are paired with Upward Bound students for year-round support. Entering its fifth year, the mentoring program has grown to include more than 45 John Deere employees and 45 mentees.
Williams, who took over leadership of the program in 2020, said financial and human resources from John Deere have been instrumental in keeping students and their families engaged and supported over the past year as programming pivoted to a virtual format.
This summer's programming will be a hybrid model, providing academic components virtually and offering in-person activities weekly to ease the transition back to in-person programming this fall, Williams said.