News Release
New UNI program expands community access to fresh-grown vegetables
A new University of Northern Iowa program will help aspiring gardeners start their own home garden at no cost to them.
Starting this spring, A Garden in Every Lot will provide new gardeners in the Waterloo/Cedar Falls metro area with site assessment, tilling, mulching and compost, and planting services as part of a multi-year effort by UNI's Center for Energy and Environmental Education to improve community access to healthy foods.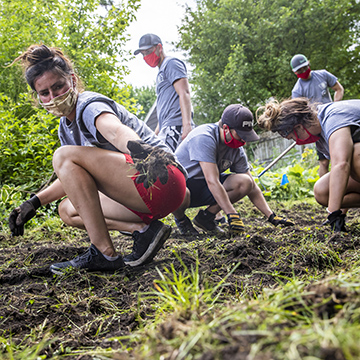 "This garden starter set of services can result in more fruits and vegetables for the people who don't have access to them or can't afford them," said Kamyar Enshayan, director of the CEEE. "We're trying to remove barriers so that anyone who wants one can have a garden."
The project is a partnership between the CEEE, AmeriCorps and many community partners including the Leighty Foundation, which provided funding for equipment. Work is carried out by AmeriCorps members, including UNI students, and UNI staff. While the staff won't maintain the garden once it's installed, they are available for consultation.
"Think of us as a support group," Ensahyan said.
And while it's still too early to start planting, site assessment work has already begun. Enshayan said 25 people have signed up so far, and other community members interested in the service can apply online, email unilocalfood@gmail.com or call 319-273-7575. The program is available to anyone who does not already have a garden.
The project joins a number of other efforts by the CEEE and AmeriCorps to address food insecurity and promote fresh produce in the area. 
One is a community garden at the People's Community Health Clinic in Waterloo, a nonprofit health care clinic that provides affordable community medical care. The garden provides thousands of pounds of produce for free to clinic patients and community members, many of whom are minorities or refugees who both struggle to afford produce and find transportation to grocery stores outside of their neighborhoods. 
Another UNI/CEEE program, called Greens to Go, is helping tackle the lack of fresh produce in Waterloo neighborhoods. Through a partnership with local growers, the project's staff goes to area farms and picks produce and then sells it at-cost the same day at a mobile produce stand.