News Release
New UNI projection art festival to feature local artists
The first-ever Cedar Valley Illuminate Art and Light Festival will debut this weekend in the College Hill area, a projection art showcase featuring 15 installations from local artists, students and community organizations conceived around a theme of promoting social justice and societal change.
"Projection events are common across the country, but haven't yet made their way to the Cedar Valley until now," said Dana Potter, assistant professor of communications and media, who spearheaded the festival. "The artwork in our event will feature advanced technologies, including responsive audio and visual installations, dynamic video poetry and interactive live-video feeds.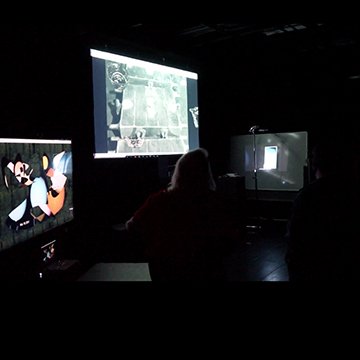 "Most excitingly, everything is made by people who live and work in the area. We are showcasing work for us, by us as we need community now more than ever."
The free festival will be held from 9-11 p.m. May 14 and 15. The art installations will be scattered throughout College Hill and the Hearst Center for the Arts. A map and a list of the projects can be found online.
Some pieces were created by UNI students, such as a video by professor Wendy Miller's art education students, who worked with sixth graders from George Washington Carver Academy to capture their hopes for the future after the pandemic ends. 
Many of the art installations feature interactive components. The sound sculpture "Feedback Loop" by MidWest Pressed in collaboration with UNI interactive digital studies majors Blake Lamoureux, Matthew Bancroft-Smithe and Mili Saliu, uses guitar pedals and simple electronics to form a reactive sound experience that both operators can contribute to simultaneously while affecting each other's signal. 
In the installation "Falling Into Place," festival goers are invited to play music on mobile devices in time with a projected installation. The piece is a collaboration between Computer Basics, an electronic music project by UNI alum Dakota Reed, and SynThesis at UNI, a computer system development and research lab led by assistant professor of computer science Dheryta Jaisinghani.
The event was organized by students in Potter's Interactive Digital Studies practicum in partnership with the College Hill Partnership.