Press Releases
Tammy Pescatelli and Orlando Leyba bring comedy night to Gallagher Bluedorn
Comedy night is coming live and in-person to the Gallagher Bluedorn. Tammy Pescatelli and Orlando Leyba will bring their stand-up comedy on Saturday, March 27, 2021 to the University of Northern Iowa's Gallagher Bluedorn Performing Arts Center. 
Leyba is an American stand-up comedian who connects with all audiences through his unique life experience and perspective. Most recently he made his late night debut on The Tonight Show Starring Jimmy Fallon, and can be seen on EntreNos on HBO Latino, TruTv Laff Mobb's Laff Track's and his very own HBO comedy special, "Adorable."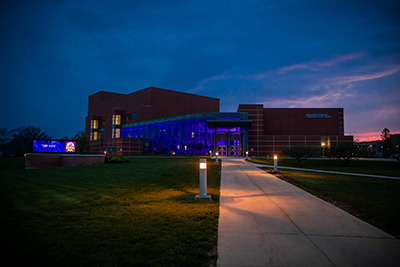 Pescatelli brings a bold voice of witty sarcasm to her audiences, holding her own on the topics of sports, television, dating and family life using tongue-in-cheek humor. Pescatelli's career jump started after appearing - and being one of the Final 5 - on NBC's Last Comic Standing. Her season played out to more than 18 million viewers, garnering her a mass of loyal new fans that found themselves alongside the others she had created by years of touring the comedy clubs. 
Tickets start at $25.50 and are available online at gbpac.com/comedynight. All guests will be expected to follow the Gallagher Bluedorn's COVID-19 Safety Policies.