Press Releases
TheatreUNI announces streamed performance of "It's Greek to Me"
TheatreUNI will present a virtual performance of "It's Greek to Me," which will become available for streaming later this month. 
In this collaborative performance, students will present classical Greek texts, and their personal responses to those texts – exploring themes such as inequality and racism along the way.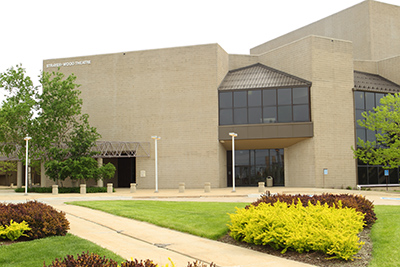 Amy Osatinski, director, says she hopes "It's Greek to Me" will get the audience thinking about their own relationships to Greek theatre.
"This production was interesting because it allowed students the opportunity to experience classical Greek texts, and learn to perform them, and it also gave them a platform to voice their own response," she said. "The way that theatre history is often taught perpetuates the myth that the Greeks were the first to 'do theatre.' Students challenged the idea of the supremacy of white, western theatre in theatre history, among other things, in their responses. The show is not only entertaining, but it also has a very strong point of view that will likely get audiences thinking."
The performance was filmed by students in a UNI digital media class, who will also produce a full-length documentary about the making of "It's Greek to Me," exploring the challenges and rewards of producing theatre in the midst of a pandemic.
Osatinski says despite the challenges, TheatreUNI students have come together to continue to bring theatre to audiences in new and creative ways. 
"The students were extraordinary," she said. "We originally planned to do a fully staged production, but when COVID-19 made that impossible, students met the challenge with enthusiasm and created really dynamic and amazing work."
"It's Greek to Me" will be the second production in the department's 2020-2021 Virtual Festival. Upcoming productions include "Borderlands" and "Dream with Me," which will also be released in a digital format. More information about the Virtual Festival can be seen here.
"It's Greek to Me" will be available for streaming on Thursday, March 25. Tickets can be purchased through UNITix. The cost of the streaming performance is $10.