Press Releases
UNI Gallery of Art to present online Annual Juried Student Art Exhibition
The University of Northern Iowa Gallery of Art and the UNI Department of Art will present the "Annual Juried Student Art Exhibition" from March 29 through April 25.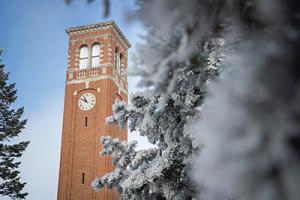 This competitive online group exhibition showcases outstanding recent artworks by students enrolled in classes in the UNI Department of Art. The juror for this year's competition is Heather Skeens, cultural programs supervisor for the city of Cedar Falls. Skeens will make a selection from student entries and choose a number of merit awards and honorable mentions. 
Skeens will also give a Zoom lecture about her career as well as her perspective on jurying at 5 p.m. on March 15. Attendees can join the lecture at https://us02web.zoom.us/j/81968814764 using the passcode 975421.
Skeens also oversees the Hearst Center for the Arts. Prior to her position in Cedar Falls, Skeens directed the Anderson Gallery at Drake University for over ten years, and instructed courses in Art History and Art Appreciation. Prior to working for Drake, she held positions with the State Historical Museum of Iowa and the Des Moines Art Center. She earned her BA in Art and Art History from the University of Iowa and her MA in History from Iowa State University, where she completed a master thesis examining the photographic work of Edward Curtis and his portfolio "The North American Indian."