News Release
UNI student honored as Newman Civic Fellow
A University of Northern Iowa student was recently selected as a 2021 Newman Civic Fellow, a yearlong program that selects students who are leaders on their campuses and demonstrate a commitment to finding solutions for challenges facing communities.
Junior psychology major Jerrell Bates, whose work on campus helps steer students of color towards higher education and aims to reduce negative stigma surrounding mental health in Black communities, is one of 212 students from 39 states selected for the fellowship.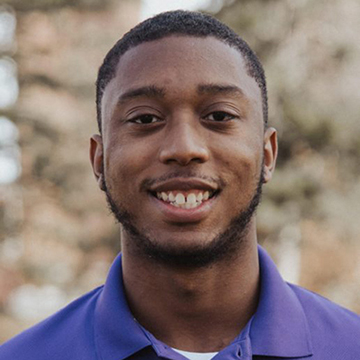 "As an individual, it is my purpose to be an example to the next generation," Bates said. "The issues surrounding mental health and social problems are ones that I have a deep passion for and I would like to be a part of the solution to help solve these problems. I want to show people that no matter your background, you are able to accomplish anything and together we can accomplish a lot more."
Bates is the president of Ethnic Student Promoters, a student group which seeks to increase the amount of students of color in higher education, and is active in the Black Student Union, where he said he enjoys educating individuals about the history of his people during Black History Month. 
"Jerrell's involvement on campus illustrates how he is addressing the fields of mental health and higher education," said UNI President Mark A. Nook. "He recognizes the lack of representation of black individuals in higher education and commits his time at UNI to working to help individuals of color enroll in educational programs and seek out the support services to assure their success in reaching their educational, professional, and personal life goals, including mental health programs when needed."
The fellowship is run by Campus Compact, a Boston-based non-profit organization working to advance the public purposes of higher education. Through the fellowship, Campus Compact provides fellows with a variety of learning and networking opportunities that emphasize personal, professional and civic growth. 
Each year, fellows participate in numerous virtual training and networking opportunities to help provide them with the skills and connections they need to create large-scale positive change. The program also provides fellows with pathways to apply for exclusive scholarship and post-graduate opportunities.
Past Newman Civic Fellows at UNI include Cole Passick in 2020, Sashay Carroll in 2019 and Ashley Sanchez in 2018.