Press Releases
UNI students place second in national public health competition
A team of University of Northern Iowa students earned second place in the National Case Study Competition in Health Education, a virtual format competition that brought together students from around the country to participate in addressing a community health issue.
UNI public health students Lynn Kleyer, Kara Hooper and MacKenzie Helle competed against 15 teams from 11 colleges, working for three weeks on a public health plan to address breastfeeding disparities in a rural Louisiana county.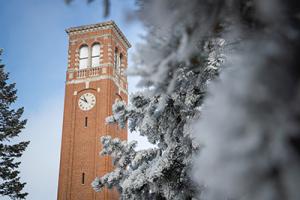 "I was so impressed by this group's hard work," said Disa Cornish, a UNI associate professor who was the team's advisor. "They put in months of preparation time and expertly used the skills and lessons from our public health program."
During the competition, student teams were reviewed by a panel of experts and judged based on specific criteria. 
"This opportunity makes me proud to call myself a panther," said Kleyer, a senior public health major. "It was a crazy month, but I would not take it back. I am better equipped to join the public health field and have grown closer to my classmates because of it."
The competition's mission is to provide a top-tier professional development opportunity for public health students to showcase their skills and preparation as they enter the profession.