News Release
United Way, UNI Center for Educational Transformation and Waterloo Schools partner on trauma-informed project
The everyday demands of school life can be difficult for many students – but some carry more than a backpack full of books when they show up for class each day. 
2019 data from the Robert Wood Johnson Foundation indicates 1 in 5 Iowa students are carrying the added emotional weight of neglect, abuse or other traumas – adverse childhood experiences commonly known as ACEs. Research has shown that ACEs can impact youths' ability to learn and grow in school and – if left unaddressed – can contribute to long-term health consequences in adulthood.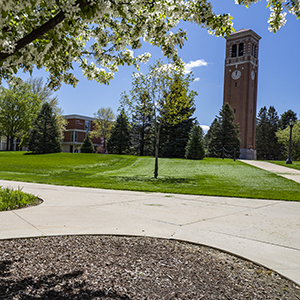 But thanks to a multi-year grant from Cedar Valley United Way, a new partnership between the Waterloo Community School District and the UNI Center for Educational Transformation (CET) will help teachers and parents to better recognize the symptoms of adverse childhood experiences (ACEs), and develop strategies to help students succeed despite these obstacles. The program – We Can! Building Relationships and Resilience – will center on separate but related offerings to develop a system of trauma-informed care in school and at home. 
Debbie Roth, senior director of community resources at Cedar Valley United Way, said mental health services have emerged in recent years as one of the community's highest priority needs. 
"Adverse childhood experiences and building resiliency are a very large piece of that work," Roth said. "Cedar Valley United Way is supporting We Can! because it looks at addressing ACEs systemically and multi-generationally, both of which have great potential for lasting impact in the Cedar Valley."
The economic, cultural and health impacts of the pandemic have added even greater urgency for trauma-informed training, according to Lisa Hooper, Richard O. Jacobson Endowed Chair for Research and director of the CET. Hooper estimates that many Waterloo Schools students may now be dealing with under-addressed ACEs. 
Gina Weekley, at-risk student support coordinator at Lincoln Elementary in Waterloo, agreed that the We Can! project is especially needed following the past year.  
"There is no time like the present to provide trauma-informed approaches and training, as all persons have experienced some level of trauma during this pandemic and social unrest," Weekley said. "This effort will positively impact Waterloo schools and change the life trajectory of vulnerable students and their families."
The present iteration of the We Can! program arose out of a partnership between Hooper and Armeda Stevenson Wojciak, an associate professor of couple and family therapy at the University of Minnesota. The two formed a partnership in 2018 while Wojciak was at the University of Iowa, and developed the current program based on Wojciak's school-oriented We Can! Building Relationships and Resilience. The initiative will be now expanded by partnering with parents and will be tailored to the specific needs of the Waterloo School District. 
Wojciak conducted a series of pilot trainings from 2015-2020 of We Can! for educators that demonstrated promising results, including a 75% reduction in office referrals as well as reductions in chronic absenteeism at one school district. These outcomes were attributed in part to the yearlong, school-wide We Can! training, which goes beyond the annual one-hour, trauma-informed training now required for educators as of 2019. We Can! has been endorsed by the Iowa Department of Education to meet that requirement.
On March 2, 2020, Hooper and Wojciak held a meeting with Waterloo Schools, as well as leaders and parents from different community organizations, to gauge interest in bringing We Can! to Waterloo Schools. At that meeting, parents also stated they wished to learn more about the content covered in We Can!, setting the stage for expanding and co-developing the program alongside Waterloo Schools parents. 
Hooper and Wojciak have been meeting with parents virtually since January to move this work forward. 
"Over the years, school personnel have always wanted to know how to engage parents in what they were learning. In our meeting with the Waterloo community, the parents were asking the same thing and said that they wanted to be part of that," Wojciak said. "After the meeting, we knew we had committed parents to work with to not only co-develop We Can! Parents, but to also ensure we were culturally tailoring We Can! for the Waterloo Community, an important aspect in successful programs and partnerships." 
Hooper contends every program similar to We Can! must be co-designed with the community and with the individuals for whom the program is directed (i.e., Waterloo parents, students and teachers). Equally important is how the cultural and racial strengths of the community are infused into programs, Hooper said.
We Can! Building Relationships and Resilience will be a long-term project involving partnerships across sectors outside of education to expand trauma-informed training in the Cedar Valley. Hooper said United Way and other community funding will allow the program to be implemented in all 11 Waterloo public elementary schools over the next several years. 
Understanding and addressing the academic and socio-emotional needs of learners dealing with trauma will take a "paradigm shift at the staff and organizational level" of the school system, Weekley acknowledged, but will better equip adults to "parent, teach and lead." 
Parents interested in becoming involved with We Can! Parents may reach out to Hooper at lisa.hooper@uni.edu and Wojciak at awojciak@umn.edu.