Not many students can say they have performed at the College Football National Championship, but 12 members of the UNI Panther Marching Band now have that honor. 
The Intercollegiate Marching Band, created by the College Band Directors National Association, resulted from COVID-19 sidelining many bands during the fall 2020 football season. Rather than let halftime to be silent at the National Championship, the CBDNA orchestrated the logistics for an entirely virtual band.  Members of the PMB were able to combine their musical and performing talents with 1,200 other students from 200+ colleges and universities.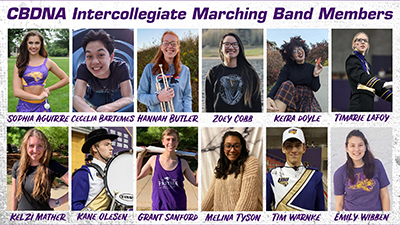 Students were selected for the IMB through a nomination by their director. Justin Mertz, director of the Panther Marching Band, made a point to nominate a variety of students from across the band. The nominated students were feature twirler Sophia Aguirre; colorguard members Cecelia Bartemes, Keira Doyle, Kelzi Mather, Grant Sanford, and Melina Tyson; drumline members Zoey Cobb and Kane Olesen; drum major Timarie LaFoy; saxophone player Emily Wibben; trombone player Tim Warnke; and trumpet player Hannah Butler.
The College Football National Championship game is always played between two FBS-level teams, but in order to unite the larger marching arts community, the decision was made to open it to all schools regardless of their division. This allowed UNI students to be nominated even though UNI is an FCS school. 
"The PMB is a very strong performing organization and I was glad for the opportunity for us to be part of the FBS national championships, representing UNI at one of the biggest national events in college sports," said Dr. Justin Mertz, director of the Panther Marching Band. "I was glad to see something positive during the pandemic when so many band activities have been abbreviated or eliminated." 
The inclusion of bands at all levels provided the unique opportunity for UNI students to collaborate with fellow student musicians from across the country. Each student used specialized software to record the video and audio of themselves playing an assigned part in a musical arrangement of Beyoncé's "End of Time." Submissions were combined to create one massive virtual band.
The Intercollegiate Marching Band also allowed many seniors to don their uniforms one last time after the cancellation of fall football. Senior drum major Timarie LaFoy thought that she'd worn her uniform for the last time in the fall of 2019 when she found out UNI's football season had been moved to spring.
"I loved being able to put my uniform back on one last time as a senior and finish out my final season in it. It was a huge honor to be selected to represent the PMB and the University on such a large scale," LaFoy said. "My favorite part was seeing the way that all of our individual videos combined to make something so special. Getting to bring joy to audiences during a time where in-person music making is limited was amazing."
The Intercollegiate Marching Band also allowed students to use their talents in non-musical ways. Senior digital media production major Hannah Butler edited the field entry video using footage provided by Florida A&M University. Dr. Chris Larimer, the announcer for the PMB, was one of the announcers who lent their vocal talents to the narration. 
The video premiered on January 11th during halftime of the College Football National Championship simultaneously in Hard Rock Stadium and on social media. To date, it's been viewed over 100,000 times. It can be viewed at https://www.youtube.com/watch?v=dVYM1UNqu6Y&t=148s.