Politics & Justice
Finishing strong through UNI
Rodell Jones never intended to get a degree in criminal justice. But, after two decades of years working in security, finally earning his bachelor's degree just feels right.
"I think everything happens the way it's supposed to happen," said Jones. "And I think that means going back now and getting that chapter of my life completed."
The 41-year-old Washington D.C. native is finishing his degree through the University of Northern Iowa… all while living in Maryland, more than 900 miles from Cedar Falls.
Jones is on track to graduate with his Bachelor of Applied Science in Criminal Justice this summer. It's a feat that's more than 20 years and a handful of colleges in the making.
"When I first went to school, it was just too much too fast."
Ultimately, life got in the way, and Jones found himself with some college credits but no degree. 
While on his break from higher education, Jones started working security jobs.
"I just needed a job at the time and kind of fell into it," he said. "I liked the fact that I could sit there and monitor my surroundings to make sure they're secure while earning money."
Jones thrived working in security and started working his way up. He became a supervisor and then became an armed special police officer for federal contractors. Eventually, Jones made his way to the Transportation Security Agency (TSA).
His work with the TSA led him back to school through an opportunity to earn a Homeland Security certificate online for free. One of the schools that offered this program was Des Moines Area Community College (DMACC). Once Jones completed the certificate, he realized he had enough credits to complete his associate's degree through DMACC. It was a friend that suggested he should get the degree in criminal justice. After all, it's the subject Jones knows best.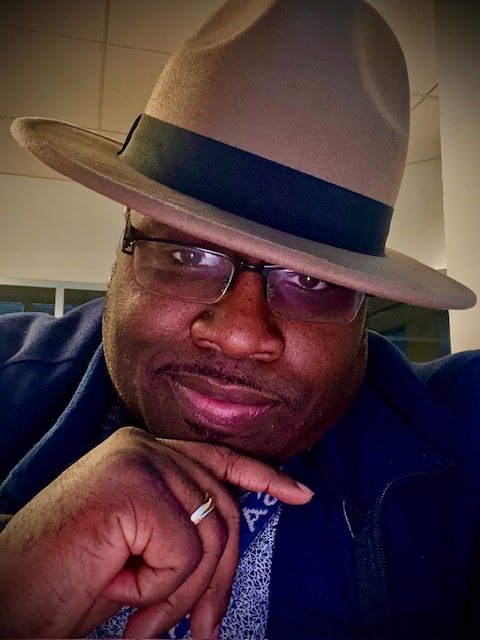 "I had a reckless habit of not completing things, and, to me, that was a problem," he said. "I wanted to change that."
When he earned his associate's degree, he decided to keep going and finish what he'd started.
"I have managed to be able to get jobs without a degree," said Jones. "The problem is there's a ceiling. In order to compete, you're going to need some sort of formal schooling. So that's one of the things that I'm instilling in my children."
One of Jones' DMACC instructors was the first to suggest he enroll at the University of Northern Iowa. Jones loved how seamless it was for him to transfer credits from DMACC to UNI. But it was the people that really sold him on becoming a Panther.
"If I'm paying thousands of dollars for my education, I should be able to pick up the phone and I should be able to reach who I need to reach," said Jones. "At UNI, I always got that. And that wasn't my experience with other schools. On top of that, UNI offered a lot of incentives for me to come. It felt like you all wanted me to come."
Even though he's over 900 miles from campus, the people at UNI continue to provide him with the assistance he needs to get the most out of his education.
"My advisor [Gayle Rhineberger] is the greatest," said Jones. "She's been working with me to help get me to graduation. Obviously, as a student, I have to do my part, but she's been very, very instrumental in helping me to get to graduation and get to this point. And again, as a school as a whole, the staff — every single one of them at UNI — have always been on point with getting me back the information that I need. They're not waiting weeks and days to get a response back."
Jones said he also appreciates the flexibility his professors have shown him as he balances full-time work, full-time school and being a father to five daughters as well as a husband.
Although he will probably take a break from school for a little bit, the experience of going back to school has made Jones realize he can go even further. He is considering getting his master's degree in intelligence.
---
"I'll say that once I come out of this experience, I'll be able to do anything," he said. "I don't think that there's anything that I wouldn't be able to deal with." 
---
Jones hopes others who might be considering going back to school can learn from his example.
"Don't look at your age and say, 'Oh, well, I'm too old to go back to school' because I went to school at the age I was supposed to go, but unfortunately life got in the way of that," he said. "Age does not affect whether you should go back to school or not. It's all in your goals and what it is that you're trying to do."