STEM
AEB expansion and modernization will help build in-demand job skills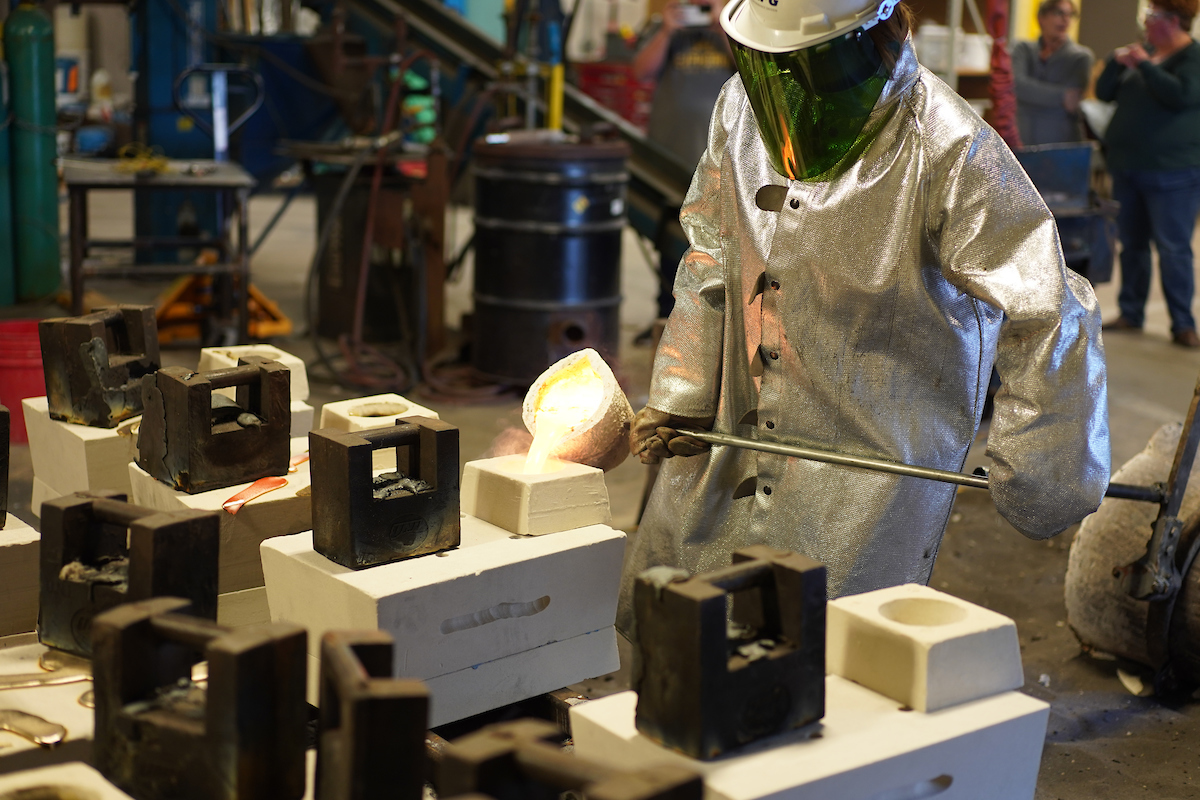 The University of Northern Iowa's Applied Engineering Building (AEB) will undergo an extensive modernization starting June 9.
There will be a groundbreaking ceremony at 1 p.m that day, which will include remarks from Governor Kim Reynolds, UNI President Mark A. Nook and other UNI leadership, alumni and industry leaders.
Over the course of three years, the nearly $44-million renovation will update and expand the AEB to meet the needs of today's students and prepare them for success in an Industry 4.0 workforce. 
"The expansion and modernization of the Applied Engineering Building is an important step in laying the foundation for the future of UNI and continuing to strengthen the Cedar Valley and Iowa," said President Mark A. Nook. "As the demand continues to grow for highly skilled professionals in industries that rely heavily on advanced technology and applied engineering, this facility will allow our faculty to provide the educational opportunities that will enable our students to have an immediate impact in these industries and Iowa's economy."
Formerly known as the Industrial Technology Center, the AEB houses the Department of Applied Engineering & Technical Management, which enrolls nearly 500 students across seven program areas. The placement rate for graduates from these programs is more than 95 percent, with an average starting salary of nearly $70,000.
The department plans to increase enrollment by 40% to 700 students by 2025 to meet Iowa's workforce needs. 
"The expansion, renovation, and renaming of the Applied Engineering Building reflects UNI's commitment to the tomorrow of our students, the university, and the industries of Iowa," said John Fritch, dean of the College of Humanities, Arts and Sciences. "The changes to the building will allow us to develop new paths for students in areas such as automation and Industry 4.0 while enhancing our regionally and nationally recognized programs in construction management and manufacturing. UNI graduates of these programs have no difficulties finding careers in high-paying fields."
When it was first built in 1974 as a place to educate shop teachers, the facility was considered a marvel of its day, complete with the most cutting-edge industrial equipment available. Some of the most innovative concepts and designs such as the Reed Auditorium and the computer system were even featured in a 1977 issue of "Power Tool Instructor." The 5,000-square-foot metal casting center, which is now among the nation's largest working academic and research foundries, was added in 1990.  
The significant increase in square footage from about 64,000 square feet to about 109,000 square feet will allow for more hands-on learning and industry-standard equipment. 
"The faculty and staff are excited about the renovation and expansion of the Applied Engineering Building," said Lisa Riedle, head of the Department of Applied Engineering & Technical Management. "This opportunity will provide new lab spaces, expand our facility and allow for more interdisciplinary projects and collaborations with industry. It has been exciting to plan the spaces with UNI facilities staff and the architectural team. OPN/TreanorHL has provided us with examples of laboratory layouts, classroom configurations and helped us really think about how we want to use our spaces in the future and provide new educational experiences for our students."  
The benefits of a modernization of such scale are many, including stronger partnerships with industry associations, support for the delivery of state-of-the-art curriculum in technology-enhanced labs and better preparation for K-12 educators to teach STEM, career and technical disciplines. All of this continues to affirm the University of Northern Iowa's commitment to equipping students with in-demand skills that strengthen the Iowa workforce. 
"We are very proud to be partners in the development of the new Applied Engineering Building at the University of Northern Iowa," said Chad Kleppe, President and CEO of the Master Builders of Iowa. "The Iowa commercial building industry relies on graduates of the construction management program for its workforce, as the vast majority of graduates stay in Iowa and work for MBI member companies. You will not find another group of leaders in our state that are more committed to solving future workforce issues for this industry than MBI members as demonstrated through our financial commitment of $250,000 to the building, our lobbying efforts at the State Capitol and our members' advisory role in the construction management program."
You can watch a live stream of the construction progress here.
Contact:
Andrew Morse, Chief of Staff, andrew.morse@uni.edu, 319-273-6144.