STEM
FIRST Robotics Competition returns to UNI-Dome, igniting STEM excitement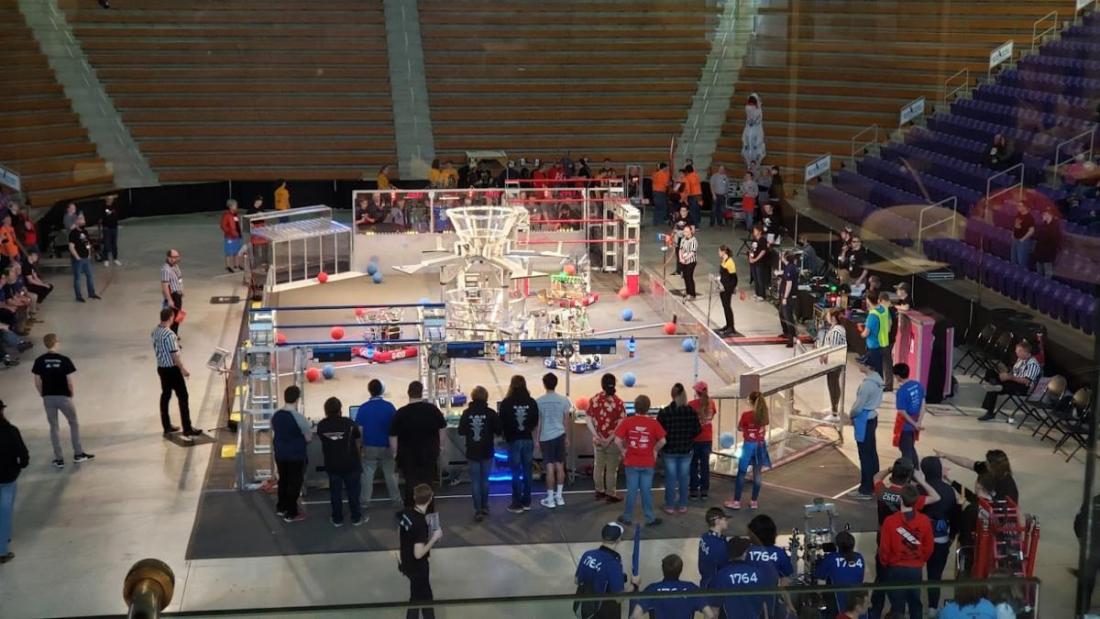 In some ways, March 26 may have seemed like any other Saturday at the UNI-Dome, filled with shouts and cheers as competitors vyed for a coveted prize. But the excitement wasn't for a college sporting event—it was for high school students competing in the FIRST Robotics Competition Iowa Regional.
The competition marked the much-anticipated return of the event at the UNI-Dome and McLeod Center, following the canceled 2020 regional, with virtual events serving as substitutes in 2020 and 2021. Hosting this competition reaffirms UNI's commitment to all-things STEM. 
The FIRST Robotics Competition requires teams of high schoolers to build a robot capable of playing a game that changes annually and may involve tasks like throwing balls or frisbees. The robots then compete against each other in the game. Students are judged based on the merit of the robot's performance in the competition as well as how well the team embodies FIRST's core values including inclusion, teamwork, fun and innovation. Members of the winning team who receive the highest honor of the Chairman's Award get $500 scholarships to UNI if they are accepted and attend the university as freshmen and, of course, bragging rights. This year's winning team was Apophis from Arkansas.
"I think this event and other events like this are really important for UNI to support because these are students who have gone beyond in their desire to gain skills and prepare themselves for their future," said Marcy Seavey who is UNI's STEM coordinator and on the planning committee for the FIRST Robotics Competition Iowa Regional.
From a logistical standpoint, UNI is the perfect place to house a regional competition for FIRST Robotics since it has two arenas (the McLeod Center and the UNI-Dome) right next to each other. This is important so that every team has their own space to build and practice with their robot in one arena and have their robots to actually compete in the game in another. 
UNI first hosted the event in 2016. It was the first regional competition to be held in Iowa. In FIRST Robotics, teams have the ability to choose where they compete in a regional competition regardless of geography—even international teams from China and Brazil have competed at UNI.
This year, 45 competing teams came from seven states, making UNI's event one of the largest in the country.
"It's exciting to see the teams that have chosen to come to Iowa," Seavey said. "Even some out-of-state teams come back every year."
The FIRST competition is a true "sport of the mind," Seavey added, and requires a significant time commitment from competitors that starts long before the six weeks it takes them to build their robot. The high schoolers participating in FIRST Robotics market their team within the community and with potential sponsors, set fundraising goals and design, build and program their robots. They create mascots and lead community education events.
"We need innovators in our society," Seavey said. "If you can build a robot in six weeks that can play this game and be successful at this game, then what can you program three years from now when you're looking at solving climate change or creating new types of batteries or helping solve society's mental health issues?"
This is a sentiment echoed by FIRST Robotics alum Audrey Dillavou who is a sophomore at UNI majoring in athletic training.
"Robotics isn't just about the robot," she said. 
Dillavou isn't just any FIRST alum. She was part of the team that earned the Chairman's Award in 2020. While the competition that year was canceled, students still had the opportunity to write essays explaining the impact their teams had on them. 
As an Evansdale native and graduate of East High School in Waterloo, Dillavou wanted to stay close to home when attending college. Because she had received numerous scholarships from UNI—including from the FIRST Robotics Competition— UNI felt like the "right fit" she said.
While her days as a competitor in FIRST Robotics are over, Dillavou still stays closely connected by mentoring students in the local organization. She helps the students make their visions for their robots a reality. 
"My robotics teammates were my closest people," she said. "I just want other kids to have a good high school experience like me."
While it's hard to compete with the UNI-Dome level of exhilaration that FIRST brings, the competition is far from the only way UNI is showing the value and excitement of STEM to high school students. At the same time as the FIRST Robotics Competition, UNI was also hosting the Iowa Science Olympiad. Through this event, students from around the state compete in events spanning topics such as Earth science, biology, chemistry, physics, and engineering. The Science Olympiad is designed to increase interest in STEM fields, while offering scholarships for students who place in various events.
Another unique opportunity that UNI offers to high school students who may be interested in STEM is the U.S. Army Education Outreach Program (AEOP) High School STEM Apprentice Program. The participating students get paired with a faculty member who mentors them as they conduct research similarly to how undergraduate students would, earning a $2,000 stipend for their work. The participants come from underserved communities and may be minorities, females, children of military members or students who hope to be first-generation college graduates. 
Since undergraduate research is one of the biggest indicators of future success in a STEM career, getting that experience even before going to college can be a huge help. 
The opportunity is open to three high school students each year. One past participant even went on to be the first freshman who got hired to work at a research lab at the University of Iowa.
Another past participant is Victoria Williams who is now a sophomore at UNI. Williams became interested in the apprenticeship when Professor of Chemistry Martin Chin came to her high school class to discuss the program. At the time, she signed up not only because of her love for chemistry but also out of a desire to stay busy that summer with a task that would pay.
Just like with FIRST Robotics, Williams describes the skills she learned that summer as translating to areas far beyond science and research. 
"From that experience, I was really able to learn to be uncomfortable and manage the anxiety of trying something new because that's what college is and that's what starting a new job is," she explained. "There's a lot of unknowns out there in the world. But that doesn't necessarily mean that they're bad." 
At the time, Williams was interested in becoming a doctor. While she's now majoring in elementary and middle level education, ironically, it was her love for chemistry that led her toward her degree program in a roundabout way.
"At my core, I just really love learning," she said. "I learned a lot of that from my apprenticeship. I really just loved the learning part of it. It wasn't necessarily chemistry. It was learning to learn through it, and I realized I'd get the most out of that by becoming a teacher."
Whether the students UNI reaches through any of these events end up studying exercise science, education or anything in between, Seavey just wants students to excel in whatever they are passionate about.
"I want every single student in the world to grow up inspired to pursue what they're good at and what they're interested in, and to have multiple experiences that help open doors to more options for their future. I'm really proud to be part of an institution like UNI that excels at providing these experiences not only to our own students but to all students."