Unique research project gives UNI biology student a new perspective on plantlife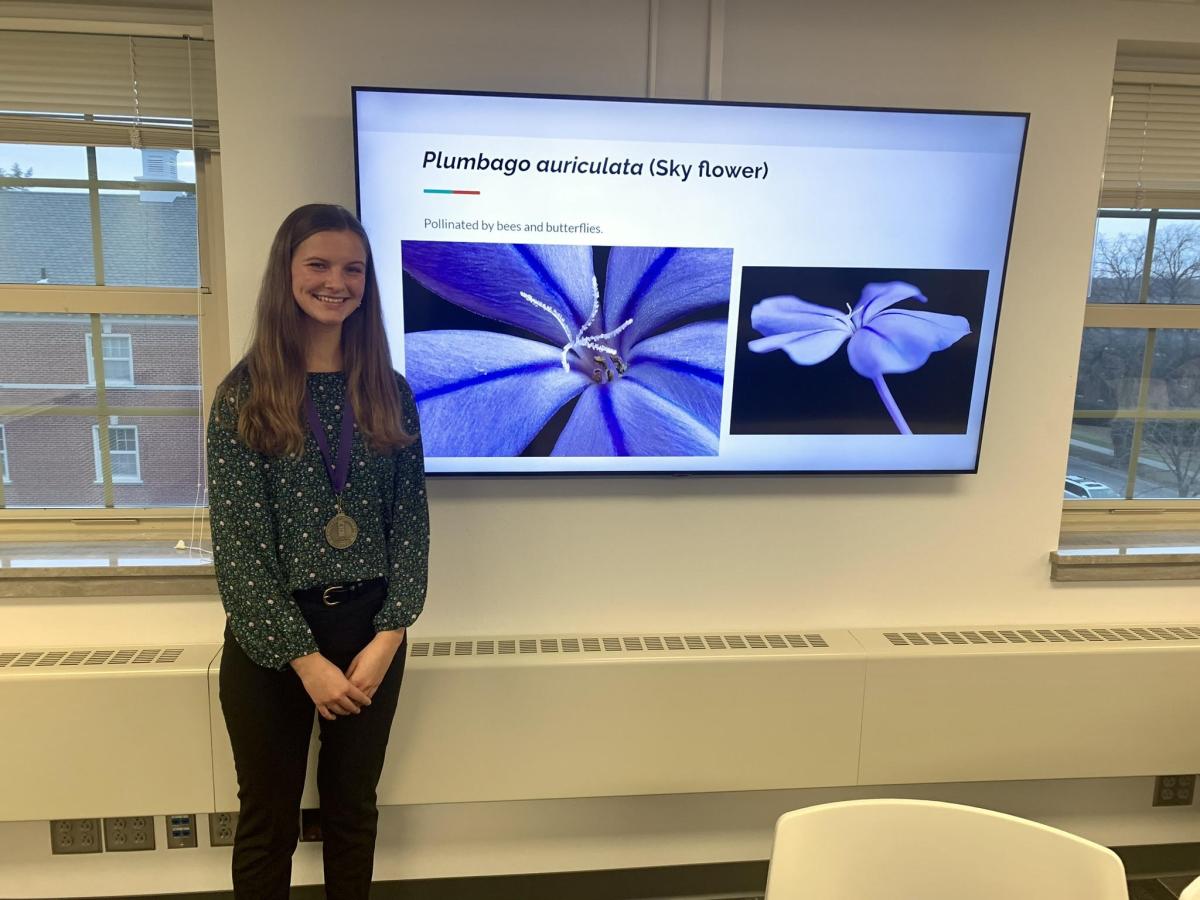 Trading in her microscope and lab coat for a camera and lighting equipment, UNI biology student Bethany Van Dusseldorp tackled a unique research project that meets at the intersection of art and science.
Using a special macrophotography camera, Van Dusseldorp spent countless hours photographing different flowers and analyzing their unique structures as part of her senior thesis research project. The goal of the work is aimed at examining plant and pollinator interaction to determine how certain plants have adapted for certain pollinators, while also collecting better photography for study. 
The project was a new one for Van Dusseldorp, a biology: pre-physical therapy major who plans to attend graduate school for physical therapy at the University of Minnesota in the fall.
"Most of my experience before this was looking at human anatomy and physiology, so it was new for me to be researching plants and plant structures," she said. "But I really learned a lot and valued the chance to get out of my comfort zone and gain some new skills."
Van Dusseldorp first got involved in the research after reaching out to biology professor David Saunders, who recruited her to be a part of the project. 
"We wanted to see if we could find similarities in the anatomical structure of flowers that have the same or similar pollinators and determine if there is an ideal floral design that best matches the flower to its pollinator, thereby creating the best success for pollination," Saunders said. "To date, we have far too few specimens to make any solid conclusions, but Bethany's work has set the stage for additional work to be done.
 An additional desire for the project was to show flowers and floral structures in a way that most people have not seen. Using ultra-macro photography, Van Dusseldorp and Saunders were able to magnify the floral structures, so that they could be easily seen.
"There is also an artistic component of these images and we wanted that to come through," Saunders said. "The floral structures of flowers are often colorful and delicate; beautiful and almost alien-like and otherworldly when viewed at magnifications beyond what the normal human eye can see."
During her documentation, Van Dusseldorp discovered new information about how plant anatomical structures assist in pollination, while collecting new images to help further future research. She hopes the results of her research are a template for other researchers to build on. And while the research is still ongoing, it was the experience itself that made a mark on Van Dusseldorp.
"I learned a lot," she said. "I didn't have a ton of background knowledge on plant structures going in, but I got out of my comfort zone, learned a lot from both professor Saunders and the staff at the UNI Botanical Center, and was able to make conclusions based on my research. It was a really cool process to go through and a lot of fun. Having that research experience is going to be great going into grad school, since that's something I will have to do a lot more of."
And while Van Dusseldorp plans to study physical therapy, Saunders says research experiences in other areas are still valuable beyond words.
"This project gave her an opportunity to be creative in a way she might not have otherwise pursued," he said. "This is something I would wish for every student, the ability to pursue an interest outside of their career goals, to be creative and to explore. They might learn something more important than disciplinary skills; they might learn life skills and find that there are hobbies and techniques they would like to explore and enjoy for a lifetime. If nothing else, I would hope they learn not to be afraid to try something new and to invest in themselves and their interests beyond work."
On top of having research experience under her belt, and getting her work published, Van Dusseldorp will also be able to see her photography on display.
After seeing her photographs, the Department of Biology decided to partner with the Department of Applied Engineering and Technical Management to print a series of Van Dusseldorp's photographs onto metal. These artworks will be hung on display in McCollum Science Hall, with an explanation of her work.
"I'm really excited to see them on display, I think it's just a really nice way to wrap up the project," she said.    
You can review Van Dusseldorp's published work "The Development Of A Photographic Atlas Of Plant Adaptations For Pollination" on UNI's ScholarWorks website.