STEM
UNI research will be part of $20 million grant to advance biomanufacturing in Iowa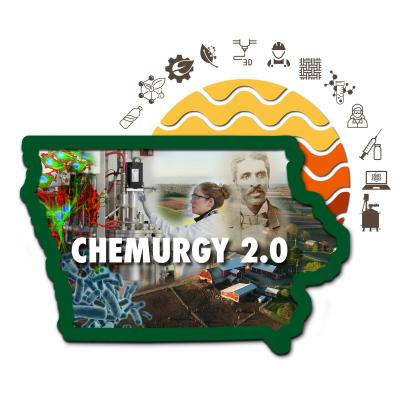 Researchers from the University of Northern Iowa will play a critical role in a five-year $20 million grant to position Iowa as a leader in advanced biomanufacturing. UNI researchers will come together with colleagues from Iowa State University, the University of Iowa, Central College and Dordt University, with UNI's portion of the grant funds at $2.56 million over five years.
"It's good for the state, and it's great for our students, both graduate students and undergraduate students, because that's part of what funds them," said Bill Harwood, PhD, professor and head of the Department of Chemistry and Biochemistry who is the institutional lead from UNI. "It puts Iowa a little bit more on the map."
The grant is from National Science Foundation's Established Program to Stimulate Competitive Research (EPSCoR), which exists to build the capacity for competitive research in the areas of science, technology, engineering and mathematics. The grant is titled "Building Capacity across Iowa to Meet Human Needs from Things that Grow," but its working title is "Chemurgy 2.0" a reference to a term coined by George Washington Carver to describe things we need made from things that grow. The overall research goal uses Iowa's agricultural strengths as a basis to develop new products and technologies.The grant will fund student and faculty research, mentorship to compete for federal funds, new equipment and a new faculty position.
There are three areas of scientific focus in the initiative: plastics for additive manufacturing, fibers for flexible and rigid materials and proteins for diagnostics and therapeutics. UNI is involved in all three areas. These research pathways will create connections between institutions and laboratories throughout the state and provide new opportunities for students from all areas to participate in state-of-the-art research. 
Tim Kidd, PhD, professor of physics at UNI, is a co-principal investigator of the grant proposal and co-lead of the fibers for flexible and rigid materials area. Kidd works with nanocellulose, a material that is by weight eight times stronger than steel. Nanocellulose comes from cellulose, which is the most common naturally occurring organic molecule and is found in the cell walls of all plants. Nanocellulose has great potential in applications including water purification, food preservation, catalysts and as a sustainable replacement for plastics. Nanocellulose products can be used for medical products to stop infection or even as an additive for foods. 
While nanocellulose could be incredibly useful and sourced from agricultural byproducts such as corn or soy stover, it is costly and challenging to refine into a final product. Nanocellulose prices currently range from $100 to $1,000 a pound, making it too costly for most applications. One of Kidd's goals is to develop more efficient methods of production, so that nanocellulose could be widely used and serve as a high quality product that would greatly benefit Iowa farmers as a new and sustainable source of income.  
"We're making a new market for agricultural byproducts," said Kidd. "I think farmers would benefit greatly because they will benefit from an entirely new income stream."
One of the first steps Kidd will take once the grant begins in August is to hire two new students to assist in the work and purchase and install new equipment for increasing nanocellulose production. This will increase production by a factor of a hundred, so that production can meet needs for scientists working together on this project throughout the state. In addition to research on these nanofibers, the nanocellulose will also be investigated as an additive for 3D printing applications.
S.M. Ali Tabei, PhD, associate professor of physics, and Aleksandar Poleksic, PhD, professor of computer science, will be working on the proteins for diagnostics and therapeutics team. Harnessing the power of big data using UNI's new High Performance Computing system, they will use animal proteins to design medicines for animal agriculture as well as human health.
One of the unique aspects of EPSCoR project at UNI will be student involvement. During the summer of 2023, several UNI students will be working with faculty on research related to the "Chemurgy 2.0" initiative.
With the recent announcement of two new science and engineering degrees being offered at UNI – a Bachelor of Science in Materials Science & Engineering and a Bachelor of Science in Materials Science Engineering Technology – faculty involved hope to bring even more students into the work.
The new engineering and engineering technology programs will launch in fall of 2024 and will provide students with extensive hands-on experience using advanced equipment and instrumentation across campus.
The EPSCoR grant also allows for the funding of a new faculty member in data science, who will start in fall 2024. The search for the faculty member will begin this August.
In addition to the three focus areas, the research also aims to bolster Iowa's workforce. UNI's Center for Social and Behavioral Research (CSBR) will investigate Iowans' interest in biomanufacturing careers, talking to students, parents, K-12 educators, community colleges, four-year institutions and universities, staff at STEM programs and industry partners to determine if people understand what biomanufacturing is, what facilitates interest in biomanufacturing careers and what drives persistence in STEM education to prepare students for those careers. They will also evaluate whether students from metropolitan areas and rural areas have the same or different motivators for choosing STEM programs and biomanufacturing majors.
"If we don't understand the drivers, the motivators, the factors that are influencing people, it's very hard to do anything well," said Mary Losch, PhD, director of CSBR and professor of psychology. "Certainly, biomanufacturing is an area of tremendous promise for a whole range of things. So if we have deficits in interest then we want to try to figure out how to remedy that."
"We already know Iowa has a shortage of qualified advanced biomanufacturing workers," said Kyle Endres, PhD, CSBR's associate director and assistant professor of political science. "Manufacturers are saying a roadblock to expanding and continuing growth is an inability to find qualified workers who have the skills they need. By identifying what is preventing young people from pursuing those careers, we can have larger economic benefits beyond this project."
With a project of this magnitude, Losch believes one of the major benefits is getting to learn from colleagues who are working at other institutions.
"I think that elevates everybody's skills and experiences in ways that doing much smaller projects don't necessarily."