STEM
Unique UNI foundry opportunity leads to big change for computer science student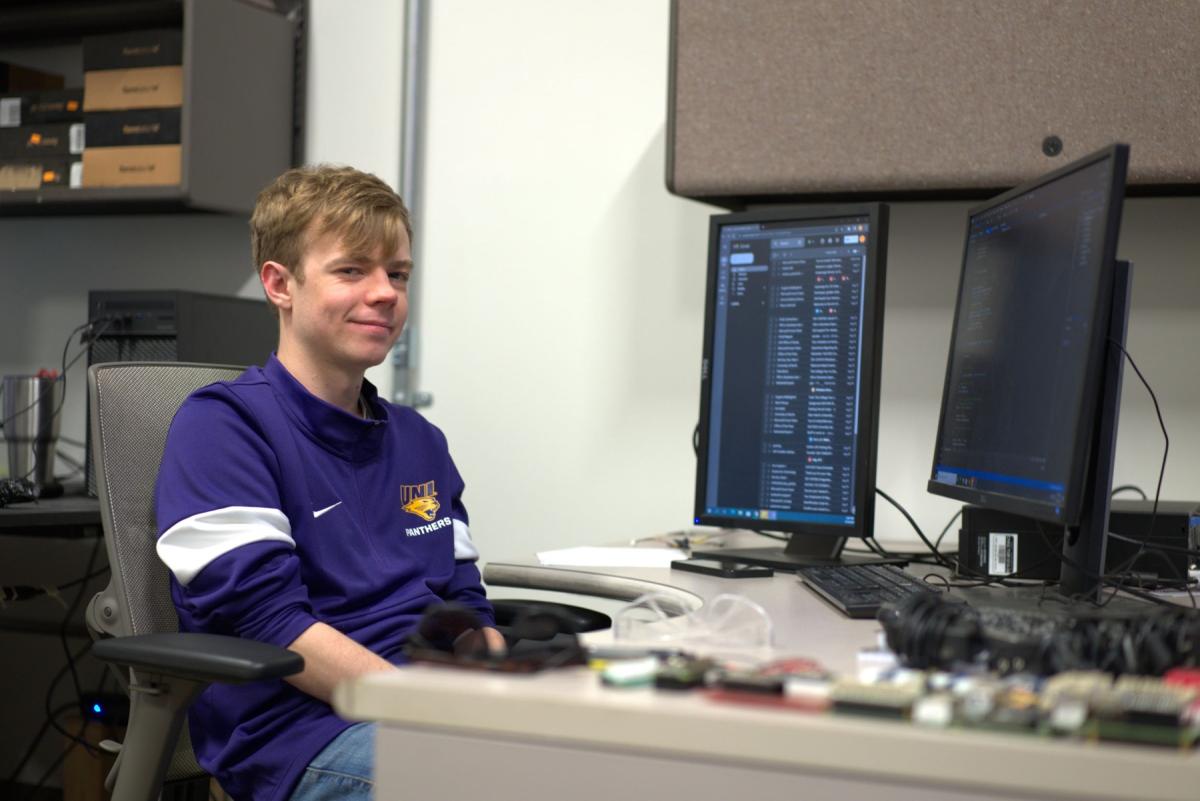 When Jacob O'Dell applied for an internship at the University of Northern Iowa's Foundry 4.0 Center, he planned to stay for the summer then return to Purdue University for his junior year of college. Instead, the computer science student realized how much he enjoyed his work at the foundry and decided to make the move to UNI.
"It's nice to be a part of something that's not just a tech firm or a startup," said O'Dell. "It's something I'd never even heard of before coming here. It's fun to always have something new to do rather than working on the same thing over and over again."
O'Dell, a native of Valparaiso, Indiana, heard about the Foundry 4.0 Center through his brother, Josh, who works there as a research associate. 
UNI's Foundry 4.0 Center, which is located in Waterloo, directly supports Iowa's Manufacturing 4.0 efforts through a combination of smart technologies such as Industry 4.0 technologies, the Internet of Things, cast parts, advanced sensors, sand printing and more. The center generates prototypes for various projects, including the U.S. Department of Defense. 
As a computer science intern and now as a student employee, O'Dell works with sensor technology, gathering data on moisture, temperature, pressure and humidity from the foundry and compiling it all into one easy-to-use, easy-to-maintain digital format.
During his summer internship, the center's director, Jerry Thiel, asked O'Dell about his plans for the fall. When O'Dell shared that he intended to return to Purdue, Thiel expressed his disappointment in losing a good student. So, O'Dell said he would transfer to UNI under one condition: he wanted to continue work at the foundry.
Within a week, the transfer was complete.
"Everything lined up too well for me to pass up," said O'Dell. "My brother was already living out here, so I got to move in with him. I got to work with my brother, and I liked everyone else I worked with. Transferring in, I already had some scholarships coming with me. Once I submitted my transfer application, I didn't have any doubts."
Through the process of transferring, O'Dell received support from not only his family but also his co-workers at the Foundry 4.0 Center and the faculty and staff in the Department of Computer Science. All of this helped affirm he was making the right decision.
"I liked the local scene," he said. "The community was really a big positive. I felt like I fit right in as soon as I got here."
Through his time at the foundry, O'Dell has learned valuable skills, including many programming languages that have enhanced his college experience and will help further his career.
"Since coming to the foundry, I've used new computers that I've never seen before — the size of credit cards," said O'Dell. "I see my work as a jigsaw puzzle. I have to figure code together to make everything work in one swift motion. I love doing that. I'm never bored coming to work."
O'Dell also believes working for the foundry has helped him get a better idea of how he'd like to use his computer science degree in the future. Rather than coding websites in an office setting, he hopes to continue experiencing the excitement of a research environment similar to what he's found at the foundry.
Although the foundry brought O'Dell to UNI, he's enjoyed the computer science program and the community that has embraced him.
"Computer science is really close-knit," said O'Dell. "All the teachers are really friendly and willing to work with you. They teach you a little bit and then you apply it, and then they teach you more and you apply it again. I think it's nice because you're not getting overwhelmed with all this programming knowledge right away."
As he continues at UNI, O'Dell is looking forward to building his skill set and helping newly hired students acclimate to the Foundry 4.0 Center, like others did for him.
"My manager always says, 'We do cool things and we're the highest-paid student positions,'" said O'Dell. "Those are two big bonuses. If you want an internship that's not going to be the same thing every day, where you aren't just doing the basic fixes and bug fixes — here you're going to be researching and creating something from the ground up that you're going to be able to show people. It's a lot of brand-new technology because a lot of what we're doing isn't that well-known or well-documented yet."