Alumni
From athlete to mentor, UNI football alum De'Veon Harris helping Cedar Rapids students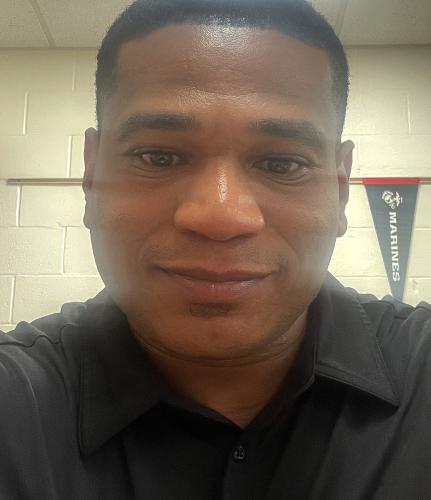 As a first-generation college graduate who grew up in a family that struggled to make ends meet, University of Northern Iowa alum De'Veon Harris often sees himself reflected in the faces of the middle school children he works with.
"That was me 20 years ago," he said. "Outside of sports, I didn't really have any mentors growing up — I didn't have that person to push me or invest in me, and that's something a lot of the students I work with are also experiencing, so we can relate on that level."
Originally from Florida, Harris, 35, is an education counselor with Educational Talent Search (ETS) in Cedar Rapids.
Educational Talent Search is a TRIO Program, which are programs funded by the U.S. Department of Education and geared toward providing educational opportunities. ETS is designed to support middle and high school students and provide them with the resources they need to succeed with the overarching goal that those students will pursue college degrees.
Hosted by the University of Northern Iowa Center for Urban Education (UNI-CUE), ETS serves roughly 1,200 students in the Waterloo area and recently expanded its services to Cedar Rapids.
UNI-CUE launched a new ETS in six Cedar Rapids schools last fall. This marks UNI-CUE's first expansion beyond the Waterloo school district. The funding for the Cedar Rapids TRIO program covers two high schools and four middle schools.
"Everybody in the Cedar Rapids school district including the families of the students are so excited for this program because something like this has never been done before in the area," said Denita Gadson, director of the Cedar Rapids ETS program. "In a way we're taking some of the strain off of the classroom. Now they have another resource, another set of hands, another set of eyes and another set of ears."
The funding for the program lasts five years and is meant to serve 500 students who may be low-income or hope to be the first in their families to attend college. Gadson said she is excited to see how the students will grow over the next five years.
Growing up, Harris said he never really put much stock in academics. He was a talented football player in high school and he and his family were all expecting him to play his way up to the NFL.
"Sports was the most important thing," he said. "I never really had anyone pushing me or encouraging me to focus on the academic side of school.It was always about football. Being an athlete was who I was."
And it was that determination as an athlete that earned Harris two full scholarships — one to the University of Toledo in Ohio, where he completed his freshman and sophomore years before transferring to UNI on a full athletic scholarship as a junior.
Unfortunately, injury dashed his hopes of continuing his football career and Harris suddenly found himself without a plan. That's when his priorities shifted from sports to academics.
"That's when I started to question everything, and I realized that football might not be in the cards," he said.
Fortunately, Harris said he had a few professors who really supported and challenged him to tackle his academic classes head-on. They saw his intellectual potential and they were determined to help Harris see it too.
Ultimately, Harris completed a bachelor's degree in criminology and criminal justice, graduating from UNI in 2009, and then earned a masters in geography, which he completed in 2012.
Professionally, Harris was unsure of what he wanted to do — he had banked on football being the focus of his future, whether he was playing or coaching, but that was no longer in the cards.
Harris ultimately found that he enjoyed being of service — first as a case manager or social worker within the juvenile justice system, then as an Engagement Specialist with the Cedar Rapids School District and now in his new role as an education counselor with ETS.
"I've just always enjoyed helping people, and I especially enjoy working with young people," he said.
Having shared a similar background with many of the students he works with, Harris has the unique ability to relate to the challenges those kids face and can support them in ways that others may not.
"I've been fortunate enough to see the impact that I can have working with students and being someone they can talk to and turn to for support," he said. "And because we might share similar stories, we can relate to each other on another level. I think that has really helped me form connections and build trust with these kids."