Alumni
Bob Dorr's 50-year radio career began in the basement of UNI's Maucker Union
Beloved radio personality and acclaimed musician Bob Dorr credits his successful career in radio to two things — luck, and the opportunities he encountered while at the University of Northern Iowa. 
"Mostly my career has been about pure luck," he said. "I've been in the right place at the right time with a fair amount of experience and a lot of people who thankfully opened some doors for me. So I wish I could tell you that I had this great skill, I have just been one of the luckiest people on the planet."
A 1974 graduate with a speech degree with radio TV emphasis and a minor in journalism, Dorr got his start in radio thanks to UNI's student radio station housed in the basement of the Maucker Union. 
"I just for fun went down there because there was a classified ad in the Northern Iowan saying they were looking for a radio disc jockey," he said. "And for some reason they hired me and that's really where I learned the mechanics of being a radio disc jockey." 
The next year, UNI broadcasting got a new director who saw potential in Dorr and offered him a full-time job — a career that spanned roughly five decades and touched hundreds of thousands of people.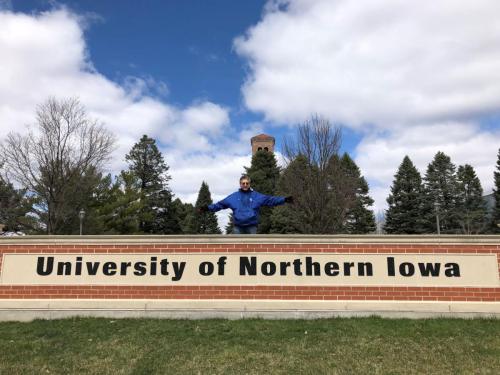 "I honestly can't say where I'd be if it wasn't for UNI," he said. "UNI truly did launch my career. There were so many opportunities that the university's broadcasting services presented to me. I met so many people. I got to do interviews with some of the greatest musicians of all time. I mean, the opportunities that the university's radio station presented to me were just unbelievable, and the university's commitment to those broadcasting services and the student experience made a huge difference in my life path."
His most popular show, "Backtracks," ended in January after more than 37 years on the air. A  mainstay of Iowa Public Radio's music programming, Backtracks was a rock and roll history show featuring music at least 25 years old and championing listener participation. 
For Dorr, rock history is a lesson in social studies, where music and societal movements — like the Civil Rights movement of the 1950s or the anti-war movement of the 1960s — are very much intertwined. 
"I think music has that same effect on us as individuals," he said. "You know, there are those songs that we associate with different times in our lives and maybe they remind you of a past love or of a significant moment in your life, but those songs, and music in general, is very much intertwined with life and culture and society." 
But Dorr, who turned 71 in January, isn't retiring. He will continue to host his "Beatles Medley" and "Blue Avenue" radio shows on Iowa Public Radio. He will also continue his music career. Widely known as the leader of The Blue Band, Dorr has been inducted into the Iowa Rock 'n' Roll Music Association Hall of Fame twice and once into the Iowa Blues Hall of Fame.
Looking back over his career, Dorr said there are many things for which he is grateful.
"One thing that I am very proud of in my radio career is that all of my shows in the last decade have paid for themselves with listener contributions," he said. "I'm very, very proud of that. And when I think about it, I can't believe how much freedom I have been given over the years to do the shows that I want to do. That has really been amazing. There's not an independent radio producer on the planet that has that kind of freedom, and that is something I am truly grateful for."
For Dorr, UNI will always hold a special place in his memory. 
"UNI was essentially my rock," he said. "I got a wonderful education, and I will be forever grateful for the unbelievable number of opportunities that UNI has given me over my life. I mean, what a wonderful thing, it's just unbelievable."