Alumni
A communications journey from UNI Athletics to the NFL's Chicago Bears
For UNI alum Ben Schmitz, the road to achieving his dream of working for the NFL may not have been the easiest or shortest. But it's been worth it. He's climbed the ladder to football communications manager with the Chicago Bears. 
"I'm going into year seven with the Bears and almost year 10 or 11 working in sports altogether, and I still love every day," he said. "I feel really spoiled that I'm able to work in what I consider my dream job. It's been a fun ride."
That ride has included working at four Super Bowls, attending the Pro Bowl, brushing elbows with sports broadcast greats like Al Michaels and interacting with Bears chairman George McCaskey.
Schmitz's journey to the NFL started in Jesup, Iowa, where he grew up. He transferred to UNI as a sophomore. His experience at UNI was heavily centered around athletics based on his work in the athletic media relations department.  
---
"One thing that separated UNI from some other schools that I learned in hindsight was since UNI is a little bit of a smaller school, I was able to get involved in athletics a lot more than I would have been at some bigger schools," said Schmitz.
 
---

As a student, Schmitz was writing game day releases and recaps. He learned how to work with players and coaches as well as members of the media. He got into the habit of showing up a few hours early on game days to ensure that every little detail was taken care of ahead of time.
"My time at UNI really laid the foundation of what working in sports looks like," said Schmitz. "I learned the processes and the skills. I learned what it would look like on a daily basis, and it set me up for success. I'm especially grateful to Colin McDonough, Michelle Van Dorn, Jordie Lindley and Wes Offerman for helping me get to where I'm at today."
If he could do it all over again, Schmitz said he would still go to UNI. For others who might want to end up in a similar spot someday, he recommends getting involved in athletics as early as possible.
"The more you can build your resume before you graduate, the more that will lead to bigger opportunities down the road, even if it's not where you want to be right away," he said. "It's going to be a marathon, not a sprint."
After graduating in 2014 with a degree in communication and a minor in public relations, Schmitz interned at the University of Iowa. There, he made connections through work who had NFL backgrounds and insight on the industry. Hearing about these experiences caused Schmitz to realize his dream of working for the NFL. But the journey took time. His next stop was an internship at the University of Florida.
"They'd kind of told me during that interview process they have a huge NFL pipeline of folks in PR," he said. "So if I went down there and crushed it, they promised they would get me to the NFL and get my foot in the door. I went down there and worked my tail off, and I was really fortunate they did have those connections as promised."
---

"It wasn't necessarily the fastest path," said Schmitz. "A lesson I learned a long time ago is that if you aren't focusing on yourself and looking at your own career goals and you start comparing yourself to where someone else is, you're always going to be behind."
---
That position at the University of Florida and the connections Schmitz made helped him get a third internship, this time with the Kansas City Chiefs.
Even though it was another internship, Schmitz said he was just happy to be in the NFL. All his efforts paid off because when this internship was over, Schmitz got a job as a media assistant with the Chicago Bears.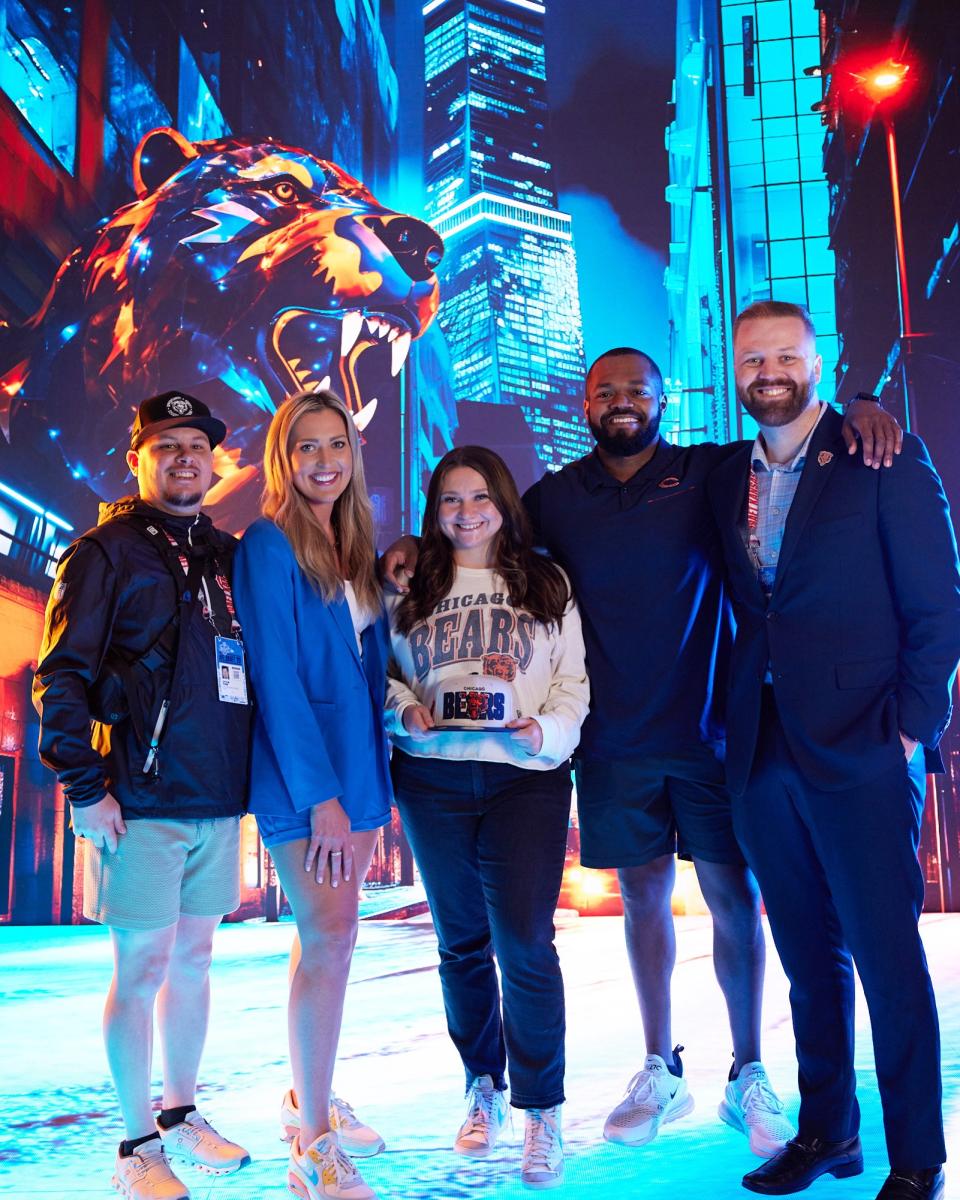 To his surprise, the transition from college athletics to the NFL was a smooth one, as many of the skills Schmitz had been utilizing in college athletics transferred to professional sports. Today, part of his job is overseeing weekly releases and game day releases for the Bears. The latter led to a career highlight last season when sports broadcaster Pam Oliver reached out to him on the sidelines before the game and let him know how much she likes his game day release.
"If we go back 10-15 years ago, my brother and I would regularly be sitting in the living room on a Sunday watching football and seeing Pam Oliver do the sideline reporting," he said. "To have someone like her compliment my work, it was a cool feeling to just look back and see how far I've come in this industry. I feel very, very blessed and very thankful to all the folks that helped me get to this point."
While his days from the end of July through January are hectic and long, Schmitz wouldn't trade his job.
"Even with those long days and weekends, the pros still outweigh the cons," he said. "I still love it."