Alumni
Four Rose Parade band directors trace roots to UNI
The Rose Parade, an iconic tradition to ring in the New Year, is a time of excitement for high school bands all across the country. This year's festivities in Pasadena, California, included not one, not two, but three marching bands led by University of Northern Iowa alumni. 
Jack Jean, '89, led the Brookwood Bronco Marching Band from Snellville, Georgia; Joe Finnegan, '89, led the Wisconsin Northwoods Marching Band from Minocqua, Wisconsin; and Gabe Schott, '14, led the Pella Marching Dutch from Pella, Iowa, with Samuel Nau,'20, teaching bodywork and visuals. All four band directors received their UNI degrees in instrumental music education.
"My years at UNI gave me the skill set to help build a band program worthy of performing in the Tournament of Roses Parade," said Jean, who leads a band of 215 members.
"UNI has been paramount for my role as a band director," said Nau. "The skills taught to me by my ensemble directors, studio professors and education professors are used daily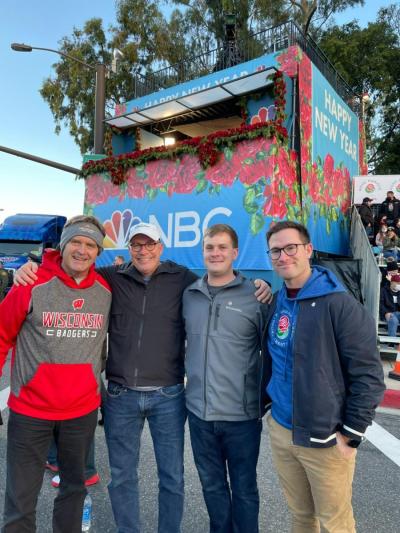 Earning a spot in the 5.5-mile parade route is no small feat. The application is lengthy, requiring videos of parade and show performances. The bands must also highlight the hometowns they represent. According to Jean, it can take as long as eight years after applying to find out a band has been accepted to perform in the Rose Parade. 
"We officially found out we were invited in October 2021, and we were in complete shock," said Jean.
While most bands have to go through the application process, Finnegan's Northwoods Marching Band, which totaled 400 members, received a special invitation from 2023 Tournament of Roses President Amy Wainscott. As a native of northcentral Wisconsin, Wainscott wanted the area to be showcased in the parade. Since none of the schools were big enough to participate on their own, she came up with the idea of eight school bands, including Finnegan's school DC Everest, coming together to form one larger ensemble.
These years-in-the-making performances resulted in great pride not only for the participants but for their entire hometowns as well.
"They performed incredibly well, and the entire town of Pella was watching from afar," said Schott, who led 210 members in the parade. "It was a whirlwind of a trip, but memories were made in six short days that will be remembered forever."
"You cannot recreate that feeling of the positive vibes the audience gives back in a rehearsal," said Finnegan. "Once the students started down the parade route, all of those months of planning and preparing became real, and their performance level became a peak experience."
While each band director comes from a different school in a different state, they all share a common history at the University of Northern Iowa — a history that no doubt helped them get to where they are today.
"I would not be who I am if it were not for the School of Music at the University of Northern Iowa," said Finnegan. "This school completely prepared me for my future. With the guidance of an amazing staff and a family that instilled a solid sense of hard work ethics, I am so proud to proclaim the education I received from UNI as superior."
"The music program at UNI is second to none in the state of Iowa," said Schott. "The quality instruction, real-world experience and relationships I developed through the opportunities provided at UNI set me up to be successful both inside and outside the band room."
While there is a waiting period for bands to reapply to be in the parade, many of the band directors hope to apply again in the future.
"Our high school band goes on a large trip such as this one every four years," said Nau. "It is not a guarantee that we will be accepted, but I am optimistic that Pella will be back in Pasadena in the future."