Alumni
Graduating from UNI was a family affair for the three Jensen brothers
Nick, Ben and Justin Jensen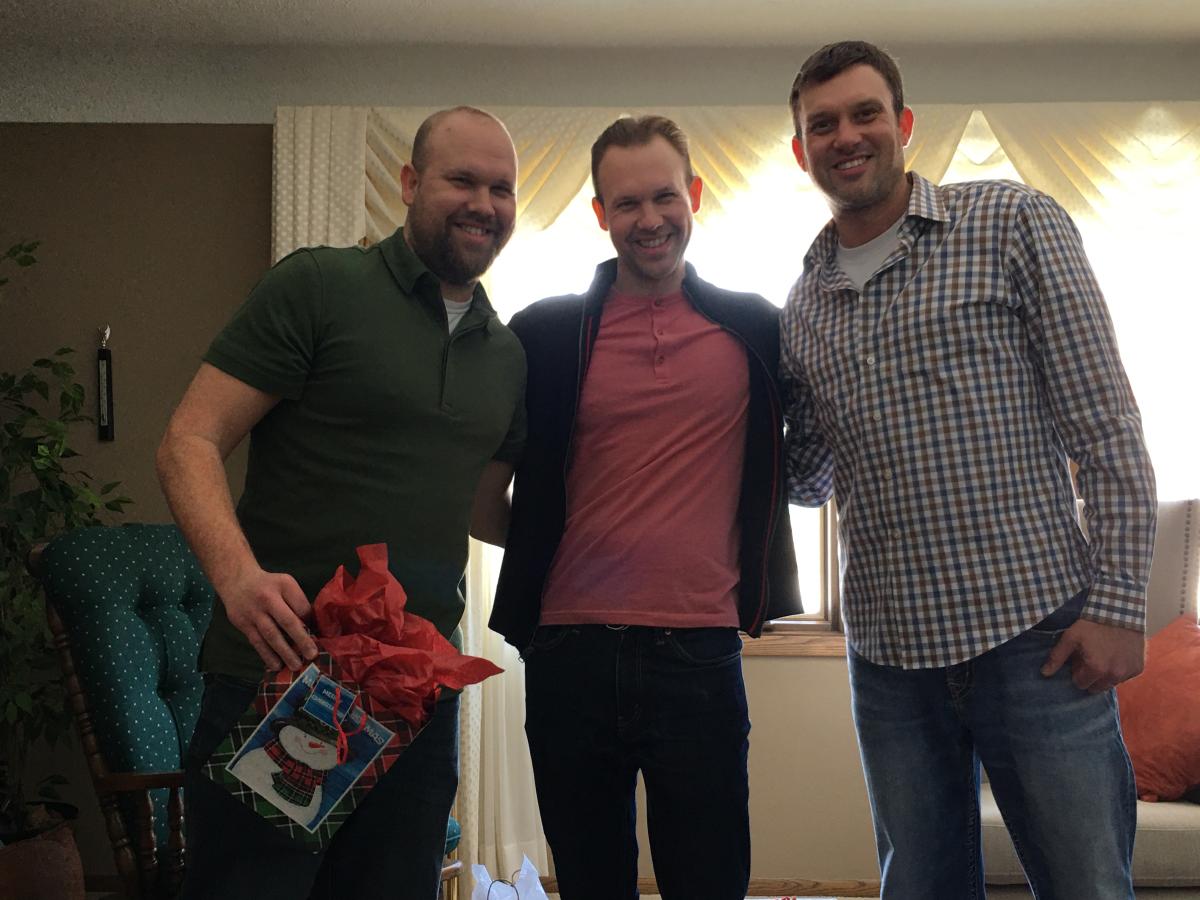 Brothers Justin, Nick and Ben Jensen have all taken very different career paths — working for U.S. Senator Joni Ernst  in Iowa, engineering for the Boeing Company and NASA in Alabama, and working as an architectural designer in Kansas City respectively. 
Yet, all of them can say they are alumni of the University of Northern Iowa. In fact, for one semester, all three brothers were at UNI and lived in a duplex together. 
"We all enjoyed it at the time, but every year afterward, it gets even crazier to think that we could all go to college together and live together," Ben Jensen said. "It was rare, and it was a great experience that comes up all the time when we're together."
Justin is the eldest Jensen brother, while twins Nick and Ben are two years younger. Because Justin started out taking community college courses, Nick was the first Jensen to go to UNI. When Justin transferred to UNI, he and Nick were there together for two years. During Nick's last semester, Ben began working toward his master's at UNI.
"It was the first time the three of us had lived together in maybe six years," said Nick Jensen. "It was really fun to have all of us together again, and that kept us close."
"We knew our college careers were coming to an end, and we wanted to make the most of it before we all went our separate ways," said Justin Jensen.
During that time, Justin, '10, was pursuing a bachelor's degree in political science, Nick, '09, was pursuing his bachelor's in physics and Ben, '11, was pursuing his master's in industrial organizational psychology. 
While their paths were different, each brother had a positive experience getting a UNI education.
"The best thing for me about UNI was that it is a little bit of a smaller school so I could interact with all my professors very easily," said Nick Jensen. "Almost everybody I interacted with was very willing to put aside time and help."
"One thing that's been especially important for my career is my ability to talk to people and network," said Justin Jensen. "That was something that was always emphasized at UNI through political science classes and my other courses. We would have these big group discussions that would force us out of our comfort zones."
Because they grew up in Cedar Falls, the Jensens were exposed to UNI at an early age. Their ties to campus made the decision to go to UNI that much easier.  
"Because the university was right there, we could always go to basketball games, football games and concerts," said Ben Jensen. "I remember UNI football players visiting us at Lincoln Elementary. Then in high school, I played football for a little bit, and we got to play in the Dome."
"It was nice because we had the university in our backyard," said Justin Jensen. "I think we had a little more access to higher education than the average kid. Growing up, seeing the Dome and the Campanile, I knew where I wanted to go."
Nowadays, Justin Jensen can be found working as the regional director for Senator Joni Ernst. He oversees a 20-county area, which includes Black Hawk County, and still calls Cedar Falls home.
In his role, he serves as a conduit for Ernst by reaching out to constituents and attending events on her behalf. 
"I love being able to interact with people," he said. "When you're working with the federal government, sometimes it's intimidating. It's rewarding when you can take care of someone." 
After attending UNI, Nick Jensen received his master's degree in aerospace, aeronautical and astronautical engineering from Purdue University. He now lives in Huntsville, Alabama, working for Boeing as an aerospace engineer.
"I almost immediately landed my dream job," he said. "I feel very lucky in that respect. It's really cool to know what we're working on now has an impact all over the world and hopefully can inspire a lot of younger people to get into STEM programs."
From the time he started with Boeing in 2013, Nick worked on the rocket for NASA's Artemis I mission, which launched in November and landed in December, traveling around the moon unmanned.
"I worked on the core stage of the space launch system, which is the main component that boosts the rocket off the ground and into the atmosphere," said Nick. "That stage of the rocket runs for about eight and a half minutes at the beginning of the launch. Everything went perfectly. It was a really, really good mission."
Lastly, Ben lives in Kansas City working as an architectural designer at International Architects Atelier.
"I have a very curvy path," he said. "My career zig-zags and jumps all over the place. It's pretty crazy."
Ben Jensen moved to Kansas City after graduation to follow one of his close friends from Cedar Falls. Eventually, he got a job in the area at Sprint headquarters working in their usability lab. 
"I just got to a point where I didn't see myself doing it long-term," he said. "I wanted something that combined my love of art and scientific hard numbers."
Interestingly enough, when deciding what he should do for a career, Ben found some inspiration from his time as a UNI student when he attended a psychology conference in Atlanta. Not only did Ben enjoy seeing the architecture but he also got to see a museum exhibit on the works of architect John Portman. 
Living in Kansas City and getting to travel to bigger cities like Chicago and New York also impacted his decision. His interest led him to enroll in the Master of Architecture program at the University of Kansas. 
"It wasn't as scary or daunting as a lot of people would assume," said Ben Jensen. "I didn't have much to lose. I wasn't 10 years deep in a career."
The three Jensens stay in close contact, in spite of the many miles between them, using FaceTime regularly. UNI is common ground not only for the brothers but also for their extended family, as they have many aunts, uncles and cousins who attended UNI. 
"It's an easy way to connect with everybody," said Ben.