Alumni
How UNI helped Ryan Penning bring communities together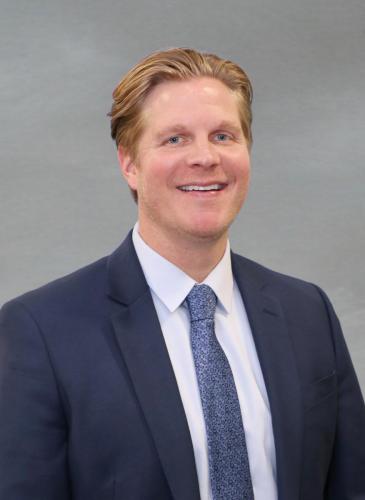 Before starting his college experience at the University of Northern Iowa, Ryan Penning had never heard of a parks and recreation department. 
"Growing up in a small town, we didn't have a YMCA or a parks and recreation department or anything like that, so I wasn't really aware of what it was or what it did," he said. 
Today, however, Penning knows everything he needs to know as he steps into the director role at the West Des Moines Parks and Recreation Department. 
A Jewell, Iowa native, Penning originally set his sights on attending UNI because he was interested in becoming a teacher. "I was interested in going into elementary education," he said. "Both my parents were educators, and I knew that I wanted to do something with kids and have an impact on them as much as I could."
But then Penning learned about UNI's recreation, tourism and nonprofit leadership major (previously leisure, youth and human service) and changed directions. 
"I just thought it was a great fit for me," he said of the program. "My father was a coach, so I was really into athletics and I had that sports background, and then having the opportunity to really have an impact on a community - because that's what parks and recreation can do - it just felt like the right program for me. Plus, I just loved the program at UNI. I had great professors, I learned a lot, I enjoyed the subject matter - it was just a great, all-around experience." 
During his last semester at UNI, Penning landed a full-time internship with the Cedar Falls Parks and Recreation Department where he gained valuable experience and was able to connect with recreation professionals across the state. 
Two months after he graduated from UNI in 2006, Penning landed his first full-time job as a recreation coordinator in Ankeny, Iowa , where he spent the next 12 years working his way through the ranks. 
"In the early years of my career, I was working with youth and adult sports leagues, and again, I had a background in athletics so I really enjoyed it and did well with that," he said. "I got to create new leagues, such as an adult basketball league and a sand volleyball league. I also liked to play cornhole in my free time and thought that would be a fun addition to the department's offerings, so my grandfather built a bunch of sets for me, and I started a bags league. I just got to help create this awesome atmosphere at Hawkeye Park which served as the adult sports complex in Ankeny where people could come and have fun, play sports, be active and socialize and I really loved being able to make that impact."
In May of 2018, Penning was hired by the City of West Des Moines as Recreation Superintendent. Now as Director, he'll continue to focus his love of fun and passion for improving the quality of life in his community on big-picture projects that can make an even bigger impact. 
"That's the part that I absolutely love," he said. "We create fun. We create experiences for our residents. Whether they are a two-year old or a 92-year-old, we're programming for people of all ages and all abilities, we're creating these spaces where our community can come together, and the impact that can have on a person, a group or an entire community is amazing. And I don't think a lot of people really know what a huge role parks and recreation plays in their community."
The West Des Moines Department of Parks and Recreation manages 31 parks, two aquatic centers and two sports complexes, and the MidAmerican Energy Company RecPlex, a $62 million multi-faceted facility that has 287,000-square under the roof in addition to three outdoor turf fields that opened in 2021.
Over the past few years, West Des Moines has also added a new outdoor amphitheater and a new boathouse, and is preparing to construct a 600-foot bridge that will cross the Raccoon River. 
"So we have been working on a lot of really great, larger-scale quality-of-life projects in a short amount of time, and that's not only makes a huge difference in the community, but it also has a significant economic impact. That's another thing I don't think people realize about the parks and recreation department - we are a major contributor to the local economy and our projects drive economic growth." 
In fact, in 2022 alone, the MidAmerican Rec Plex and the city's other sports complexes generated roughly $27 million in economic impact, Penning said. 
"And that's money coming in from tournaments - whether it's a hockey tournament, a softball tournament, a baseball tournament or whatever it might be," he said. "That means teams and their families and friends and fans are coming from other towns and cities, and spending money in our community on hotels, restaurants, shopping and whatever else. So that's a huge impact that we can point to and say these facilities - and our programs - are having an incredible economic impact in our community. And that's one of the things I love about the work we do, because we can look at these points of measurable progress and see that we really are making life in our community better for our residents. It's very rewarding."
For students who might be interested in a parks and recreation career, Penning has one key piece of advice - pursue internships related to your desired field before you graduate. 
"Get as much relatable professional experience as you can," he said. "This can be a competitive field and coming out of college with experience under your belt that you can point to will give you a much better shot at landing that first job."