Alumni
Rising opera star returns home
MaKayla McDonald's ascendant career as a classical singer and performer was literally built from the ground up. 
The University of Northern Iowa alum and Waterloo native's first experience with musical theater came as a first-year West High School student, laying out of sight under the bleachers to hold up a microphone for a show choir soloist.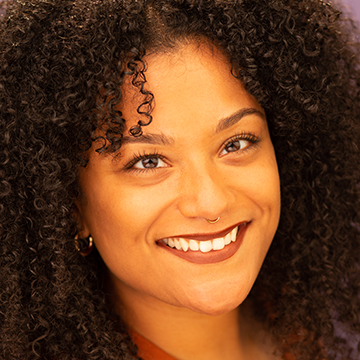 Now the dynamic, up-and-coming soprano - who performs Friday through Sunday as Ida B. Wells in "The Suffragist" at the Gallagher Bluedorn Performing Arts Center - is winning lead roles in opera houses across the country. 
As a Black, queer artist who grew up in poverty, it was a path she never envisioned for herself until arriving at UNI. 
"I knew very little of classical music before I came to UNI, but I was met with a faculty who was very open to inviting me in," said McDonald, 28. "It was a challenging program, but I was met with open arms."
McDonald first connected with the university through UNI-CUE's Classic Upward Bound program, a relationship that deepened when UNI faculty who saw her high school performances invited her for trial lessons and to shadow them. A college degree wasn't something she'd considered, but those connections drew her to UNI after high school, where she found great success on stage but also dealt with the tragic death of her father, 34, from a heart attack when she was just 16. 
She learned the devastating news on the bus ride home from a performance at the Iowa High School Speech Association's state competition. With support from her family, McDonald found solace on stage, where her voice could still soar. 
"It was incredibly heartbreaking," said McDonald, who later had the name of a song her father used to sing to her tattooed on her left arm."Every system in place to help people in my father's position failed."
One year later, she won a top prize at the same competition and began auditioning at college theater departments in Chicago and Minneapolis. "What I kept getting met with was - 'You have a beautiful voice, but have you thought about classical music? Have you thought about opera?' And I was like, 'I don't even know what that is.'"
Those same faculty members she had met through performances encouraged her to enroll in UNI's acclaimed opera program. McDonald earned both bachelor's and master's degrees in voice performance while working with vocal coaches including Korey Barrett. 
She also flexed her academic muscles, writing and presenting a graduate paper on Black Belize-born composer Errollyn Wallen at the 2016 Iowa Musicology Conference. 
"It was a pleasure to serve as one of MaKayla's mentors here at UNI, and to witness her development as a singing artist during her time here and during the years since she graduated," Barrett said in an email. "We at UNI are all proud of this hometown Waterloo native, and I look forward to seeing where her singing takes her in the future!" 
Inspired by her daughter, McDonald's mother Michelle Hall decided to get her degree in communications with a minor in sociology. The two graduated during the same UNI commencement ceremony in 2017. Hall now works as director of community engagement at Friends of the Family, a nonprofit that helps survivors of domestic abuse and sexual assault. 
After graduation, McDonald packed two suitcases and moved to New York, where she shared a cramped Brooklyn apartment with two close friends and fellow Panthers. She worked 14-hour days, pulling down shifts at Starbucks and an artist's cooperative during the day and auditioning at night. 
Her first big break came a year later, when she was offered the lead role in "The Story of Harriet Tubman" with Utopia Opera. She was the title character in an all-Black cast, singing alongside artists, some of whom were themselves soloists at the Metropolitan Opera. 
"I couldn't believe it - here's me, the one who came from Iowa singing the principal role in this opera," she said. "That was the first time that I felt that I really, really saw myself reflected on the stage and felt like I actually can do this."
"Opera can be elitist. Academia can be elitist," she said. "I'm seeing now that that ideal is changing, and that you can be fat, you can be a person of color, you can be queer, you can be short. I think the idea of a principal (singer) is going to change, because there won't be such a thing as one singular ideal anymore.
"So it's my hope that I can be a firebrand 35 year old, singing everywhere."