Alumni
From Russell Hall to the White House, armed with a trumpet
As a professional musician who got her start at UNI's School of Music, Master Gunnery Sgt. Susan Rider uses her musical talents to hail the red, white and blue every day — but she still has a special affinity for the purple and gold. She has played in the White House numerous times and been featured in six Presidential Inaugurations, all as part of the mission of "The President's Own" United States Marine Band, which she's been a part of since 1997.
"Keith Johnson, one of my professors at UNI, used to say to me, 'My trumpet has taken me places I never thought I would go,' and now I say the same thing," said Rider, who graduated with a degree in music in 1989. "Through my ability to play a trumpet, I've had the opportunity to be a part of a lot of really, really excellent, fun and meaningful events."
For Rider, some highlights of her work have included playing for 1.8 million people when President Barack Obama was inaugurated and performing with composer John Williams at the Kennedy Center for the band's 225th anniversary. 
‌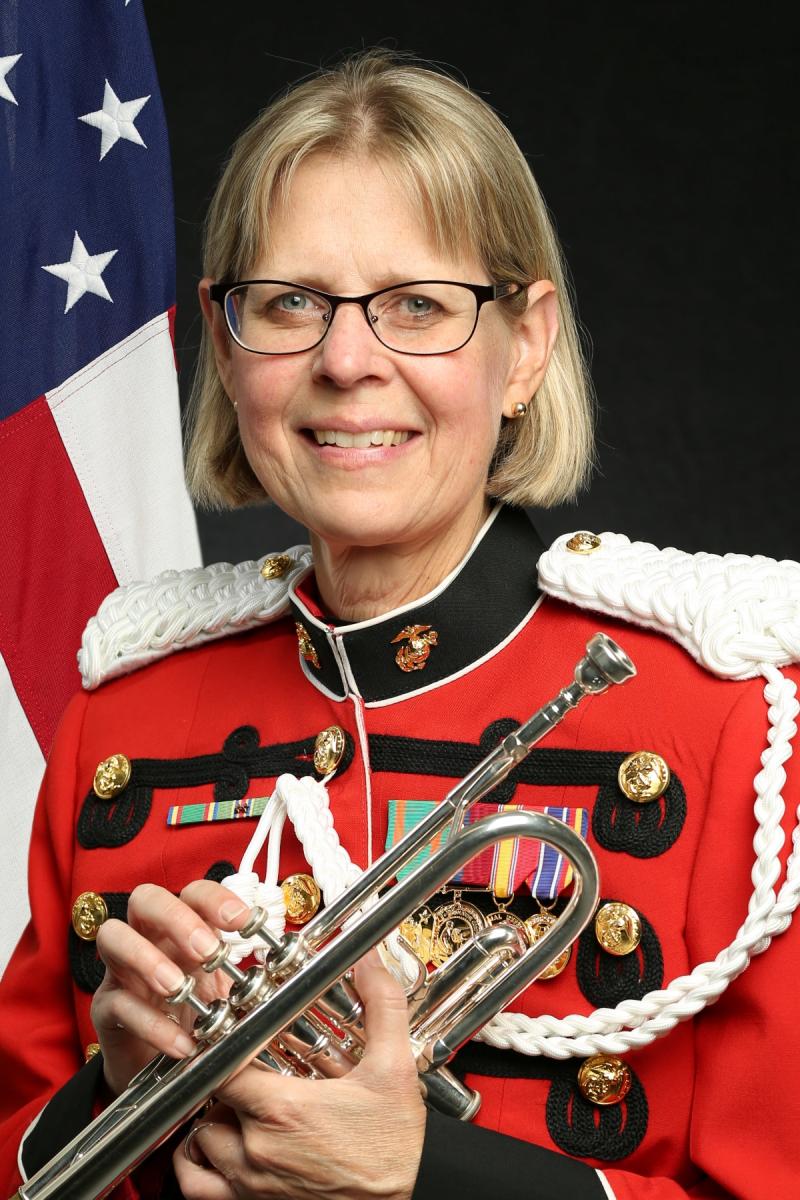 Rider will have the chance to play at her alma mater on Oct. 14 when "The President's Own" United States Marine Band comes to the Gallagher Bluedorn Performing Arts Center as part of the band's annual tour. Audience members can expect a combination of marches, music written by contemporary composers and orchestral music that has been transcribed for the band. 
"The hope is that there's at least one thing, if not more, that an audience member will like," said Rider. "We just really want to feel like we are bringing the spirit of America and our patriotism into the communities. Even though we have a fair amount of online content now, I think there's nothing like seeing a group like this live and being in the room and feeling the energy and hearing things up close."
Rider's journey as a musician began in fourth grade when she started playing the trumpet. It wasn't her first choice — she wanted to play the alto saxophone. But all the saxophones were taken, and her band teacher gave her a trumpet, an instrument both her brother and father played.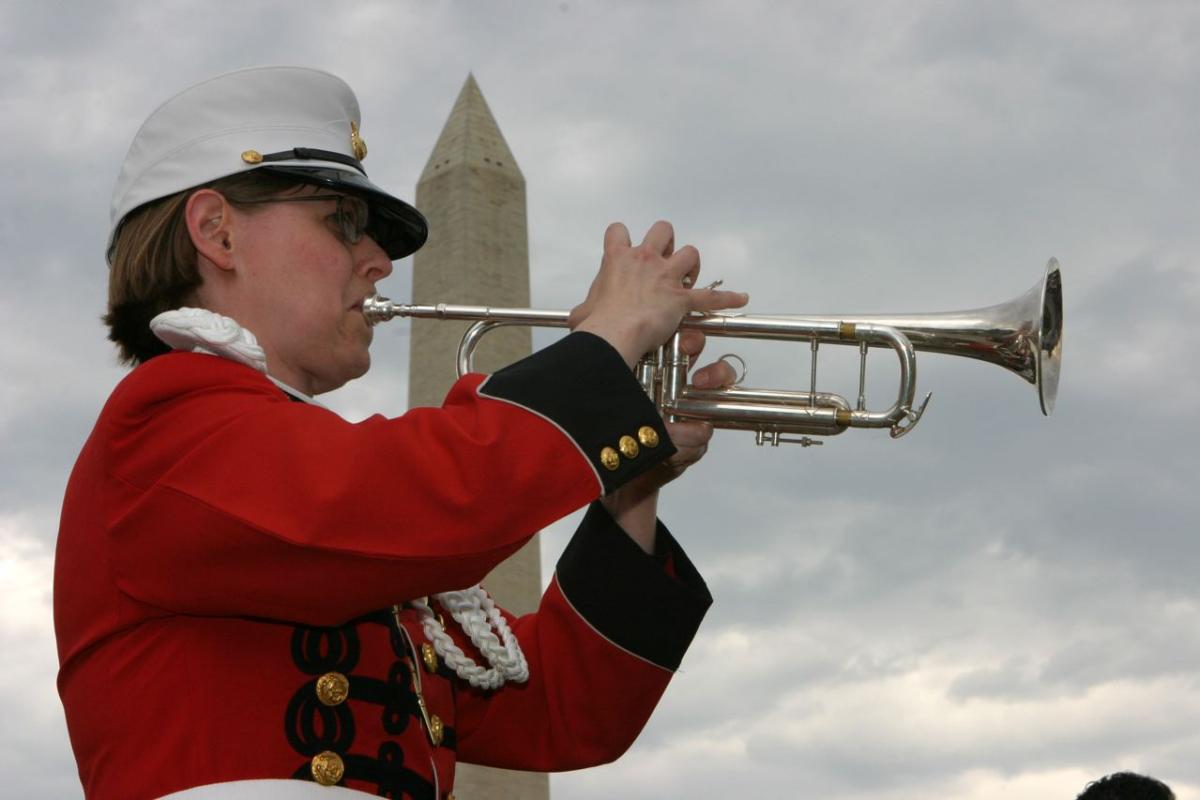 Rider is a Cedar Falls native, and her father, Paul Rider, taught chemistry at UNI for more than 40 years. Not only did Rider inherit some Panther Pride from her father, but she also inherited a love of performance. Paul Rider is a gigging jazz musician who still plays shows in Cedar Falls to this day.
"Music has always been a very integral part of his life," she said. "Just having so much music playing in the house growing up and seeing my dad go off and do gigs was really influential for me."
By the time Rider was in high school, she knew she wanted to pursue a performance career. This pursuit led her to UNI's School of Music.
"I remember looking at a couple of other schools, but I knew that UNI had a really quality music program, having gone to concerts as a young kid, and I knew that it was a great school," she said.
After she graduated from UNI, Rider went on to get her master's degree in music in Indiana. She later went on to earn her doctorate of music in brass pedagogy. Before joining "The President's Own" Marine Band, she did a combination of private music teaching and performing with various symphonies and orchestras.  
A mentor encouraged Rider to audition for "The President's Own" Marine Band. She completed her first audition for the band in 1996, but wasn't chosen. About a year later, a friend in the band encouraged Rider to audition a second time. This time, she was successful.
"I had always hoped that I would get to a spot where I am today having a full-time performing job, and it just really worked out for me," she said. "So I'm grateful every day for it."
‌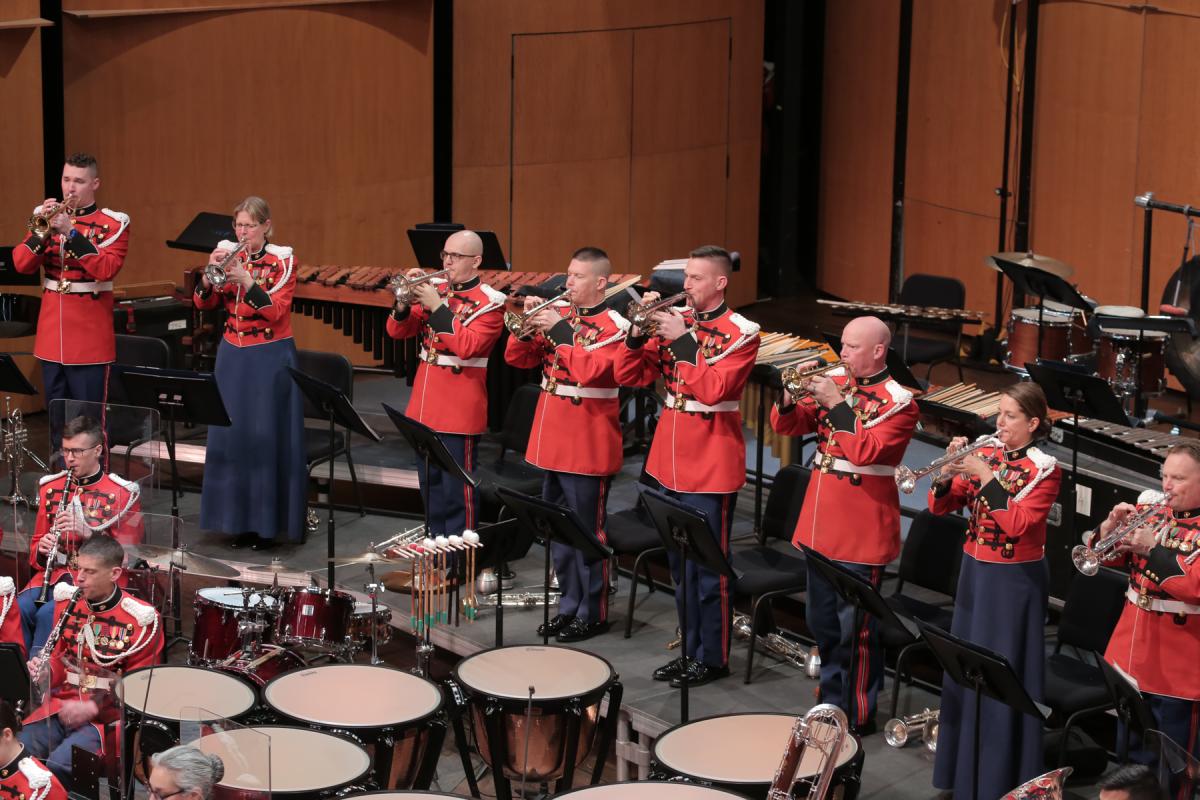 As part of the band, Rider helps provide musical support for Marines who are buried in Arlington National Cemetery. The band plays events around Washington D.C., often performing the national anthem and other patriotic songs. The group also does educational outreach, working with students and doing music clinics. 
Every October, the group goes on tour. While living on the road and sleeping in hotels can get old, Rider said there are plenty of moments that remind her why she does it.
"When you play a concert, and you have a really special experience talking to the audience members, or you see a veteran in the audience — those moments make it worth it," said Rider.
To request tickets for the upcoming performance at the Gallagher Bluedorn Performing Arts Center, call (319) 273-4849 or visit the GBPAC box office, temporarily located in Strayer-Wood Theatre on the UNI campus. Tickets are free.
The Gallagher Bluedorn Performing Arts will also be livestreaming the the performance here.