Alumni
From student-athlete to CEO, UNI alum builds successful career in health and wellness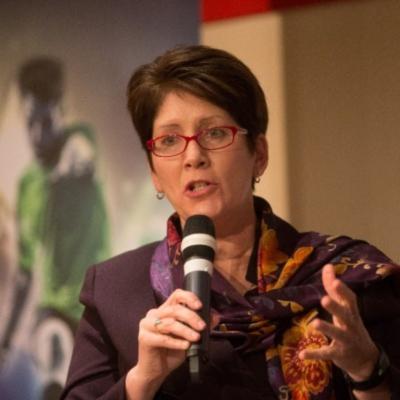 Many things helped Shellie Pfohl, '85, prepare for a successful career in health and wellness, marked by leading two notable nonprofits and working for the Obama administration. The Dubuque native's persistence and work ethic have been crucial. Her leadership skills and ability to work in a team are far-reaching. These are all skills Pfohl honed while she was a softball student-athlete at the University of Northern Iowa.
"I was always attracted to team sports," said Pfohl. "Coming together as a team, everybody bringing something to our success and either succeeding or failing as a team — that drew me in. I've taken that team mentality into my professional life. Knowing how to truly work as a team, how to be a good team member and how to support other team members has served me well to this day."
Since graduating from UNI, Pfohl's work has taken her around the country from Iowa to North Carolina to Colorado where she currently resides. But, perhaps most notably, it also took her to Washington D.C. when she was appointed to the position of executive director of President Barack Obama's Council on Fitness, Sports and Nutrition. 
"Growing up, many of us knew about the President's Council because of the fitness test we had in PE class," she said.
Pfohl was instrumental in changing the test many once dreaded to become less sports-focused and more health-focused. The transformation came with changing the name from the Presidential Physical Fitness Test to the Presidential Youth Fitness Program.
Pfohl also worked closely with First Lady Michelle Obama on the Let's Move initiative, which was just ramping up at the time. 
"What sticks out for me from that time was the opportunity to go around the country and see the unbelievably awesome things individuals or groups were doing in their communities," she said. "They knew what needed to be done and didn't necessarily have a big grant to do it. They just came together as a community. I saw unbelievable things happen without one penny of funding."
After the administration came to a close, Pfohl became the president and CEO of the United States Center for SafeSport, a new organization founded as a direct result of the sex abuse scandal in USA Gymnastics. It aims to address all kinds of abuse within the Olympics and Paralympics. 
"It was heavy," said Pfohl. "My background is not in trauma-informed care, so I learned a lot about that and a lot about trauma-informed interviewing and investigation. That has continued to serve me well in my future roles." 
During her time as president and CEO of SafeSport, Pfohl testified in front of Congress twice.
Long before her days of working for a U.S. president or being the president of an organization, Pfohl came to UNI knowing she wanted to work in health in some capacity. Eventually, she gravitated toward the community health education major — which was the predecessor to UNI's public health major — because it allowed her to learn a little about many facets of health. Softball kept her busy at UNI, but Pfohl also found time to work as a sports reporter for student newspaper The Northern Iowan. 
While on the softball team at UNI, Pfohl got to experience the incomparable feeling of succeeding as a team when UNI won the National Softball Championship in 1982.
"That's the ultimate success as a team," said Pfohl. "As I recall, I don't think we were favored. There was awesome competition out there. But because we were truly a team and respected each other and our talents and our leadership, we overcame obstacles and figured out a way to advance throughout the tournament and ultimately to the championship game, which we ended up winning."
To this day, Pfohl hesitates to call anyone her "staff," despite having taken on numerous leadership roles throughout her career. She prefers the term "team" — something she attributes to her time in organized sports.
"I approach my team in that way," she said. "We are all equally important to the success of our organization, and everybody has something to offer. Failure is okay. We're going to fall down, but we fail as a team, and we're going to pick each other back up."
Today, Pfohl's team is the Rocky Mountain Center for Health Promotion and Education (or RMC Health for short), where she has been president and CEO since June 2021. This nonprofit provides professional learning and capacity-building to help create school health programs and policies. 
Pfohl believes this position has presented her with the greatest challenge in her career to date: helping combat the trauma and mental health issues that have arisen in the last few years in part due to the pandemic and myriad societal issues. 
"When I look back in my 30-plus years, there are certainly things I can be proud of, but as a whole, collectively, we are not where we need to be," she said. "We have not moved the dial in the positive direction and, in many cases, we've gone backward. To me, that is unacceptable."
While she describes herself as being in the fourth quarter of her career, Pfohl shows no signs of slowing down.
"For whatever time I have left in my career, I want to run through the tape," she said. "I want to sprint. I want to know that I left it all out on the field. Whatever I can offer to advance the collective work and mission of this organization and the greater good, I want to be a part of that."