Alumni
An unexpected adventure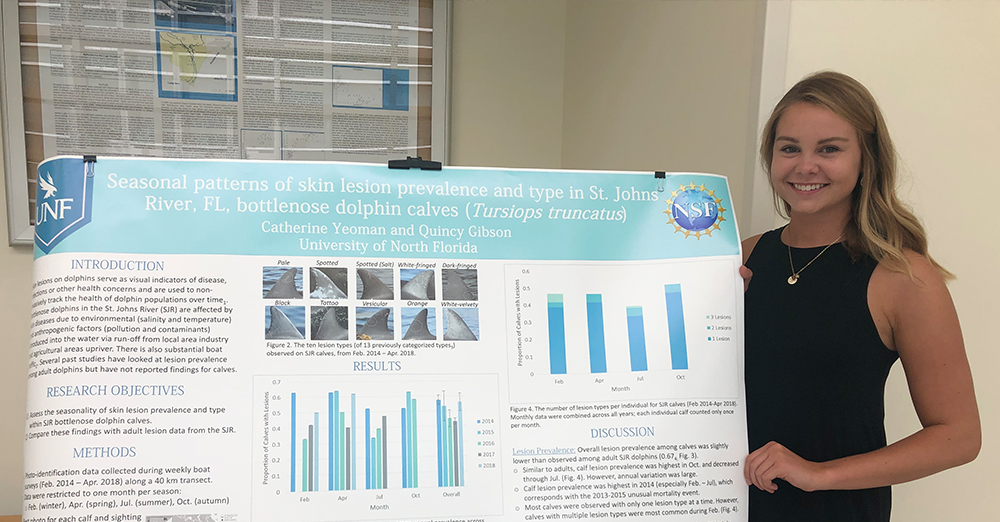 Growing up in rural, landlocked Iowa, Catherine Yeoman never expected to find her passion in marine biology. 
But as a junior in the UNI Department of Biology, Yeoman has already managed to kick off a unique college experience that's brought her around the country – studying bottlenose dolphins in Florida and rehabilitating baby seals in Cape Cod.
"I've always loved animals, but if you told me two years ago that I'd be working with marine animals, or that I'd have all of these experiences under my belt in the first two years of college, I would have said no way." 
Diving in
It all started her freshman year at UNI, when Yeoman's academic advisor shared some information with her about a summer research program in Florida. "I saw the research topics were on sharks and dolphins, and that really piqued my interest," Yeoman said. "I've always loved the ocean. I fell in love with it through family vacations; snorkeling with manta rays in Hawaii and swimming with dolphins at Discovery Cove."
Yeoman decided to apply for the program, and with the support of her professors, she was accepted. That summer, she spent her days buzzing around on a small research boat on the St. Johns River in Jacksonville, Florida, studying the health of the native bottlenose dolphin population.
"We'd go out on the boat once a week and collect water samples, and observe the dolphins to look for visual indicators of their health," she said. "The juveniles are really curious, and will come right up to the boat to check you out. Looking into the eyes of a dolphin is a really neat experience, and the more you work with animals, the more you realize each one really does have a personality of its own. They're so much fun."
Yeoman said the experience confirmed that marine biology was the right path for her. "It was such a great experience, and I loved every minute of it," she said. "You see some sad things, like how humans impact the ecosystem through pollution – whether it's industrial runoff or trash in the waterways – but it's gratifying being able to work so closely with the animals, to help them, and make a difference in their lives."
Another summer, another adventure
Back at UNI for her sophomore year, it wasn't long before Yeoman found herself being beckoned to the coast once again. This time, her journey took her to the National Marine Life Center in Cape Cod, Massachusetts, where she spent the summer after her sophomore year working as a marine animal rehabilitation and environmental education intern.
Yeoman spent her time rehabilitating sea turtles and baby seal pups, and leading educational programs for the public. Working with the pups, and seeing them grow, were some of the best memories for Yeoman.
"We had thirteen baby seals we'd take care of," Yeoman said. "We'd feed them, administer treatments, and take care of them until they're ready to go back to the ocean on their own. It was a really great opportunity to be able to work with these animals hands-on, and have that type of experience. By the end, you could line each seal pup up, and I'd be able to tell you who was who." 
​Turning the tide
Aside from caring for the animals, another integral focus of Yeoman's internship at the National Marine Life Center was education and outreach – something she says she'll continue back home in Iowa.
"Educating people about how their actions affect the environment is a big part of the picture," she said. "Here in Iowa, we're a big agricultural state, and since we don't live near the ocean, many people don't realize how their actions have impacts across the country, and the world, on so many different ecosystems. Everything is connected, and we need to maintain the balance so everything functions properly. I plan to keep educating friends and family, and staying involved even back home in Iowa. It's something that's really important to me."
Looking back at her experiences so far, Yeoman says she's grateful to have had all of the opportunities she's been connected to through UNI, and says she's excited to see what comes next. "I'm really thankful for all of the support from my professors," she said. "They're always there to give me guidance, and say 'you can do this.' I really appreciate everything they do, and I couldn't have started this journey without them."
After she finishes her undergraduate studies here at UNI, Yeoman plans to attend veterinary school, and eventually work as an aquatic veterinarian. "I don't know exactly what that's going to look like yet, whether rehabilitating or taking care of animals at an aquarium, but I know it'll come together," she said. "The biggest thing that matters is that I'm doing what I love, and making a difference." 
This story originally appeared in the Fall 2020 edition of Communique, the College of Humanities, Arts and Science's alumni magazine.