Alumni
UNI alum builds political career that spans both sides of the aisle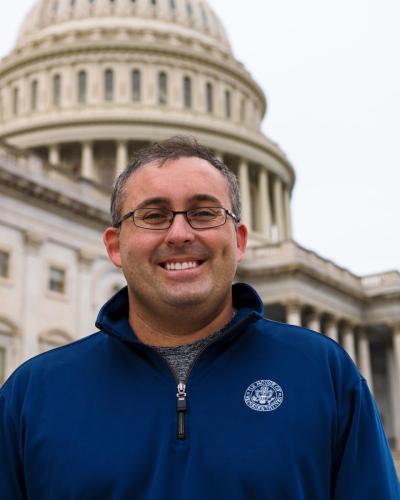 There were two things Josh Wilson knew he wanted to do after graduating from high school: he wanted to be involved in politics, and he wanted to go to the University of Northern Iowa.   
"I'm very proud to be a Panther," he said. "UNI was the natural pick for me for college and I loved my experience. I don't think I'd be where I am today if it weren't for not only the education I received, but also for the experience I gained and the connections I made."
A Waterloo native, Wilson graduated in 2012 with a bachelor's degree in political communication and almost immediately landed a job with then-Iowa Governor Terry Branstad's administration in Des Moines, where he served as a public liaison for about two years. 
He later worked with former Hewlett-Packard CEO and politician Carly Fiorina on her political action committee, which helped elect Iowa Senator Joni Ernst to her first term in Congress. He also worked for the Iowa House Majority Fund where he oversaw several northeast Iowa Republican legislative races.
All of that success, Wilson said, is partially due to the experience he gained at UNI through his campus involvement and internships. 
"If there is one thing I would tell students, it's to get involved," he said. "I was a student worker at University Relations when I was UNI, where I got some communications experience under my belt, and I was also involved in a lot of student organizations and the planning of campus happenings. I was on the student senate, and we took several trips to Des Moines to lobby lawmakers, and I was fortunate enough to land internships with Senator Charles Grassley and  Governor Branstad prior to graduation."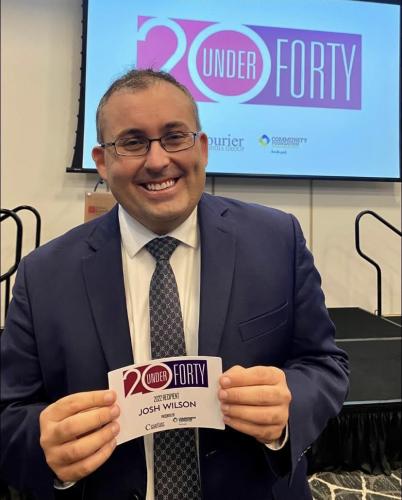 Today, Wilson is a senior publicist for Florida-based Otter Public Relations, where this year he served as interim communications director on Capitol Hill for Democratic Alaska Rep. Mary Peltola. Wilson was also recently named as one of the Courier's Top 20 Under 40 honorees.
Thus far, much of Wilson's professional career and interest has been focused in politics on both sides of the aisle. 
"I think my political interest really started with watching my mom be a public school teacher and wondering why certain issues weren't being addressed and things weren't getting solved within the educational world," he said. 
A self-attributed "nerd," Wilson did some research and learned about the local school board and its functions when it came to school budgets and the ability to solve problems. 
"I decided, if that's where you've got to solve problems, then I'm gonna run for the school board," Wilson said. And at the age of 19, that's exactly what he did. 
Coming from a family that was not particularly engaged in politics at any level, Wilson noted he was the first candidate his mother ever voted for. 
"My mother was 40 years old when I ran for the school board, and I'm the first person she ever voted for in her entire life," he said. "So she was not an active voter, and she actually had to register to vote in order to vote for her son." 
Though he did not win, the experience lit a fire in him. "That's where my interest in politics truly blossomed," he said. "It was an honest and deep desire to fix the public schools in my home community." 
Wilson has since been a vocal advocate who encourages political engagement at every level, especially in young people. 
"I'm a big believer in younger people getting involved in government, and especially in local politics," he said. "There are so many ways to get involved and to make an impact in your community. On the local level, there are countless boards and commissions - everything from library boards to historical boards to planning and zoning - and they are constantly struggling to get people to serve. So I just really try to bring awareness to those opportunities and encourage people to get involved. They're really good learning opportunities, especially students and young people." 
Wilson offered the same advice to students at UNI - "Get involved." 
"I loved UNI," he said. "I became such an involved part of the campus and I met so many people and formed some really strong relationships, and I think a lot of the career success I've had is due, in part, to those relationships I formed with professors, with people in my internships and with my colleagues while at UNI. There are so many cool, cool things you can get involved in at UNI and that's the advice I give to students, because, as important as the academics are, it's also about who you meet and build connections with, and if you do it correctly you're gonna have a lot of contacts when you leave."