Alumni
UNI alum a computer science pioneer
As a teenager in 1950's small-town Iowa, Marilyn J. Bohl dreamed of becoming a sports writer. A high school guidance counselor advised against it, saying it wasn't a viable career for a woman. 
"You're a smart girl Marilyn, you'll figure it out," was the counselor's advice. 
What she did surpassed everyone's expectations but her own. After a short time spent teaching, Bohl enrolled at UNI to study mathematics and carved a path for herself in the new field of computing, eventually developing one of the first relational databases, ascending to IBM's senior leadership and writing computer science textbooks that were used all over the world.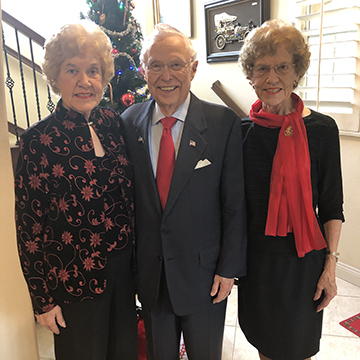 Now retired and living in California, Bohl (pictured on the right with her twin Arline, left, and Arline's husband Mike, center) credits her success as a rare female senior executive and software industry leader - someone who rubbed shoulders with Steve Ballmer and Larry Ellison -  to being a team player and a trustworthy go-to leader. 
"I could motivate and build a team," said Bohl, who earned a full scholarship to UNI [then named State College of Iowa] and graduated with a bachelor's degree in mathematics with a minor in history in 1962. "I wouldn't ask anyone to do anything that I wouldn't do myself. People respected me." 
Bohl, an avid sports fan who lives in Long Beach, California, had a career that encompassed both in writing computing textbooks and in senior computing and software development leadership roles that paved the way for today's data-driven applications and, ultimately, cloud computing.  
She could hardly have imagined her future while growing up as an identical twin in Marble Rock, Iowa, population 600, "counting the cats and dogs," as she noted her father used to say. 
Bohl and her identical twin, Arline, were known as the stars of their high-school girls' basketball team, and Marilyn dreamed of being a sportswriter. 
A high-school guidance counselor advised her that sports reporting wasn't open to women. Her mother repeated the conventional wisdom that the best way for a woman to earn a living was to become a nurse or a teacher. 
So Marilyn and Arline earned their teaching certificates at Luther College in Decorah, Iowa, and both taught elementary school (Marilyn, fourth grade; Arline, second grade) for three years. But they aspired to do other things and saved to continue their education. 
Marilyn worked at UNI as an assistant to the head of the History department, who was writing a book on Iowa history. Her work led her advisor to suggest she consider a job with a Chicago publisher readying a new math book series. 
After two years of walking past an IBM building on her way to and from the office, she decided she wanted to learn about computing. 
She tested "off the charts" on programming aptitude tests, and started her computing career as a software developer at Collins Radio in Cedar Rapids, Iowa, in 1964.  
She joined IBM in August 1968 on what was known as "time sharing" — the ability for multiple users at multiple computer terminals to access multiple applications running on a single large computer. 
As in her math classes at UNI, Marilyn was often the only woman on a team or in a room.
She worked her way up to lead a software development group in 1973. And she first became a manager in 1975. In 1979, she was asked to build and lead the organization that created DB2 — a new relational database product for IBM mainframe environments. 
After 20 years at IBM, Marilyn opted to focus on personal computing.
She recalls when she was vice president of software development and product marketing at Digital Research Inc., being in a meeting with Steve Ballmer, then a Microsoft marketer who went on to become Microsoft's CEO and multi-billionaire owner of the NBA's Los Angeles Clippers. 
Marilyn also spoke on panels alongside Larry Ellison, co-founder and now executive chairman of Oracle Corp., when she was in the thick of the mid-range market fight among relational database stalwarts Oracle, Sybase, Informix and her employer, Ingres, where she was a senior vice president.
Even while climbing the career ladder in software development and marketing, Marilyn launched her second career writing college textbooks in computing. The CEO of IBM subsidiary Science Research Associates asked her to lead the company's rollout of college-level computer textbooks. She started writing those books in 1970 — nine years before the Atari 8-bit home computer and more than a decade before the IBM PC (personal computer).
She is the author of nine college computing texts, many of which have appeared in multiple editions and been translated into multiple languages, including German, Portugese (for use in Brazil) and Chinese.
Now, Marilyn has turned her laser-like focus to her lifelong passion: Sports. 
She serves on the board of Long Beach State University's 49er Foundation, has endowed a men's basketball scholarship there, and is fulfilling a pledge of $5 million to renovate Blair Field, home stadium to the Long Beach State Dirtbags baseball team.
She also is matching up to $250,000 in donations to help complete a baseball stadium at St. Mary's College in Moraga, California, where her brother-in-law, Mike Walter, served as dean of the business school.
Marilyn noticed in an online athletics newsletter that UNI's Athletics Department faced a $2.8 million COVID-19 induced deficit. She looked up Athletics Director David Harris' online portfolio, liked what she saw, talked multiple times with Harris and others at UNI, and donated $25,000 in November to the Panther Scholarship Club to help student athletes. 
She said she, her sister and brother-in-law speak often of how much education mattered in allowing each of them to soar in their careers. (Her twin earned a master's degree in math, co-authored a PL/I computer programming language textbook with Marilyn, taught at the college level, and ultimately became a vice president of information systems in the banking industry.) 
Indeed, Marilyn has mentored up-and-coming students and employees throughout her career, and enjoys doing so.
She's a strong believer in gaining attention by showing your value as a team player and a committed problem solver. 
"Create win-win situations," she advises, recalling the motto of her high-school graduating class: Less than our best is failure. 
"Make every day count," she says.