Alumni
UNI biochemistry alum makes ISU history
Warren Rouse has always been fascinated with exploring the unknown.
This endless curiosity has fueled his journey as a first-generation biochemistry student taking advantage of every research opportunity. The Vinton native, pictured below, was a private liberal arts college transfer who found a home first at the University of Northern Iowa and now as a graduate student at Iowa State University, where he was recently the first student in the history of his department to receive a prestigious National Institute of Health fellowship.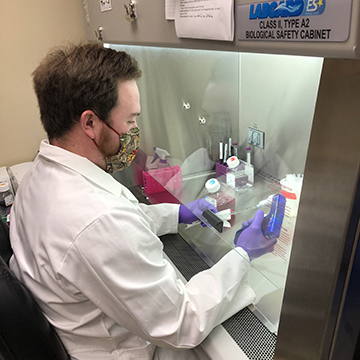 The Ruth L. Kirschstein Predoctoral Individual National Research Service Award will cover all costs associated with Rouse's research. He will spearhead a collaborative project between the Moss lab at Iowa State University and the Disney lab at The Scripps Research Institute, where he will be mentored by both experienced lab heads. His potentially groundbreaking work seeks to identify and treat RNA structures that cause a range of diseases that are currently untreatable or treatable only with drugs with harsh side effects, such as Alzheimer's, Parkinson's and many types of cancer. 
"I've always wanted to benefit human health in some way, and this research has a lot of implications to human health, which is what really excites me about it," Rouse, a second year Ph.D student in the Roy J. Carver Department of Biophysics, Biochemistry and Molecular Biology said.
Rouse's goal is to find and study these disease-associated RNA structures to determine small molecules capable of binding to them and potentially help create a new generation of drugs that can more effectively treat the disease. RNA, a single-stranded molecule encoded within our genome, plays a key role in gene expression and is implicated in most human diseases.
"Warren is a true example of what a student can do after coming through UNI," said Josh Sebree, a UNI associate professor of chemistry and biochemistry who wrote one of Rouse's recommendation letters for the fellowship. "As a department, we work hard to make sure our students leave with a strong set of skills for any number of possible careers after graduation. Warren's work gave him a set of skills and experiences that few undergraduates have, and we are proud to see that he has used them successfully so soon into his graduate school career."
His research at ISU means a lot of time in the lab, which is ideal for Rouse, who discovered his passion for research after transferring to UNI from Central College at the beginning of his sophomore year.
Prior to that, Rouse's interest in chemistry was piqued during classes at his high school in Vinton, a small town in Eastern Iowa. While neither of his parents went to college, they encouraged Rouse to continue his education.
"I always knew I was going to college, I just didn't know what I was going for," Rouse said. "After taking a few upper level chemistry and biology classes I thought, 'OK, I think I found the field I want to go into."
After a year at Central College, Rouse was looking to transfer, but he was nervous about transitioning to a bigger school. Then he looked at UNI.
"I realized UNI is a smaller school with a lot of great faculty and a lot of great opportunities," Rouse said. "I thought it would be a great fit for me."
Upon arrival on campus, Rouse threw himself into every research and lab opportunity he could find.
He spent a summer in the College of Humanities, Arts and Science's Summer Undergraduate Research Program, a competitive program that allows students to develop their own research skills over a 10-week period. Each student works closely with a faculty mentor and is compensated for their research work.
Rouse's research involved drug delivery. He tried to create compounds that would localize drug delivery to get a molecule of a drug into a specific tissue and be released in a time-dependent manner.
"That drove me to want to do more biological research," Rouse said. "From there, I was like, 'OK, now I want to kind of get more into the biology side and see how we can design drugs to actually have an effect.'"
The summer program also gave Rouse the opportunity to present his research at the national convention of the American Chemical Society in Orlando, Florida. There, he was able to network with professionals in the field for three days.
"I was able to actually do my own research proposal, and then present it, which was exactly what I had to do when I applied for my fellowship," Rouse said. "There are so many opportunities at UNI to do your own research, present it and get good quality feedback. And I think that's really what drove me to continue my research path."
He also did research in his classes. In Sebree's Instrumental Analysis course, Rouse was tasked with designing, proposing, carrying out and presenting a research project that examined the contents of sacrificial jars from the Nazca culture held by the UNI museum. His project proposal "FT-MIR-ATR of Organic Residues From Inside Peruvian Sacrificial Jars" was so strong that Sebree is currently working on submitting his findings as a paper to be published.
In his final semester at UNI, Rouse accompanied Sebree's class on a research trip to Wind Cave National Park as part of the Chemistry in Space course. During the trip, a team of 15 students, a NASA scientist, a biochemist and Sebree worked for two days underground performing exploratory research on the cavern minerals, water, and other aspects of the cave. 
"Warren showed himself to be a natural leader and field researcher," Sebree said. "His organization skills helped keep all the incoming data well organized, while his leadership abilities kept his team on track, making sure that the correct data was taken in a timely manner."
Taken together, these experiences helped push Rouse to where he is today. He still reaches out to his professors at UNI when he needs some insight into a research problem.
"UNI is a little bit smaller than some of the larger universities, but that was one thing I really liked about it," Rouse said. "Within the biochemistry, and chemistry department, it's kind of a closer,-knit group. I feel like I got a lot more one-on-one experience with the actual professors, and I was able to gain more knowledge there and be able to apply it more often because of that."