Alumni
UNI education alums bring summer adventures to Des Moines students
For most teachers, work slows down during the summer months. But not for UNI graduates Darcy and Adam Nidey. Summer is when they get to focus on their Des Moines-based business Day Camp Adventures, which attracts around 400 kindergarten through eighth-grade students every day in the summer months.
"I have amazing memories of summer when I was a kid," said Darcy. "I love that we're helping provide that for other kids."
Day Camp Adventures gets kids outdoors and out in the community. In the morning, children are dropped off at six parks in the Des Moines area. They spend time playing before leaving for a field trip. Most days, the students participate in two field trips, ranging from visiting the Iowa Capitol, to bowling, to touring the Iowa Gold Star Military Museum, to completing service projects and much more. Some local businesses have partnered with Day Camp Adventures for 20 years to help provide these experiences for students.
On the last day of camp at the end of summer, the Nideys and their 55 employees pack up buses of hundreds of kids and take them to the first day of the Iowa State Fair. Last year, they brought 380 kids.
"They love it," said Darcy. "They come back with every tattoo on their arms, and they've been to see every animal, and they've got their slushie in their hands. It's such a great way to end camp."
Of course, they have to stop by the UNI booth in the Varied Industries Building.
"I always tell my groups if they're going to get [temporary] tattoos in the Varied Industries Building, they have to get a Panther," said Adam.
The Nideys had their first camp in 2002, just a few years after graduating from UNI, Darcy with a degree in elementary and early childhood education and Adam with a degree in elementary and middle level education. They were inspired after working at many camps over the years. That first year, they had about 30 kids a day and five employees.
"I think the biggest reason we started looking at doing the camp was our philosophy," said Adam. "We saw a lot of school programs where the kids were in the school all summer. With our experiences at UNI, we knew that it was best to get kids active, and we really wanted to get them out in the community."
---

"It was profitable, and it was a blessing that very first year and we knew, okay, we can do something big with this," said Darcy.
 
---
Spots in Day Camp Adventures fill up fast. In fact, this year when enrollment opened in January, one of the sites filled up in just four minutes!
In spite of the success of Day Camp Adventures, the Nideys have chosen to continue their teaching careers. Both have spent 25 years working in their districts, with Darcy teaching in Waukee and Adam working in West Des Moines. Darcy currently works as a math lab teacher, and Adam teaches fourth grade. 
---

"I'm in this for the kids," said Adam. "I absolutely love being a classroom teacher. There are times when it's difficult for sure, but I think you just have to be true to yourself and know why you went into it to push through those times."
 
---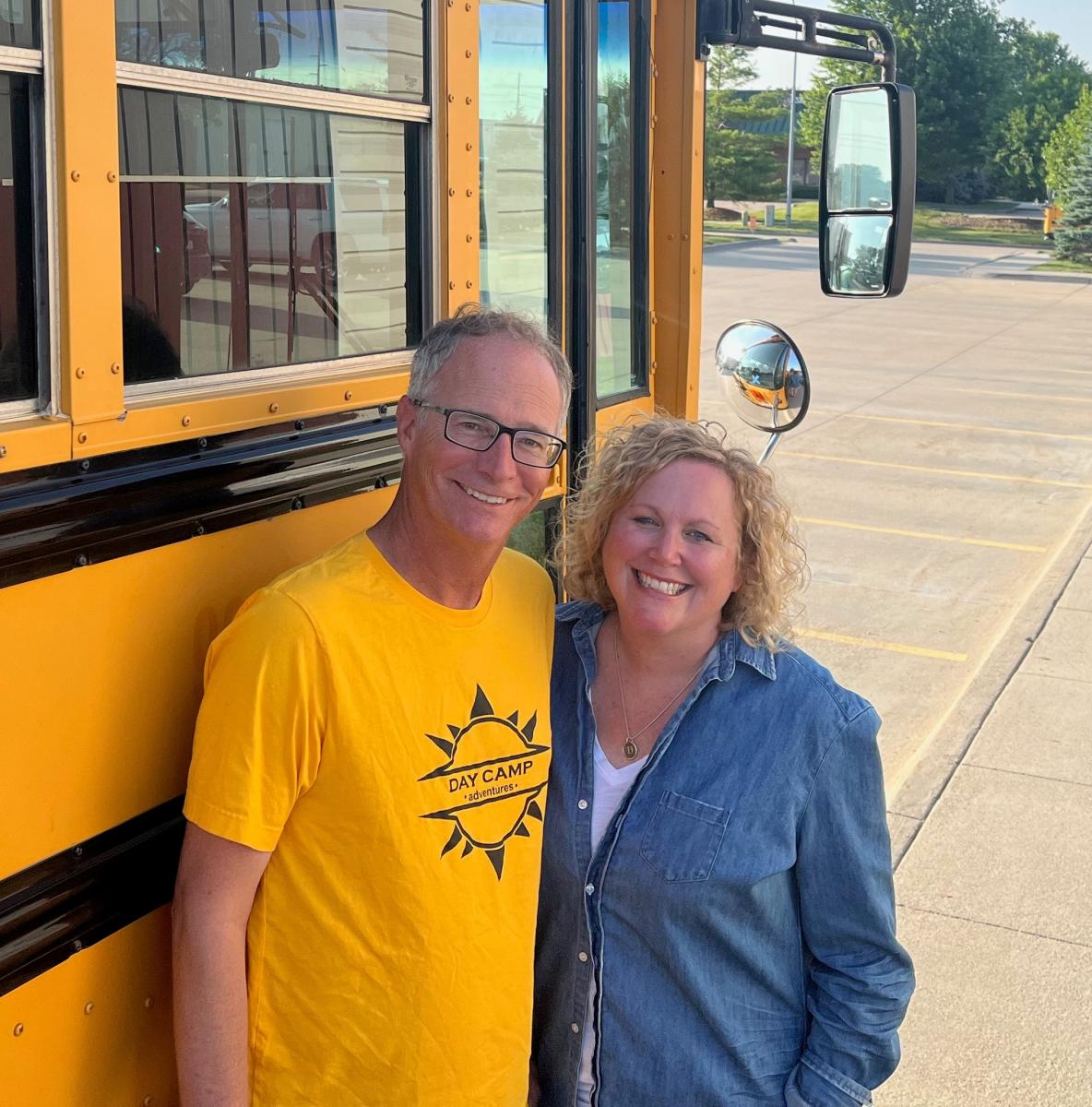 "It's new and different every year," said Darcy. "That's the beauty of this profession is that it's ever-changing. You always have new kids. You always have new opportunities. No year is ever the same."
The Nideys met through mutual friends in the dorms while attending UNI. Darcy came to UNI from Urbandale, while Adam was from Le Claire and transferred to UNI from a community college. The reputation of UNI's education program was a major reason why they both chose to enroll. 
Adam and Darcy were both very involved during their time at UNI. They attended the student ministry BASIC. In the summers, Adam worked with Upward Bound through UNI-CUE. Darcy worked in the Office of Financial Aid, was part of summer orientation staff and served as an ambassador for the Office of Admissions. She even recalls being an ambassador during the groundbreaking for the Gallagher Bluedorn Performing Arts Center.
These positions helped the Nideys learn valuable skills, but, of course, nothing can compare to the classroom experience UNI was providing them.
"What I loved was we were in classrooms so much," said Darcy. "I'm so grateful that teachers around UNI let us into their classrooms so early in our experience to solidify that, oh, yeah, this is what I want to do and model for us."
Now, the Nideys pass along what they learned by welcoming the next generation of educators into their classrooms. They also employ many teachers through Day Camp Adventures. In fact, Adam said it often feels like they are running a small elementary school.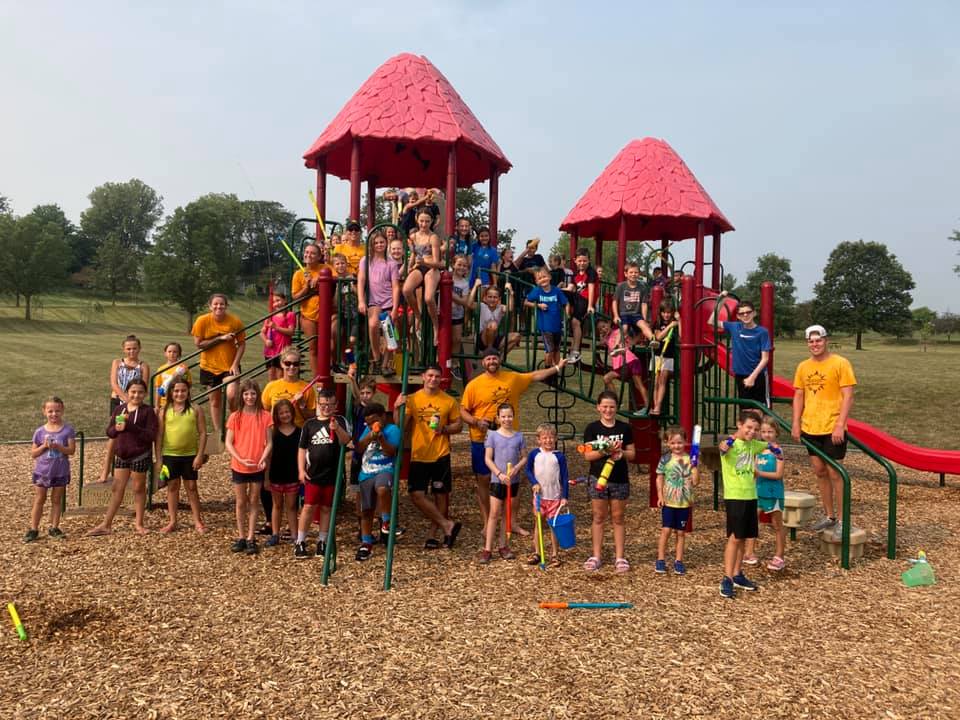 While no doubt there are challenges with running a small elementary school, the Nideys describe running Day Camp Adventures as a blessing. It's even become a family affair, involving their kids, one who is in high school and the other who is in college.
"Both of our kids have been invested in this since they were born," said Darcy. "They've been stamping envelopes and folding papers. They're both at sites today helping our counselors, so this has been a fun opportunity for our family. It keeps us busy in the summer and challenges us mentally."