Alumni
UNI graduate is first female to lead United States Army Chorus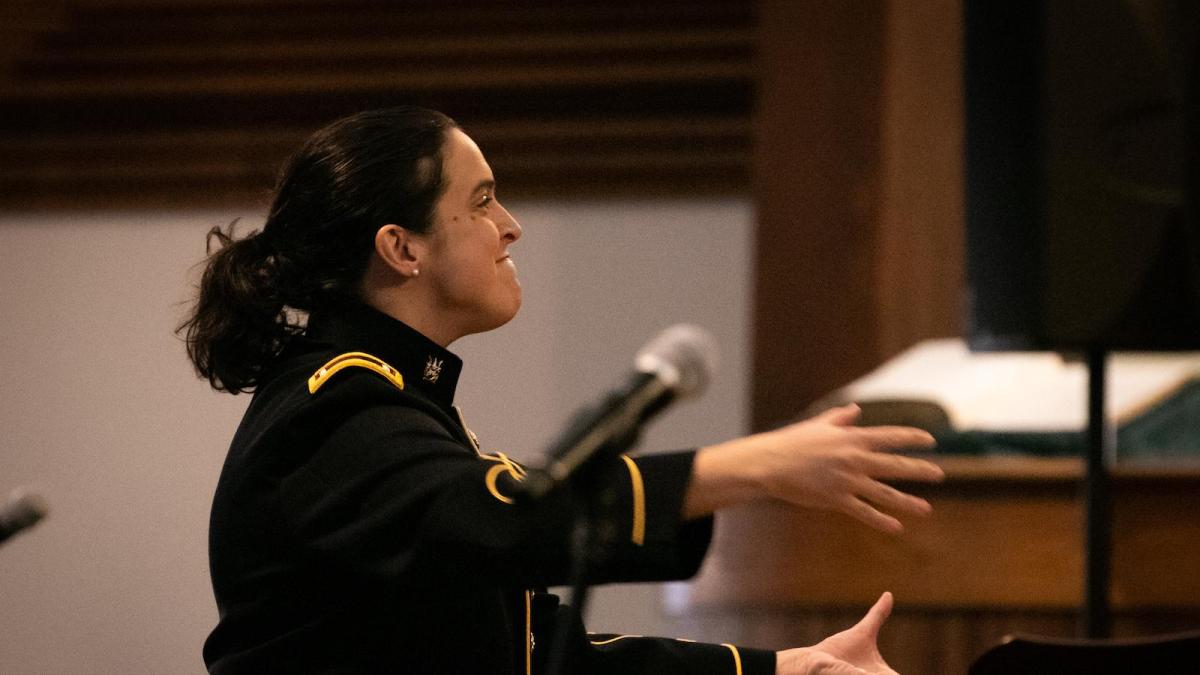 We love to learn about and highlight the exciting and unique paths that our alumni take in their careers and Bonnie Alger (UNI M.M. '10) is a perfect example of a remarkable musical journey.

UNI School of Music alum Bonnie Alger knew from a young age she was interested in singing and playing a musical instrument. She is now the first female Officer in Charge of The United States Army Chorus, which is part of The United States Army Band in Washington, D.C.

"I feel really privileged to be here," Alger said. "I work with really wonderful people every day. The United States Army Chorus is comprised of extremely talented, intelligent musicians who care about music-making at the highest level and care about their country." Alger said her primary responsibility with The United States Army Chorus is "to ensure the Chorus' music readiness" to support senior government and military leadership.

Band officers also have a number of non-musical responsibilities, Alger said, that are often related to the operation and overall well-being of the unit. Regarding her new position, Alger said she's coming into the Army Chorus at "a really great and really important time in its history." She said the Army Chorus has existed for 66 years and has gone through a variety of changes over the years in terms of the configurations of voices and the type of repertoire that they sing.

Alger plays the violin and sings mezzo-soprano, though conducting has been her main focus for several years. She described conducting as a combination of all the things she likes about music and said it adds a teaching, coaching and leadership component.

Alger attended Lawrence University in Appleton, Wisconsin, and graduated with a bachelor's degree in music in 2006. She enrolled as a graduate student at UNI and earned a master's degree in conducting in 2010. While at UNI, Alger's primary teacher was Rebecca Burkhardt. She also studied conducting with Danny Galyen, and studied violin with Frederick Halgedahl. In addition to performing with the Northern Iowa Symphony Orchestra, Alger also played in the Waterloo-Cedar Falls and Dubuque Symphony Orchestras.

After UNI, Alger attended the University of Southern California in Los Angeles, California, where she earned a Master of Arts degree in teaching music. Following her time in Los Angeles, Alger moved back to Iowa for a year where she directed a youth orchestra and a church choir, sang in regional choirs and played the violin in a few regional orchestras. She received an opportunity to move to Abu Dhabi, the capital of the United Arab Emirates, where she taught middle school music for two years. She returned to the United States to earn her Doctorate of Musical Arts in conducting at the University of Maryland. It was while pursuing her doctorate in Maryland that Alger decided to audition for The United States Army Band program and join The U.S. Army.

She was motivated to apply to become an officer in The United States Army Band program because she had several colleagues and classmates who were auditioning for full-time military band positions as they were graduating with their respective degrees. "I thought it's really great they get to serve their country and they also get to play music full-time, which they are trained for and they love," Alger said, "so I decided to see what the military bands offer as far as conducting was concerned… and that's when I discovered that The U.S. Army held auditions for conductors."

Over a two-day audition process, Alger said applicants are tested on their written music theory, aural skills, sight-singing and their ability to sing or play their major instrument. There is also a conducting component where applicants work with the concert band for either The United States Army Band or The United States Army Field Band, The United States Army Chorus or The United States Army Soldiers' Chorus. A spoken interview with the audition panel is held at the end of the audition.

Alger auditioned for The United States Army Band program in May of 2017, and was offered a position as an Army Band Officer the same day. She joined the army in October of 2018, and four years later was transferred to Fort Myer and selected to lead The United States Army Chorus. She is one of only two women among the 24 commissioned band officers across The U.S. Army, and the first to lead the prestigious chorus. In April 2023, Alger was promoted from First Lieutenant to Captain and completed her first mission leading the Ceremonial Band at a funeral for a retired Major General in Arlington National Cemetery on April 11. She conducted her first concert as Captain as part of an all-women conducting team on April 18 at Schlesinger Concert Hall in Alexandria.

We're proud to congratulate Bonnie on her extraordinary accomplishments and look forward to cheering her on in her future endeavors!

Editor's note: thank you to Lawrence University, writers Ed Berthiaume and Kaitlyn Lyle, and to Bonnie Alger for their contributions to this article.