Alumni
UNI set Emmy Award-winning journalist Eva Andersen on the path to success
Today, UNI alum Eva Andersen is a four-time Emmy Award- winning Twin Cities journalist with KARE11 in Minneapolis, where she consistently tells community- and heart-driven stories that aim to inspire and spark action. But Andersen got her first taste of fame during her sophomore year at the University of Northern Iowa.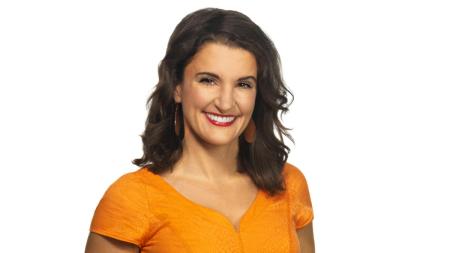 Presidential candidate John McCain held a campaign event on the university campus just weeks before the 2008 presidential election. A prankster by nature, Andersen dressed up like McCain's running mate, Sarah Palin, and worked her way into the crowd right behind him. The impersonation caught the attention of local and major news networks and made its rounds on the late night talk shows.   
"That's when I realized I can make a splash - I can make things happen," Andersen said. "I had always wanted to be famous. I always wanted to be an actor or an entertainer, and now I felt like I could be." 
After her taste of fame, Andersen switched her major to communication studies. During her next two years at UNI, Andersen blossomed, becoming a prolific creator of varied content, as well as landing several notable internships, including one with "Entertainment Tonight" and another with "The Colbert Report." 
At that time, UNI alum and Dubuque native Mark Steines was a host of "Entertainment Tonight." Each summer, he recruited three interns from UNI, brought them to Los Angeles and provided them with housing so they could gain experience working in the entertainment industry. 
"This wasn't like the typical internship where you might be running errands or bringing coffee," Andersen said. "Steines would engage us in special projects and we got a lot of hands-on experience. It was a great program and for him, I think it was very much an opportunity to give back."
Andersen credits UNI, its supportive environment and its focus on preparing students for their future professional endeavors with providing a space that encouraged her to explore, create and take advantage of opportunities that might not have presented themselves otherwise. 
"I just adored UNI," Andersen said. "UNI really gave me the space to explore a lot of different opportunities and grow skills in a lot of different areas. I had a lot of really diverse experiences there. The PR department hired me to create promotional videos for the campus and that was awesome. I wrote a music video called 'Love to be a Panther,' which was a lot of fun. I made a lot of other videos and music videos. I gave campus tours and was involved on campus. UNI was a very nurturing environment. It felt like it was big enough to have a variety of experiences, but small enough that it felt like I could have a big hand in things."
After earning a Bachelor of  Arts in Communication Studies with a minor in music from UNI in 2011, Andersen moved to New York where she dabbled in acting, comedy and music while working a handful of odd jobs to make ends meet. After about five years, she decided to pursue a master's degree in documentary. 
"I think I was still figuring out what I wanted to do when I finished grad school," she said. "For years I had been telling stories - my stories - on the stage, and journalism was an opportunity to continue telling stories. Yes, they were not my own stories, but that didn't really matter. By then I had been shooting and editing videos for several years, I loved meeting new people and I knew I didn't want a traditional office job - I didn't want to do something that was the same every day - and so journalism appealed to me." 
Deciding to give it a go, Andersen moved back to Iowa and started reporting for KGAN/KFXA in Cedar Rapids, where she worked for two years before moving to Local 5 in Des Moines. In 2021, Andersen started with KARE11.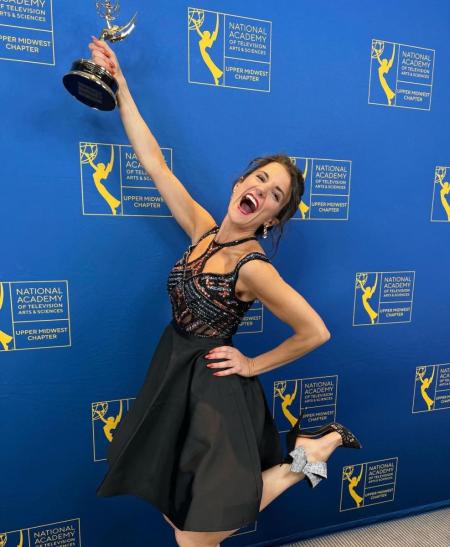 Over the course of her career, Andersen has won four Emmy Awards and a Regional Murrow Award. Some of the stories that gained recognition were:
A four-part series on recovery delays immigrant and refugee populations experienced after severe storm damage in Cedar Rapids
A 30-minute special report on the QAnon movement, its grip on Midwesterners and the fallout many families experienced
And, most recently, a story focused on a "very quirky" radio DJ who's had the longest running show at a community radio station in Minneapolis 
"It's really important to me to know that I am telling stories that not only matter to the community, but also help people," she said. "My absolute favorite thing about the work I get to do is to create change from stories. That's honestly one of the most important things we as journalists can do with our work."