Arts & Design
Art career is taking flight for UNI graduate Caylin Jayde
From finishing her first mural to being featured in "New American Paintings" to having a viral TikTok, it's been quite the year for Caylin Jayde. The 28-year-old UNI graduate is fulfilling the dreams she's had for over two decades.
"I pretty much decided what I wanted to do when I grew up when I was like four," she said. "I've always been drawing and painting. It's the way I express myself. Creating feels as natural as eating. To me, it's just what I do."
Created last summer, Caylin's mural can be found under the downtown Cedar Falls bridge along the Cedar River. It is her first public art project. She was inspired by her love of Cedar Falls and the namesake of the city she still calls home.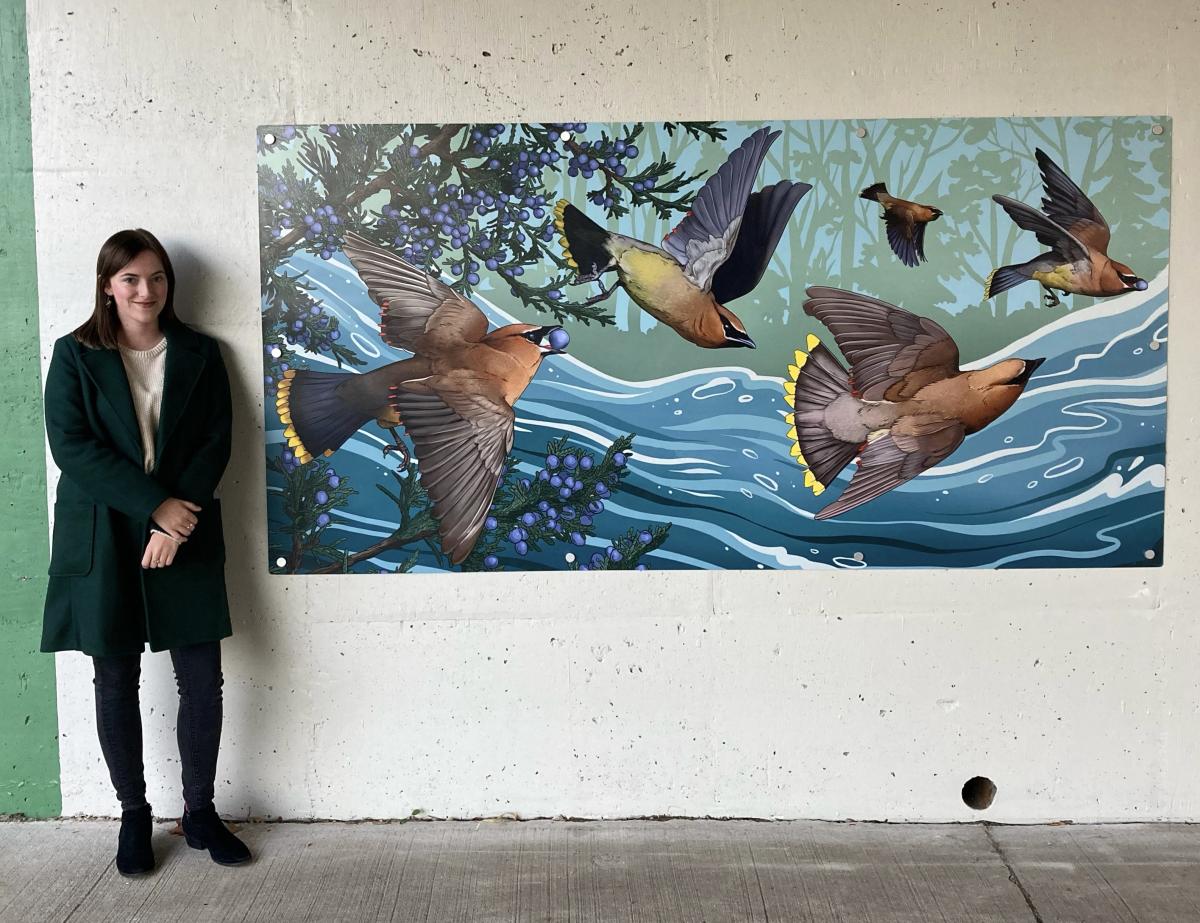 "The mural is a celebration of the Cedar Falls namesake and a tribute to the natural beauty of our community," Caylin explained. "The river is named after the red cedar trees, which grow berries that are eaten by Cedar Waxwings that frequently fly in groups near the river."
When the City of Cedar Falls posted applications on social media for artists to design three murals, Caylin was tagged in the comments numerous times.
"There's really positive support for the arts in Cedar Falls that makes me feel welcome here," she said. "I love that about our city."
Caylin's application was ultimately selected, and now community members and tourists alike can enjoy the results of labor.
While the encouragement of others drew Caylin to apply for the Cedar Falls mural, she submitted some of her work to the critically-acclaimed art periodical "New American Paintings" just to see what the submission process was like. She never dreamed her art would be chosen for publication.
"Let that be a lesson," she said. "Now I think, don't ever hesitate — just apply to stuff and apply to it over and over. You never know."
As a student at UNI, Caylin was used to looking at "New American Paintings" in the painting studio with professor Ken Hall. When she felt like the artists around her didn't quite share the same style, Caylin found validation — and inspiration — in its pages.
The experience of seeing her own work in the journal is surreal, she says. 
"I can still remember the artist's name that I found in one of those books in college while I was working on my artwork and thinking, 'Oh, this person is interested in things I'm interested in, and that makes me feel validated,'" she said. "Just the thought that maybe that could be me for somebody — I can't even really digest that."
No matter why she's creating art, Caylin is inspired by nature. She loves creating art that's "rooted in the human relationship to nature and our environment" and describes Iowa wildlife as the source of her joy. So when she started posting videos about her artwork on TikTok, it was only natural she would share her art that touches on those themes. 
In one recent video, Caylin featured a painting depicting one of Iowa's endangered rattlesnakes and some endangered plants. In response, Caylin received a comment from a fellow Iowan saying she didn't realize Iowa had endangered species because, in her opinion, Iowa is "boring."
"That specific thought is why I make the work that I make," said Caylin. "I've grown up in it. There's a hidden treasure in Iowa that people don't understand."
Caylin replied to the comment with a video explaining how diverse Iowa's original ecosystem is, and the positive feedback started rolling in. She got comments from conservationists and from Iowans telling others about cool places to visit in the state. The video now has over 70,000 views.
"I'm not a biologist," said Caylin. "I'm not out there in the field, doing the hard work that I think is what really deserves respect and admiration, but I feel like I can make images that  elevate this beauty. Beauty and imagery draw people in, so I'm just hoping that my work can keep doing that."
Caylin has had a fascination with wildlife since she was a child growing up in Ogden.
"I had this whimsical, magical view of the natural world," she said.
Growing up in such a small town, it was easy for Caylin to feel like she was the only art kid. All of that changed when she came to UNI.
"Coming to UNI and being surrounded by people who were also interested in art and then professors who were implementing artwork into their lives was really inspiring to me," she said. "It gave me a sense of community I had never had before."
Caylin specifically chose to come to UNI for the Bachelor of Fine Arts program. She graduated with an emphasis in painting in 2017. The community she developed at UNI remains today, not only in the form of peers but also professors with whom Caylin continues to keep in touch.
Caylin's next challenge will be creating a mural on Iowa nesting birds for the Hartman Reserve Nature Center, which is set to go live in the fall. She's also hoping to spend more time traveling to festivals throughout Iowa to sell her artwork.