Arts & Design
Art professor creates a more inclusive reality
Before he became an accomplished photographer and performance artist, University of Northern Iowa professor Jeffery Byrd struggled with how to safely express his identity in a time and place where being out was dangerous. 
His formative experiences growing up in Alabama have shaped a 30-year career in which Byrd, who was one of the founders of UNI's first gay and lesbian studies course, has been a resource and advocate for UNI students figuring out their own identity. That's why he was one of the first to join the campus' Out and Ally Network, a group of faculty and staff who are LGBTQ or allies of the community.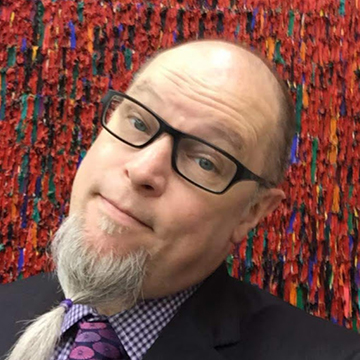 "When I was a student, it was so important to me to know that people were supportive," said Bryd, who is the head of UNI's art department. "It's also a really positive thing for people to see somebody who's in an authority position that shares some aspects of their own identity, because you see that things are possible."
The network, created by UNI's Office of Gender and Sexuality Services (GSS), is part of UNI's efforts to make campus a welcoming place for everyone. 
Bryd grew up with his two sisters in Russellville, Ala. (pop 8,000), born to a father who worked in a factory and a mother who dropped out of high school to get married. The first-generation college student found a home at the nearby University of Alabama, where one of his photography professors was "a motherly figure ot a lot of the queer kids," he said.
"We formed this kind of chosen family that supported each other that I felt really close to," he said. "That gives you a lot of strength when you have that. You've got that kind of base you can pull from that made it possible."
He never actually came out, choosing instead to wear his newfound confidence on his sleeve. When he returned home from college for the first time, he dressed in large, knee-length dress shirts, inspired by Boy George; and wore brooches and dangling earrings. His family quietly accepted his new look. 
Byrd went on to pursue an MFA in photography at the University of Florida during the height of the AIDS crisis, when gay men were villified in popular culture. He chose the school to study under famous artist Jerry Uelsmann, who was an early master of pre-Photoshop collage photography. Uelsmann was supportive of Byrd's work, which often focused on the male form.
"When I got to Florida, I was pretty confident in who I was, I was very secure in the kind of work that I wanted to make. Looking back, I think I was trying to celebrate the beauty of bodies that had become so much associated with illness and fear," he said. "For people to be as supportive as they were was pretty remarkable because it was a very scary time."
Byrd accepted a job at UNI in 1989. He met other LGBTQ faculty members and they formed a tight-knit community, often having dinner at each other's houses. After several years, they began talking about trying to start a Gay & Lesbian Studies course (now often referred to Queer Studies or LGBTQ studies) at UNI. Though they faced some pushback at first and concerns on whether the course would be popular, in 1991, the course was offered for the first time. That first class had 120 students.
"I hate to use the word, but it was much more underground … because not everybody was entirely comfortable with being out and being visible and that's changed quite a bit," said Byrd. "Now it's a very different situation on campus and in the community. It just seems like a whole different world."
He's played a role in creating that change. 
"Jeff is one of the most caring folks on campus. I've watched him work with all kinds of situations and in every one of those I've been impressed by his care for that person as an individual, helping them be who they are and grow as people,"  said John Fritch, dean and professor in UNI's College of Humanities, Arts and Sciences. "Especially from a department head, it makes such a difference to students when they can walk in and visit with someone that they know has the ability to make changes based on their concerns. Jeff is also a very well known artist, and to bring that kind of credentialing to our campus in art is a real benefit to the prestige of the university and to our students."
As a department head, Byrd hopes he can be an example for LGBTQ students. Role models have been an important part of his own journey, and he still looks up to LGBTQ activists today.
"If I think about that word pride, that's the thing I'm proud of — that people kept at it and made these changes over time and changed people's minds … and also just didn't give up," he said. "I think about the changes that have happened since I've been here and … I really think about all the people that it took to get us here. This has been a long generational journey."
Because of that progress, Byrd is able to live the life he lives today. Not only has he found success with both his career as a professor and his personal art projects, he also found love — he met his husband, Wayne Twitchell, currently a database administrator in UNI's IT department, in a sci-fi chatroom in 2002. The couple wed when same-sex marriage was legalized in Iowa in 2009. It's a reality even his young overactive imagination couldn't have dreamt up.
"As a kid, I couldn't even imagine a life other than where I was," he said. "It's really surprising that I've ended up in a place that I would have never imagined, doing a job I would have never imagined. I could have been a wholly different person in some other reality … but I think this is a pretty good reality."