Arts & Design
Gallagher Bluedorn pre-show a full circle moment for student Ahmad Madlock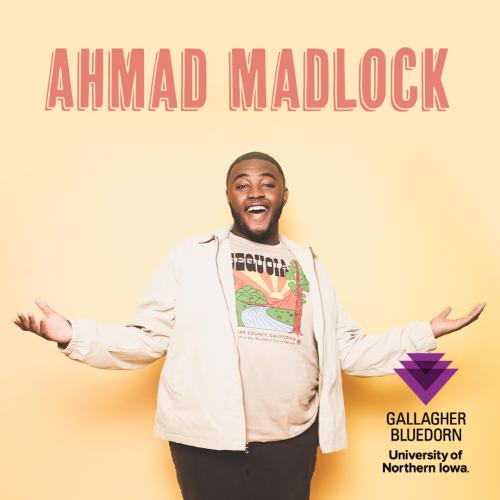 Growing up in Waterloo, Ahmad Madlock was very familiar with the University of Northern Iowa's Gallagher Bluedorn Performing Arts Center. It was common for him to go to shows for school. He would later go on to perform for the Gallagher Bluedorn with the UNI Children's Choir for years. Little did he know that one day, as a college freshman, he would be putting on his very own pre-show in the Gallagher Bluedorn for The Kingdom Choir.
"It feels pretty full circle," said Madlock, who is majoring in elementary education. "But also, I know this is my freshman year, so the circle must be completed again. The Gallagher Bluedorn has certainly been a big part of my life. It's really heartwarming to have grown up in this space and to reach this point."
Madlock's pre-show will be on Feb. 28 from 6 to 6:30 p.m. in the Gallagher Bluedorn Performing Arts Center lobby. He'll be singing a gospel set alongside special guests. There's even an interactive portion of the set to get attendees to join in with the music.
"I'm looking forward to just being in the room with everybody and seeing how people pick up on when they're supposed to sing," said Madlock. "Gospel music is easy to pick up. I see that in church a lot, but I'm excited to bring it to a different platform."
Madlock was invited to perform at the Gallagher Bluedorn by community relations manager and family friend Jennifer Onuigbo. He jumped at the chance to perform before the London-based Kingdom Choir who came to worldwide recognition for their performance at Prince Harry and Meghan Markle's wedding.
Like many musicians, Madlock got his start singing in church.
"I get my voice from my grandfather," he said. "That's what people always say. He was a big singer in church, so I grew up seeing that, and then my singing started in church as well. I listen to a lot of different music, but I think I find the most joy when there's a sort of gospel tone to it. That's where I really thrive."
In addition to gospel musicians, Madlock considers Michael Jackson, Stevie Wonder, Leon Bridges and Steve Lacy to be his major musical influences.
His love of performance stretches beyond music. He's also always been active in theatre.
"The best way I can put it is I have a feeling that I have something people would like to see and enjoy," said Madlock. "I like providing a good time for people and the fact that it's coupled with something I love doing and something I feel I'm pretty good at works well."
Most recently, Madlock performed as Donkey in the Waterloo Community Playhouse's production of "Shrek: The Musical." Madlock, who had made it to All State Speech in high school with Donkey's song "Don't Let Me Go" from the musical, describes the opportunity as a dream role. He's seen the Broadway recording on Netflix maybe 50 times.
"I had to make Donkey my own," he said. "I had to take what I knew about the musical and take what I knew about the movies and apply them to Ahmad. So my preparation was a lot of just finding my style."
As Madlock looks ahead beyond his Gallagher Bluedorn pre-show, he's excited about performing in the Glee Club, which he just joined this semester. He's also hoping to put his drama skills to the test in some way.
"I'm looking forward to whatever UNI has to offer next," he said. "I don't exactly know what it is, and I think that's why it's so exciting."
After he graduates, Madlock believes his performance background will help him be a better teacher because some of his most memorable experiences as a student are ones that brought in performance elements. For example, when he thinks back to literature class, he remembers doing reader's theatre for an assignment.
"I think the importance of music and acting in a classroom is very pivotal to a child's education," he said.
While the ways he performs may change with time, one thing is certain: the performing arts will always be a part of Madlock's life.
"I wouldn't be able to give myself a choice because music is such an important part of my life," he said. "It is completely ingrained into everything I do, and I need that outlet. But also, it's so much fun. I feel like I have to do it, but not because it's a job or a chore. I enjoy it."