Arts & Design
Students who live on campus for four years gifted original art keepsake by UNI senior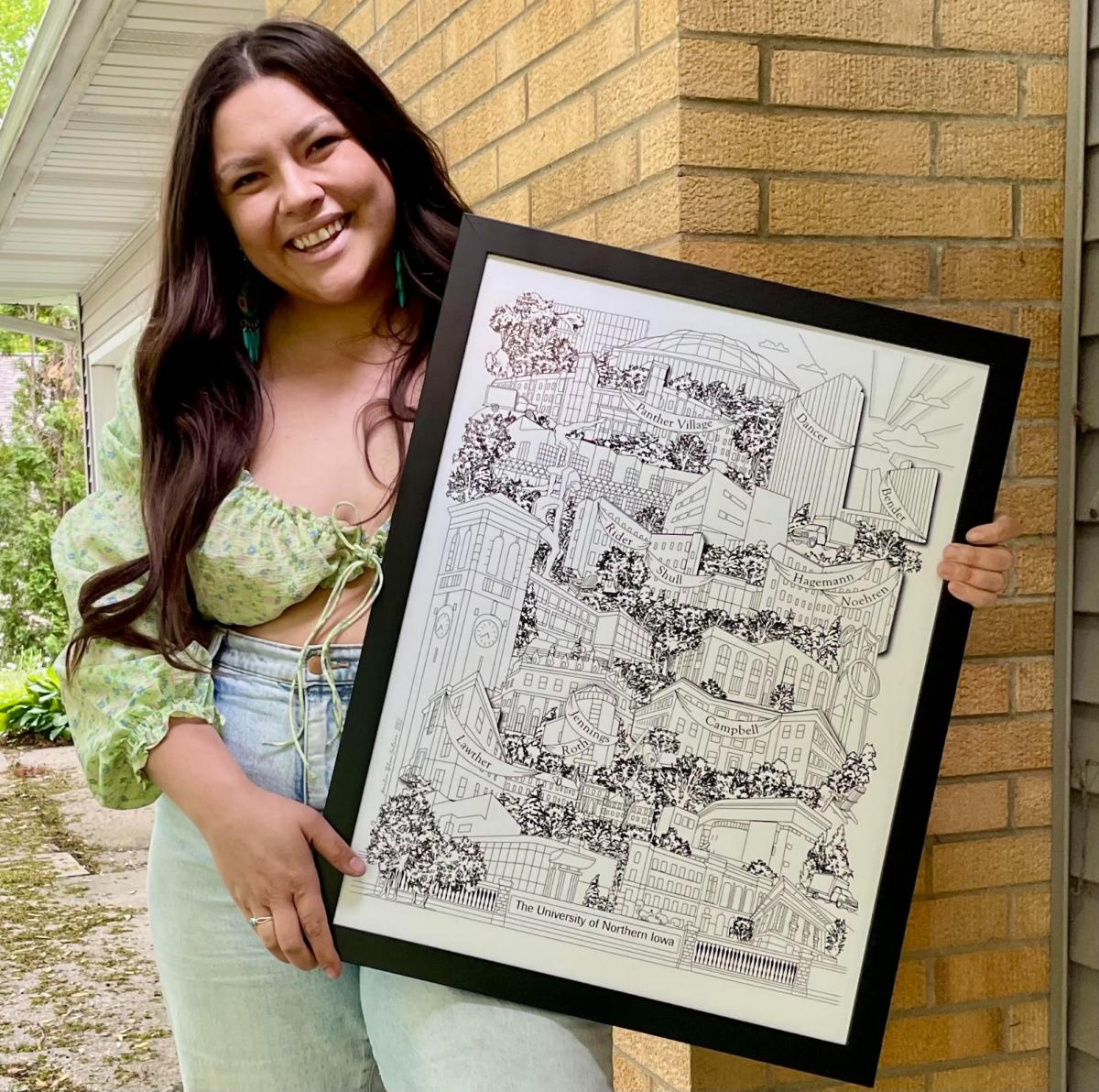 Future alumni at the University of Northern Iowa will have many shared experiences, and now, for those that live on campus for four years, they will also have an original artwork keepsake created by a UNI senior that connects them to other alumni. 
"The opportunity to make art intended to serve students as they move forward from UNI is a unique one — I feel honored to have been given it," said the artist, Amelia Gotera, 31, who is a studio art major with an emphasis in sculpture.
The keepsakes are part of a UNI Housing & Dining initiative started in fall 2021 to offer something special to students who continue living on campus throughout their time in college. After their first year of living on campus, students get a free t-shirt. For their second year, they receive socks, and for their third year, they get a coaster set. Each item is a unique keepsake that can't be found at campus retail locations.
For the fourth-year gift, UNI Housing & Dining partnered with the Public Art Incubator (PAI) on campus. The PAI provides a space for professional artists to create art for public areas, such as libraries, main streets and parks. UNI students are also hired to work in the incubator, creating their own art and assisting the professional artists as well, which gives them a fully immersive educational experience.
"In this case, UNI Housing & Dining wanted a piece of artwork that would be timeless and hold up for quite a while in terms of aesthetics," explained Dan Perry, the coordinator for the Public Art Incubator. "They wanted it to be something that reminds people of UNI that could also be a conversation starter."
Gotera's work was selected from about a dozen conceptual submissions proposed by students. To elicit these submissions, Perry put together a request for proposal (RFP), outlining UNI Housing & Dining's requirements for the artwork, who would be eligible to submit their artwork proposals and when and how they should submit their proposals. The artist whose work was selected would receive $1,000 in addition to the resume-building credential.
Gotera, who is an art assistant in the Public Art Incubator, was eager to apply. 
"It's exciting to be provided a great opportunity by the university to fulfill a commission-based art piece," she said. "It is a practice in what's to come as an artist moving through the professional world."
Gotera said she was inspired by iconic pen and paper illustrations of Cedar Falls businesses, like those by artist Bruce Loeschen, which she had grown up seeing on the walls of homes and businesses in the Cedar Valley. She decided to make her work black and white to ensure it would seamlessly fit in any alumni's home regardless of the space's color palette.
"Our goal with this artwork was to have something created that students would take with them as they graduated and display in their future homes as proud alumni of the University of Northern Iowa," said UNI Housing & Dining Assistant Director of Marketing Annie Karr. "Amelia did a great job of encompassing the feel of campus in her artwork that will hopefully elicit fond memories of any student's time at UNI. We are excited to be gifting something unique and created by a fellow Panther."
For the final art piece, Gotera used Adobe Illustrator to make her concept come to life. She said she spent hundreds of hours pouring over every detail to make it perfect and described this piece as "one of the most difficult artworks she's ever created."
Gotera's entire journey to UNI has revolved around art. When she found herself unemployed at the beginning of the pandemic, she had time to think about what she really wanted in life and what would leave her fulfilled. Ultimately, she decided that art was what meant the most to her.
"As a nontraditional student, my choice to go into art was an intentional one, with the risk being clear," she said. "I had worked for over a decade doing so many different things, all the while remaining the most myself as an artist." 
Based on her success, it's quite clear: Gotera's risk is paying off.
"Once you sell artwork, you're technically a professional artist," Perry explained. "So this is a great experience for Amelia, and it's also a confidence boost."
Students receive their respective years on campus gifts from Housing & Dining at the beginning of the school year during move-in. Since UNI Housing & Dining has purchased the rights to the artwork, the piece will be exclusively available to students who live on campus for four years.