Arts & Design
UNI ceramics students sculpt their futures with fundamentals, state-of-the-art kilns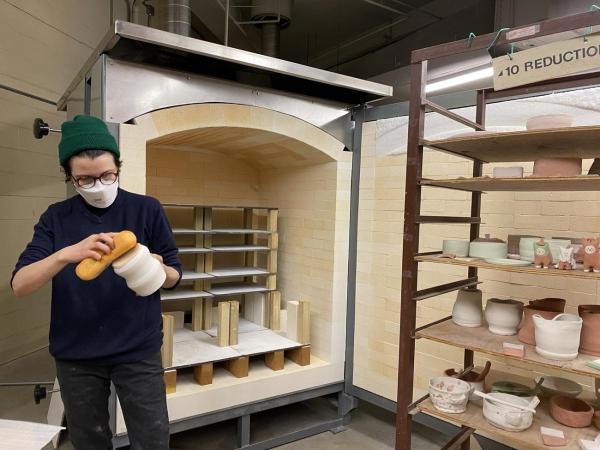 Whether interested in sculpting, design or creating functional items, the University of Northern Iowa ceramics program offers students the opportunity to explore a variety of paths while gaining hands-on experience working with an exceptional array of professional-grade tools and equipment. 
"My goal when it comes to teaching ceramics is to meet students where they're at and really give them the space and the tools to explore the different methods, styles, tools, opportunities or  paths they can take," said professor Sam Mack. "Regardless of where their interest in ceramics may lie, UNI's program is designed to prepare students for the professional world, whether they want to open their own pottery production studio or as a working artist in the worlds of contemporary art."
UNI's ceramics facility comes fully stocked with top-notch professional-grade tools for students to utilize, including pottery wheels, a variety of clay bodies and glazes, and kilns for firing.
In February, UNI added three new massive gas kilns and a larger electric kiln to its already amply-equipped ceramics studio, giving students the opportunity to explore larger-concept works and sculptures and the space to experiment with different clay and glaze mixtures that would require the higher firing temperatures the gas kilns can provide. The new kilns come in addition to the five smaller electric kilns – about the size of a stove – students are already using to fire their work. 
"There are so many opportunities for ceramics students to explore and experiment with tools and different types of clay and glazes," Mack said. "Now, with these new larger kilns, students can really challenge themselves in the size and volume of their projects and know that we have the tools they need to successfully complete their visions."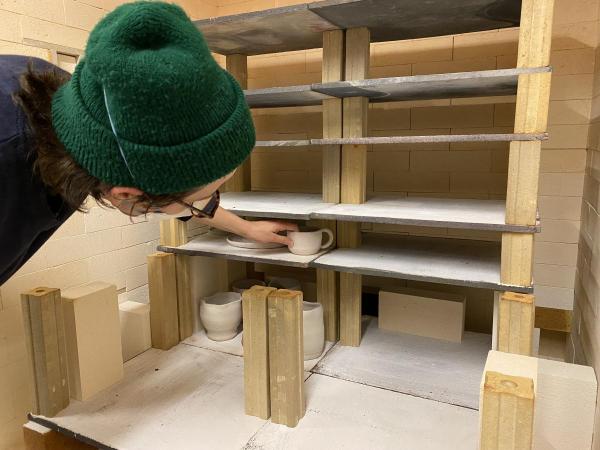 For Anna Gilbreath, a third-year art major, the new kilns have dared her to venture out of her comfort zone and take on larger projects.
"If we only had the smaller electric kilns, I'd probably stick to what I know, making smaller items," she said. "But having access to these large gas kilns, our options have expanded to a whole other set of glazes and clay bodies and that just encourages me to use those different materials and really explore new ideas."
A studio art major with an emphasis in ceramics, Gilbreath has already made a name for herself as an up-and-coming ceramics artist on campus and in the community, making mostly functional items such as bowls and mugs, that she sells through her business Anna Grace Creates. 
She is also putting her talent to work supporting UNI's Our Tomorrow campaign, which aims to raise $250 million by 2026. Launched in October, the campaign will fund scholarships, various initiatives, services and facility improvements. 
Gilbreath has been tasked with making hundreds of ceramic mugs and flower pots in support of the campaign's fundraising effort.
"I am most comfortable doing functional things like mugs and bowls and vases, and other work on a smaller scale," she said. "But I also think I'm here for one more year and I want to make the most of the time I have here and the tools that are available to me."
"I want to make something that's actually gonna take up space in the kiln while still tapping into what I'm interested in, so I am looking at larger-scale, more sculptural pieces," Gilbreath added. "I'd love to make some larger pieces that are maybe constructed in multiple parts and then combined together, and that's just very different from what I make day to day."
Currently in their first year of teaching at UNI, Mack takes a collaborative approach to working with students. 
"I really try to teach to my strengths, which for me I think is providing encouragement and hopefully modeling embracing the failure that is just inevitable in ceramics," Mack said. "You can do something right 100 times and on the 101st time it fails, and that can be one of the most frustrating parts of working with this material, but I think it's also a valuable experience for students to have while they are still learning and can make the decision to either dwell on that failure or they can observe and reframe and learn from that experience."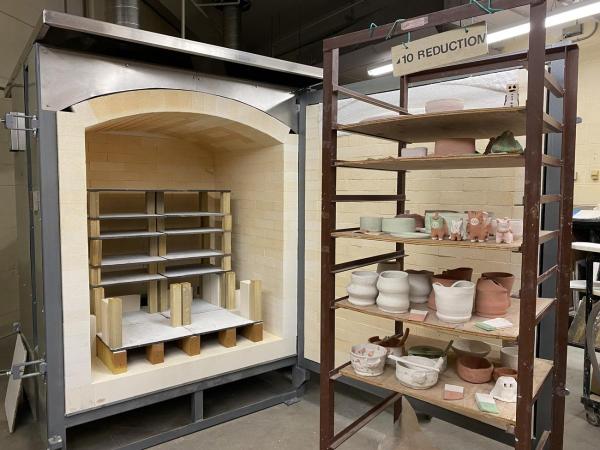 The program starts with a strong foundation in the fundamentals of both functional and sculptural ceramics, the tools and methods used and safety practices. From there, students are encouraged to explore, experiment and find what sets their creative minds ablaze. By the end of the program, students have a strong command of fundamentals and conceptual applications of ceramics and are encouraged to experiment with the materials and tools in the studio.
"I really like to defer to the students and let them decide if they want to research and explore functional work or sculptural work," Mack said. "And I've noticed that throughout teaching Ceramics I, students will try both and will often end up making sculptural work that is also functional. I'm not interested in making them do one or the other, but instead like to let their interests drive their research."
For studio art major Tim Wilson, it's that freedom to explore and experiment that really drew him.
"As a painting student, ceramics actually scared me at first," he said. "I liked the idea of ceramics, but I really had no idea of what all goes into it. And now that I have taken quite a few classes, it's been really cool to transfer what I've learned from working three-dimensionally back into my two-dimensional work. It's really helped me better understand shape and size, as well as the different variations of color."
His foray into ceramics has broadened his understanding of art and what goes into its creation.
"It's just a fantastic program and Professor Mack is a really incredible teacher," he said. "The facility we have here, the tools that are available to us and the huge variety of materials we get to work with is really amazing. I have learned so much about making art in general and there is still so much more to explore."
Coming to UNI as a transfer student from a community college in California, it was the ceramics program's facilities that first caught Gracelda Scott's eye.
"The amount of space we have here to work with is really great," she said. "I was at community college before coming to UNI and the art facility there was basically one room with drawing and painting on one side and ceramics on the other, and they only had one little kiln for all of us to work with."
An art education major in her junior year, Scott wants to go into teaching ceramics when she graduates.
"As a student who's gonna teach ceramics, the variety of tools and materials we get to learn on here is really important because I need to know how to use all of these things," she said. "But you also want to have fun with what you're doing and to try new things and we have that chance here. If I want to, I can experiment with different clay bodies and glazes, I can throw on the wheel or try something else. We really have a lot of options available to us."