Arts & Design
UNI professor wins international music contest
Winning accolades is nothing new for UNI assistant professor and professional flutist Hannah Porter-Occeña.
She was the Irene Burchard prizewinner at the prestigious Royal Academy of Music in London, which counts Elton John and Annie Lennox among its alumni and where she earned her master's degree in music. A New York Times writer once described a teenaged Porter-Occeña, who is now principal flutist at the Topeka Symphony Orchestra, as possessing "rich tone and deft technique."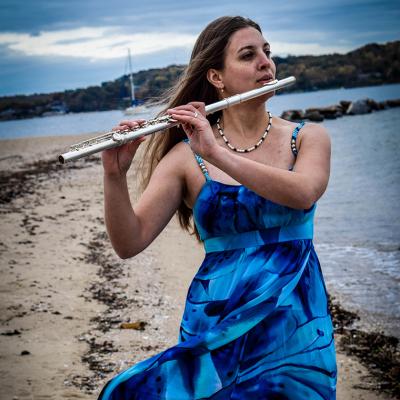 The talented flutist and educator now has one more accomplishment to add to that list after she was named the 2021 winner of the Mu Phi Epsilon International Competition, a 75,000-member nonprofit with a mission to promote and advance music around the world.
"It was quite a journey - one I certainly didn't expect," Porter-Occeña said. "But to win is really an incredible feeling. It means a lot. And I'm really excited for the possibilities that come out of this."
Entering the contest was something Porter-Occeña had planned for years, and was partly driven by an opportunity to perform Mozart's Concerto for Flute and Harp with a former international competition winner, harpist Rachel Brandwein. 
"Getting to see the amazing performances she was doing as the MPE international competition winner inspired me to work toward entering a future competition," she said.
As this year's winner, for the next two years, Porter-Occeña will be featured in recitals and orchestra performances across the country at chapters of the Mu Phi Epsilon Fraternity, which has established 227 collegiate chapters and 113 alumni chapters. The lessons she learns will be shared with her students.
"The bulk of our students are music educators, and their job is going to be coaching their students and inspiring a love of music for them," she said. "I really want them to see how excited I am about getting to go and perform these diverse programs all over the place and inspire people through the musical choices that I'm making."
Her passion for music education is fueled by both her passion for performance and the outlet of creative expression it affords, and the impact she has seen music classes have on students.
"Music moves people in ways that nothing else does, and passing on and learning how to engage with musical traditions as well as actively participating in the creation and performance of new music has the potential to transform individuals and communities for good," she said.
Porter-Occeña also has students who are gearing up for music competitions themselves, and she is looking forward to using her wealth of experience - she has been competing since high school - to help them work through the process.
"I'm going to be able to give them all of the inside tips," she said.
Her latest accomplishment is a source of Panther pride, said Jeffrey Funderburk, director of the UNI School of Music.
"Dr. Porter-Occeña has been a terrific addition to our faculty," he said. "Her outstanding artistry coupled with her absolute commitment to student success make her an outstanding faculty member, an example for her students, a devoted mentor and an ideal colleague. We are very proud of her accomplishments."
Porter-Occeña has been a professor at UNI for three years. In addition to her awards, she has also presented at the National Flute Association conventions in Orlando and Salt Lake City as well as the Rochester Flute Fair, and serves on the National Flute Association Special Publications Committee. 
In 2020, she was a Hartman Reserve Visiting Artist. Her proposal explored the sounds of nature as expressed through the flute. 
Porter-Occeña is a 2018 DMA graduate of Stony Brook University, and she holds a Bachelor of Music from the University of Missouri-Kansas City Conservatory of Music and Dance. 
The final round of the Mu Phi Epsilon contest can be viewed online.