Business
Is a business degree worth it?
If you're a high schooler who's been mulling over your future plans, you may have heard mixed information when you've asked "Is a business degree worth it?" While the cost of tuition can look intimidating, there's so much more than the short-term expense to consider. If you're selecting the right major at the right school, your degree will more than pay for itself over time. Here's a guide to help you understand the true value of a business degree.
Do I even need a degree?
A bachelor's degree still matters. It's one of the most decisive factors to a lucrative career and consistent employment. Based on data from the Bureau of Labor Statistics (BLS), the average annual unemployment rate for someone holding a bachelor's degree is 5.5%. For someone with a high school diploma alone, BLS says it's 9% which is over 60% higher. Since the average unemployment rate across all education levels is 7.1%, your chances of being unemployed will be higher than average with just a high school diploma. Still, they'll be lower than average with a bachelor's degree.

Your salary will also go up as your education level increases. While the median salary for someone with a high school diploma is $40,612, it's $67,860 for someone with a bachelor's degree according to the BLS. So you can expect to be more consistently employed with a bachelor's degree, and you'll likely make more money at every job you hold. By the time you retire, the extra income you'll have earned because you have a bachelor's degree will add up to $900,000 on average.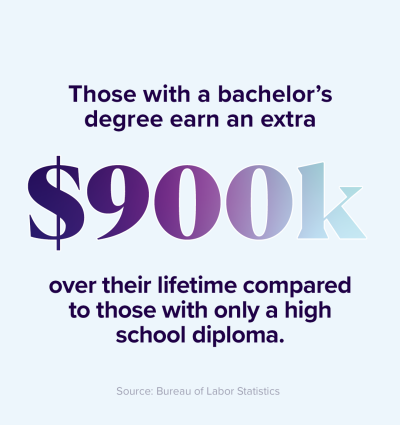 Is business a good major?
While the average person will have better, more lucrative job opportunities with a bachelor's degree than they would with just a high school diploma, not all majors are equal. Just having a degree won't guarantee your employment or a good-paying job, especially if you choose to enter a declining field. Even having the name of a fancy university on your diploma won't automatically impress employers. 
A business degree is an important tool that can help pave the way for career success. Here are just a few of the reasons why.
Employers want you
One way to measure the value of a degree in business is by looking at the growth the field is experiencing. The Bureau of Labor Statistics also estimates that between 2020 and 2030, jobs in the business and finance sector will experience 8% growth. This is faster than most fields. Some of the jobs you qualify for with a business degree are estimated to have even more growth over this same time frame. For example, economists are estimated to experience 13% growth, management analysts 14% growth and market research analysts 22%. 
A business degree sets you up for a career marked by stability. The implications of this are huge! Whether you're someone who could see yourself wanting to move around frequently in adulthood or you have one particular location where you'd like to live for the rest of your life, finding a job with a business degree shouldn't be an issue. You can expect your skills to be wanted no matter where you are. This also means your ability to find a job shouldn't be a major source of stress while you're in college. You can be confident that if you're working hard and retaining what you learn in class, a job offer (or several) should be waiting for you by the time you graduate.
You'll have no shortage of options 
One of the best things about a business degree is that it won't back you into a corner for career prospects. You can use the skills you learn while studying business in many fields and in many different jobs. This is good news if you realize that what you thought was your dream doesn't end up being quite as exciting as you'd hoped or if you decide to make a career shift later in life. 
While earning your business degree, you'll learn about finance, management, marketing and more. Being familiar with these areas will make you more desirable to employers. It will also train you to think more analytically, making you a valuable workforce member. 
The versatility of the business degree is one reason why those with one enjoy a low unemployment rate. By earning this degree, you'll be setting yourself up for a career of consistent employment, even if you change your niche more than once.
It pays quite well
Starting when you get your first job as a business alum, you'll notice the positive impact of having a bachelor's degree. While someone with a bachelor's degree in business can expect to have an average starting salary of $56,00, someone with a high school diploma has an average starting salary of just $30,000.
Of course, these numbers are just averages. You could end up making a lot more depending on your chosen career path. Some of the highest paying business jobs include financial advisors, management analysts and financial analysts.
The bottom line is the cost of tuition isn't just a recurring payment. It's an investment in your career. With an average of $27,000 more than you would with just a high school diploma, you'll recover the cost of a business degree from the University of Northern Iowa in three to five years.

How to calculate if a business degree is worth it
If you're still not convinced business is a good major, you should calculate the return on investment. This will help you put some real numbers to your decision. Here's a simple formula on how to do it:
Know the initial value of your investment. In this case, that's the lifetime earnings you can expect if you only had a high school diploma.
Know the final value of your investment (or the net return) which is the lifetime earnings you can expect to make with your bachelor's degree.
Subtract the first number from the second number. This will be your net return. 
Now take the net return and divide it by the cost of your investment which would be the cost of four years of tuition.
Finally, multiply this number by 100. The final number is a percentage.
Based on this formula, the average return on investment for someone who's graduated with a business degree from the University of Northern Iowa is 1126%! Talk about a smart investment!

The best business degree is a UNI business degree
So is a business degree worth it? Big time! However, if you really want to maximize your return on investment, you should get your degree at an award-winning business school like the University of Northern Iowa's College of Business. We don't just think business is a good major. We think it's a great major!
In our business program, you'll enjoy many advantages, such as our career placement rate of over 95%. The average graduate is so desirable to employers that they also secure their jobs five months before graduation, giving you massive peace of mind.
If you want to learn more about studying business at UNI, you can connect with us by emailing business.info@uni.edu.
As Iowa's only regional comprehensive university, we are designed to provide critical coursework with real, practical fieldwork. 
Real, relevant academic excellence for a world that expects future-ready graduates.
94% of UNI grads find success within six months of graduation.
 
UNI graduates more CPAs than anywhere in Iowa.
 
UNI Business is accredited by the Association to Advance Collegiate Schools of Business (AASCB).
 
UNI is ranked a top regional public university by U.S. News & World Report.