Business
Hybrid accounting program provides opportunities to diverse class of students
Emily Junker (Accounting '25) first experienced symptoms of narcolepsy while in college in 2014. She slept 22 or 23 hours a day, derailing her ability to focus on academics. It took several more years to get an official diagnosis, but in that time, Junker medically dropped out from college and worked full-time to support herself. After enrolling at Des Moines Area Community College, or DMACC, to resume her schooling in 2020, she heard about the Wilson College of Business at the University of Northern Iowa's new hybrid accounting program a couple years later.
"I'm a very connected person, and this allowed me to stay where my support system is," Junker said. "I always joke that this was like a happy birthday gift because it launched on my birthday, but it really did make my life easier, especially because I live on my own and I'm a nontraditional student."
Junker is one of the students taking part in the first semester of the hybrid accounting program which is proudly supported by KMPG, which offers the convenience of online business-core and elective courses with in-person accounting courses in the evening on the DMACC Urban campus. All students in the program are nontraditional learners like Junker, working full-time jobs and/or coming back to finish school.
So far, the reception has been overwhelmingly positive.
"I'm more excited than ever," said Joe Ugrin, department head of accounting for Wilson College of Business. He drives to Des Moines every Wednesday to teach in the program. "The whole program has been great, and the students are truly incredible."
Jesse Froning (Accounting '25), another student in the class, decided to enroll to finish what he started. While attending the UNI College of Business in 2006, Froning saw a job posting at Principal Financial Group. He applied, got it, and moved to Des Moines in January 2007. He continued to move up in the company and decided not to return and receive his degree. Now, as a financial counselor, he's hit a paper ceiling if he wants to continue progressing.
To even sit and take the Certified Financial Planning (CFP) designation exam, one of his career goals, he needs a bachelor's degree.
"I saw that the program would be here in Des Moines, it was easy to get to, and I thought now would be the perfect time to do it," Froning said. "My favorite thing has been going at your own pace. The students are great. The faculty are great."
Junker appreciates the flexibility to work and take classes. She's taking advantage by lining up accounting internships at RSM this winter and BerganKBV next winter. "This program is built for full-time working adults, so I figured I could be a full-time working intern," Junker said with a laugh.
For others considering taking part in the program, both Froning and Junker agree it's worth taking the leap.
"This is a really innovative program," Junker said. "It's been a unique experience because it feels like the students are in the driver's seat. The program is just a lot more flexible, and UNI makes your journey what you want it to be."
Those interested in joining the program can begin coursework any term.. A variety of scholarships have been established to support hybrid accounting students including the Future Ready, Oman and Cook scholarships. To learn more about the program or to apply, visit online.uni.edu/accounting.
‌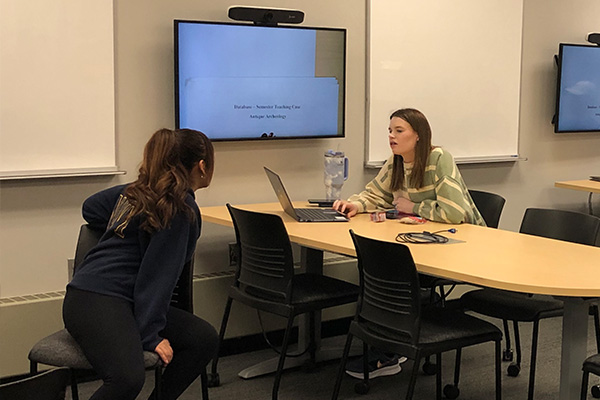 ‌