Business
UNI alum closes major business deal with top PR agency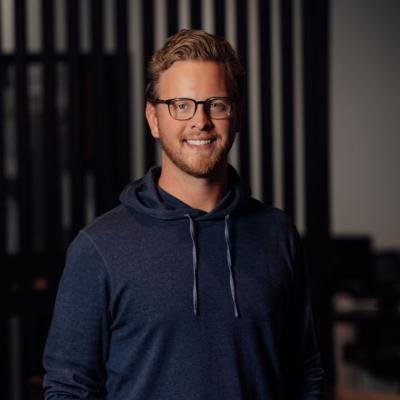 When the world's largest cryptocurrency asset management company needed digital marketing help, it turned not to a Madison Avenue behemoth but to a more nimble Cedar Falls firm launched by a University of Northern Iowa alum. 
Greg Jass ('11), a serial entrepreneur who got his start in UNI's John Pappajohn Entrepreneurial Center (JPEC), knew his company Red Lab Technologies was up to the task. The marketing campaign his 15-person company did for Grayscale Investments, a New York-based firm with $43 billion under management, turned heads.
That initial work on a Bitcoin trust product grew into working alongside Vested, a top-five global financial communications and public relations agency, to help Grayscale rebrand. Vested was so impressed with Red Lab's work that last month the company announced they had acquired it for an undisclosed sum.  
For Jass, who will remain as CEO, it was the latest indication of JPEC's success in growing talent as well the outsized talent pool that exists in the Cedar Valley. He founded Red Lab in 2014, just three years after graduating from UNI. 
"I'm incredibly proud to be from Iowa and to have gone to UNI," said Jass, 32. "I hope this opportunity that we have at Red Lab extends to UNI and other places in Iowa, so we can showcase more of this Midwest talent and work ethic."
Vested shares his enthusiasm. "What excites me about Red Lab is not just their deep digital expertise and skill sets. It's their entrepreneurial mindset and creative spirit," Vested President Binna Kim said in a recent press release.
Jass' ascent comes as no surprise to JPEC director Laurie Watje, a 2020 Board of Regents Faculty and Staff Excellence Award winner, who has watched his growth from a first-time student entrepreneur to creating and selling his own successful companies––twice. 
"He's the first student that I kicked out of the student incubator and made him move down to the Innovation Incubator even before he graduated because he was making so much money and I felt it was important that he had other connections that I couldn't provide," Watje explained.
The R.J. McElroy Student Business Incubator, which has helped many student entrepreneurs make their visions a reality, was hugely important to his own success, Jass said. It was where he found direction as a freshman business major from Garner, Iowa (pop. 3,000). The incubator provides mentorship, physical office space and a robust network of resources that span the Cedar Valley and the entire state.
"While still being in school and understanding that you needed to study and you had to show up in class, you still had this very, very real business component with mentors and other advisors that were there to help guide you along the way," he said. "I don't know where else anyone would have gotten that experience."
Jass started as a freshman at the incubator working for a friend, Ben Frein, who was running an e-commerce startup called E-Holdings. He worked there until midway through his junior year, at which point he was ready to begin work on his own startup, SEO Solutions. 
While search engine optimization (or SEO, which is the practice of raising a website's position on the results page after a Google search) is now a cornerstone of digital marketing, in 2011, it was fairly new and widely misunderstood, he said.
Eventually, Jass and his co-founder (and incubator fellow) Therese Stevens merged their company with another internet marketing firm to create TargetClick. In 2012, Mudd Advertising acquired the business. Jass remained with Mudd for about two years to help the division grow to 35 employees, at which point he left the company to pursue other goals.
The concept of Red Lab was born while Jass spent time at home with his wife Gwen––his high school sweetheart who graduated from UNI with an accounting degree––and their red lab Rex. As the business grew, so did their family as the couple had two children (Gabby and Tyler). 
Even though a decade has passed since Jass graduated from UNI, he has maintained a close relationship with the campus and Watje, whom he considers a mentor. He's now returning the favor, serving on JPEC's advisory board.
For Jass, his time at JPEC and the incubator remain some of the highlights of his time at UNI.
"That's where I got started," he said. "That's where my roots are. I have a lot of fond memories of the incubator. There were a ton of pure joy moments that happened in that office."
It's a connection that lasts long after Panthers graduate. "As those students come through the program, they are realizing that they're benefiting from other successful entrepreneurs," Watje said. "So we really encourage them to give back, and sometimes when they first graduate, the only way they can give back is through time."
"Once you're part of the JPEC family, you're always part of the JPEC family."