Business
Waterloo native and UNI alum Brian Becker promoted to CEO of RSM US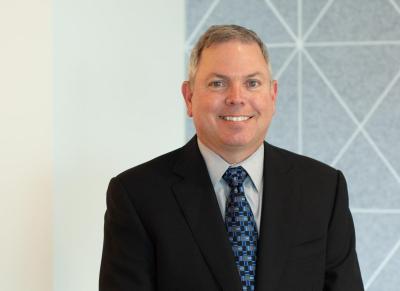 For someone who said he was never very good at math, Brian Becker, '89, has done pretty well in accounting. In fact, at the beginning of September, this University of Northern Iowa alum became the managing partner and chief executive officer for RSM US, one of the country's largest tax, audit and consulting firms.
The secret to his success? Becker said it's a commitment to lifelong learning.
"Never stop learning," said Becker. "Until the day I retire, I'll keep learning. That was really instilled in me at UNI."
A native of Waterloo, Becker, 56, was the fourth consecutive child in his family to attend UNI. 
"I have four siblings, and we didn't know we had any choice but to go to college," said Becker.
While college may have seemed like the only choice at the time, Becker later discovered neither of his parents had actually graduated college, making him a first-generation college student.
"It was really the business program that brought me to UNI," said Becker. "My oldest brother was the first to go, and he became a CPA. Then my sister went, and she became a CPA. Then it was my next brother's turn, and he went into teaching. So when it was my turn, I looked at teaching and business and, obviously, UNI is known as a great school for accounting and becoming a CPA. So that's what I chose."
Becker put himself through college by working full-time at the local RadioShack. He was a natural with computers, which would play an important role later in his career.
Although Becker didn't have much free time outside of work, he also joined the Accounting Club in college.
"I thought things like the Accounting Club were the right size," he said. "It was a large school, but not so large that you felt you were lost in it."
While he says you may not have guessed it by his GPA, Becker went on to pass the CPA exam on his first attempt.
"I thought my professors were tough but caring," Becker said of his college experience. "They were proud of their program and students and wanted to see us succeed. It was challenging but rewarding, and there were many times I wondered if it was for me because I wasn't the greatest at math. But, ultimately, I stayed."
After graduating with his degree in accounting, Becker took a job as an auditor at McGladrey in Mason City, which later became RSM. With such deep roots in Iowa, Becker couldn't imagine living anywhere else.
"I'm one of those people who has been with the same firm since I left college," he said.
While there were times over the years when Becker was tempted to leave the firm, he had mentors who convinced him to stay. Ultimately, he loved what he was doing and loved the people too much to leave.
Becker especially enjoyed his work with McGladrey because it allowed him to be entrepreneurial and try different avenues. 
"After five or six years, because technology had really come into play, I wanted to start my own technology consulting firm," Becker explained. "McGladrey said I could do it for them. So I helped start the technology infrastructure practice for McGladrey, and that grew and grew. That's how I ascended into different leadership positions."
At the time, Becker said it was challenging for a CPA firm to pivot to technology consulting. But as McGladrey established themselves as providing high-quality work for their clients, word spread, and Becker's idea took on a life of its own. Becker grew the technology infrastructure practice at McGladrey to around 200 people. Eventually, he became the leader of technology and management consulting before ultimately becoming the National Consultant Leader and managing all of consulting in 2017. 
When Becker took the lead on consulting approximately five years ago, it was worth $400 million. Today, it's worth $1.1 billion. 
"I've always been surprised by my success," said Becker. "When I graduated UNI, never in my wildest dreams did I think I would become a partner, much less the position I'm in now."
In spite of his great success, Becker has an interesting answer when asked what his greatest accomplishment to date is.
"My greatest accomplishment is hiring the right people and creating teams to make a difference in the lives of our clients and our communities," he said.
The people are also the best thing about his job today, said Becker. Part of that love is giving back to the profession. For example, RSM sponsors a professorship at the University of Northern Iowa.
"We were founded in Cedar Rapids, so UNI has always been a favorite choice for getting students to work for us," said Becker. "If you look at our firm, there's quite the number of people from UNI spread across the country, so we're a very Midwest-driven firm. We hire a lot of our staff from UNI even today. It's been a great source of all majors for us."
To up-and-coming business students and professionals, Becker offers three pieces of advice: find what you have a passion doing, find a place where you feel a sense of belonging and make sure you're making a difference. 
For Becker, this philosophy is clearly working.